Welcome to 1103 Renaissance Dr in Lawrence, KS! Proudly brokered and brought to you by R+K Real Estate Solutions. This new construction home is the very last to be completed in the Langston Heights neighborhood in West Lawrence! Built by S & D Builders on a beautiful lot conveniently located near Bob Billings & K-10 Highway. This home's location is perfect whether you live and work in Lawrence or if you commute to Kansas City or Topeka. Featuring an open-concept main floor plan with an incredible custom kitchen full of high-end finishes and a main-level Owner's Suite with a huge bathroom, custom rain-fall shower, huge tub, and a walk-in closet and safe room. This home truly has to be seen to be believed, but we'll do what we can on this tour to give you a peak at what's inside! Please visit us on Sunday 9/25 from 1:00 to 2:30 for an Open House or reach out anytime for a private showing.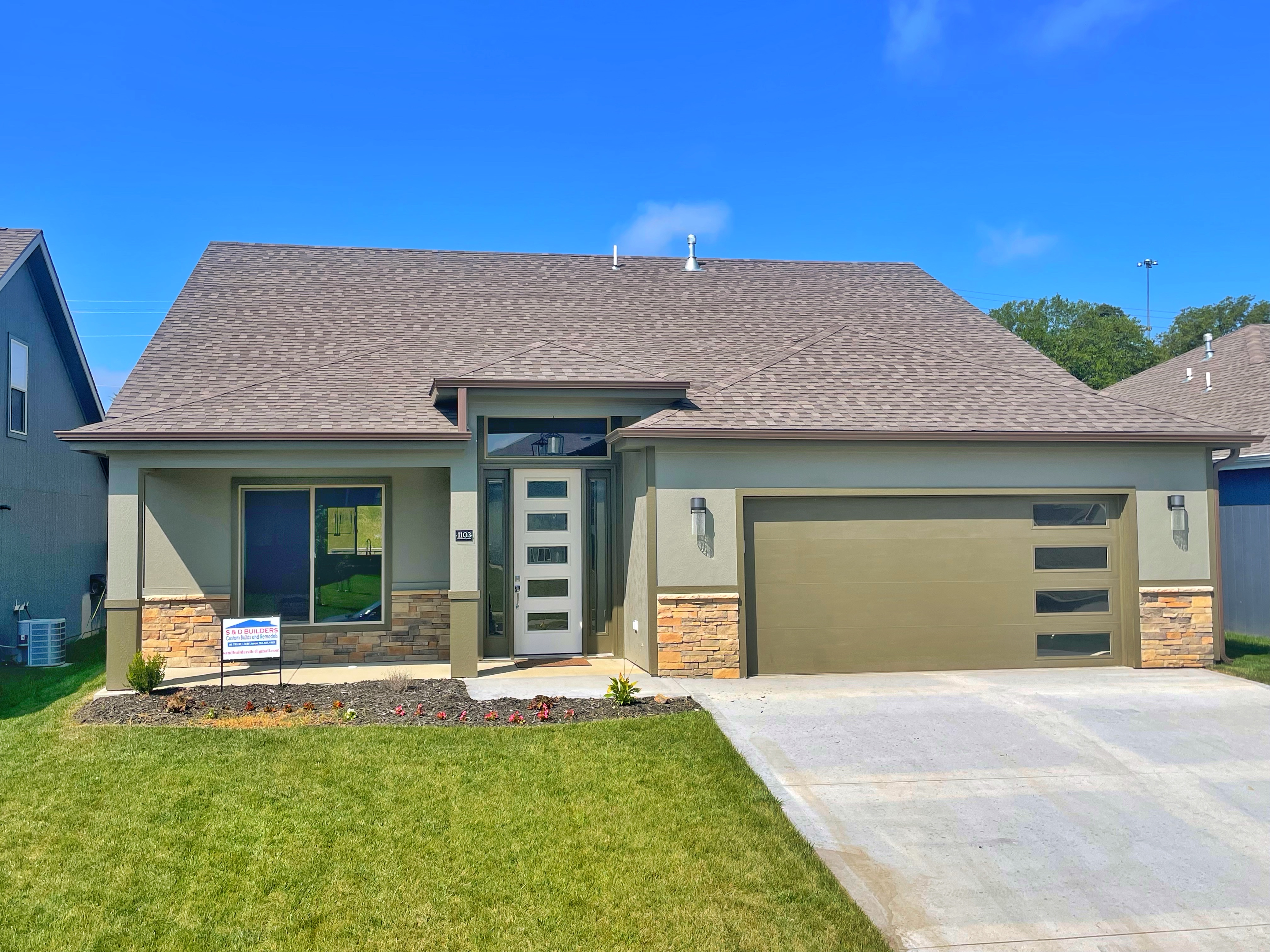 Starting out front, the homes character and curb appeal are immediately apparent. Stone, stucco, huge windows, an amazing front door, contemporary lighting fixtures, a really cool custom address number, and a fully-sodded new yard are but a hint of the good things to come on this home. Touches like this are a clear sign that the builder put care and hard work into every element of the home, inside and out!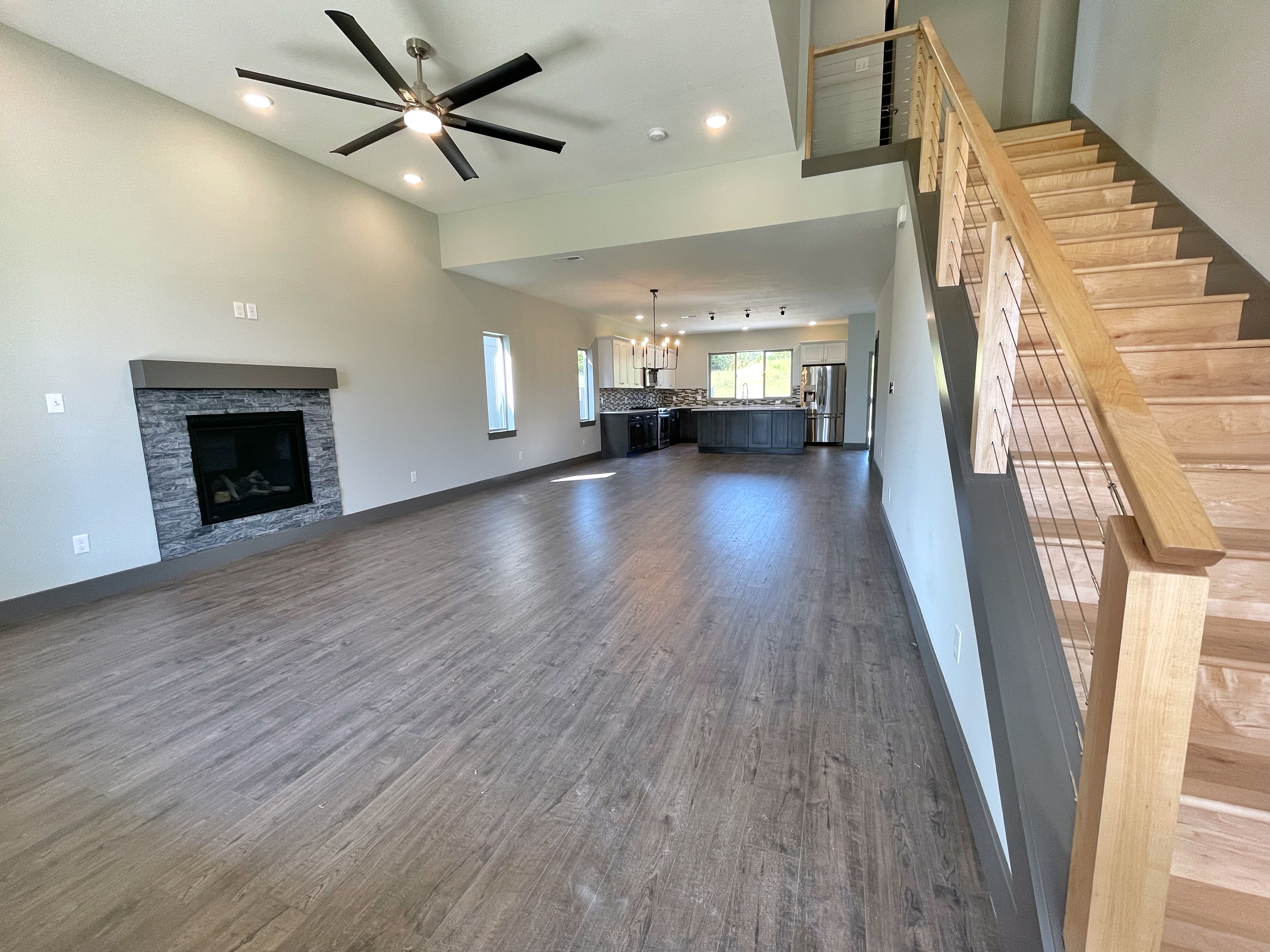 And then, you step inside. Whoa. From the water-proof, engineered wood floors and the custom hand railing to the fireplace and the huge open concept, walking into this home is an incredible experience! This huge living/dining/kitchen space is full of natural light from large windows and high ceilings. Just look at that ceiling fan! It's not often that we actually get excited about a ceiling fan, but this is definitely one of those times! The gorgeous hardwood floors feature throughout the main level of the house. With a front-to-back main living area, this home is built for entertaining family and friends for all occasions!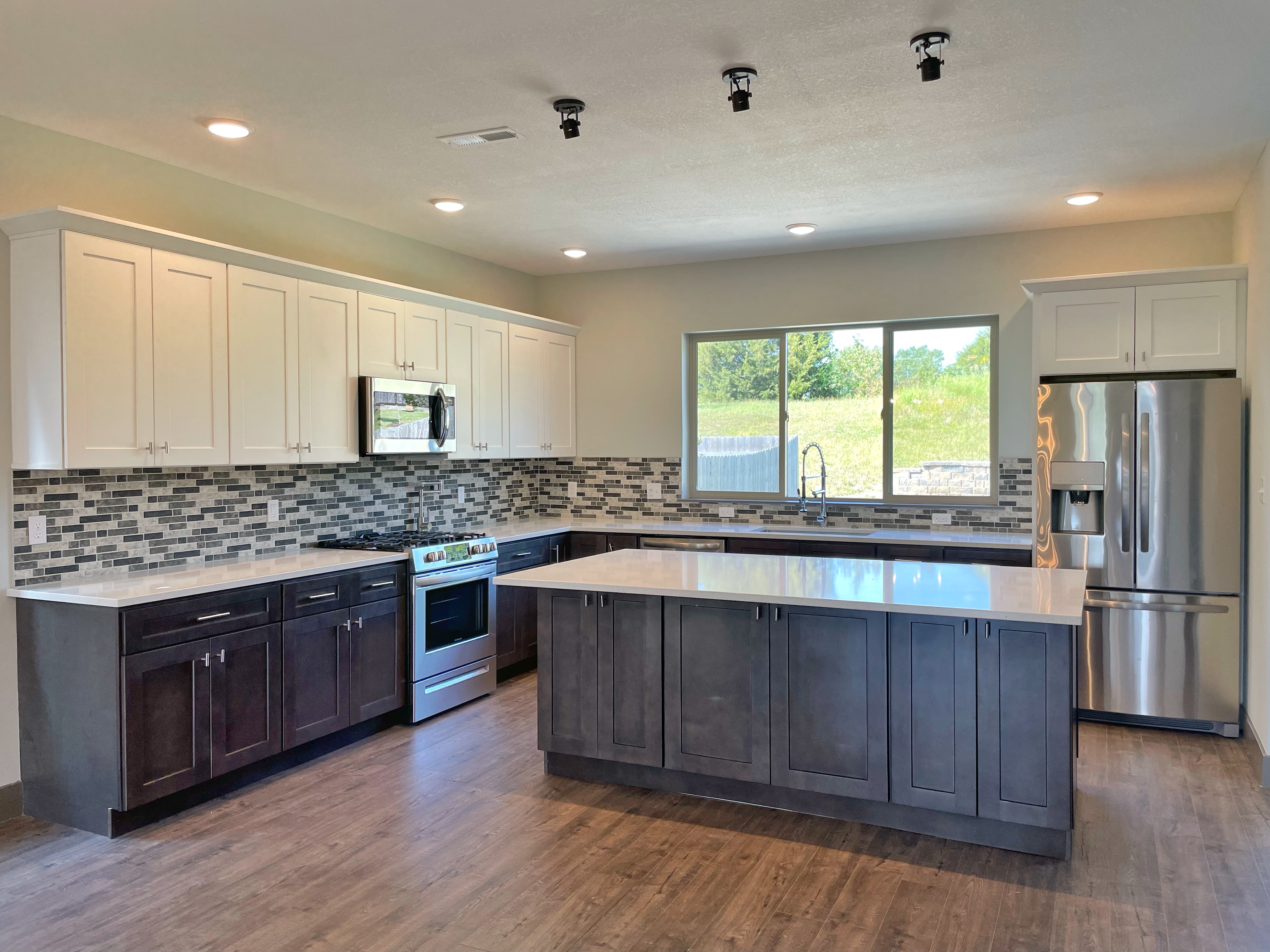 Focusing on the kitchen, this is where the custom touches really start to add up! Quartz countertops, stainless steel appliances, a gas range with a pot-filler faucet, custom tile backsplash, more large windows, contemporary cabinet hardware, and tons of cabinet space including a large island are kitchen features we think people will be excited about! This kitchen is a chef or entertainer's dream! Off to the right of this photo, there's a walk-in pantry for even more storage options. Also just to the right of this photo and partially visible through the back window is the backyard and the home's huge back patio. Like we said, a perfect flow for entertaining!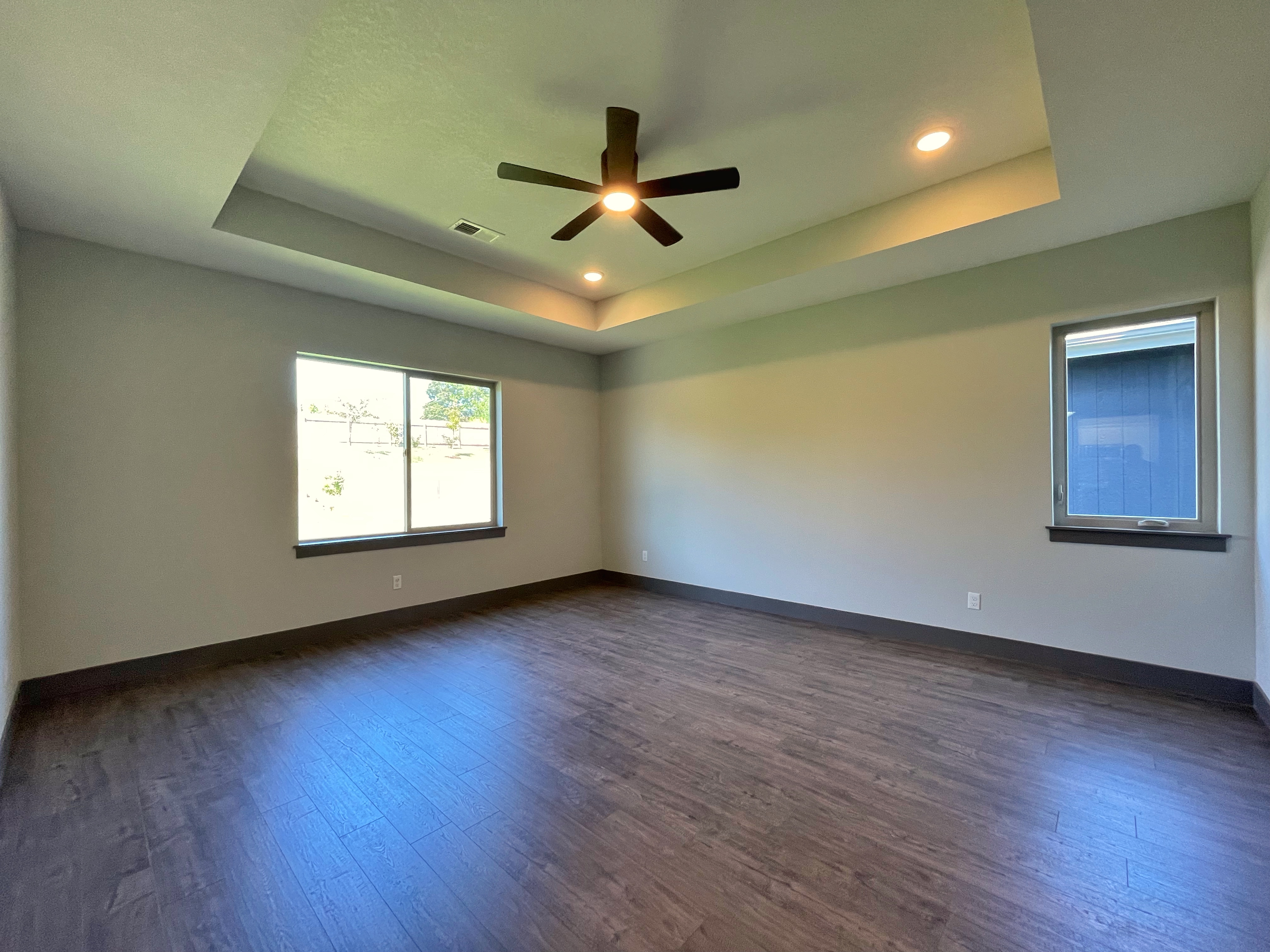 Heading further to the right of our view of the kitchen, we pass a 1/2 Bath in the hallway and make our way to this incredible Owner's Suite. Featuring more large windows, tray ceiling, hardwood floors, and large trim, this space continues the high-end contemporary feel of the home. Having a primary suite on the main level is one of the most desired elements of a home in today's marketplace. It's perfect for so many reasons, not to mention value for when it comes time for resale. But that's certainly not all: just wait until we get to the en-suite bathroom. . .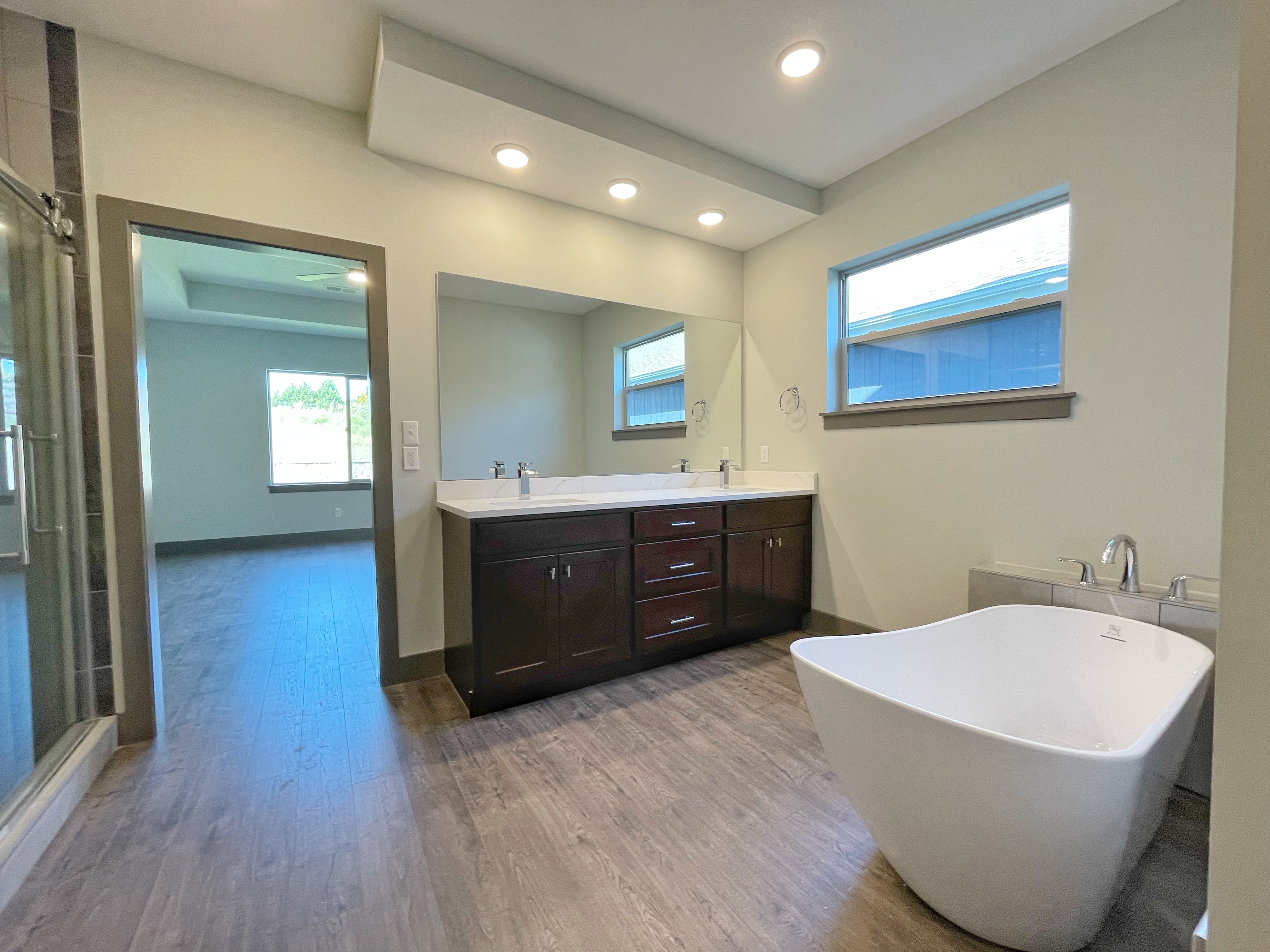 Truly there are several features of this home that will be the selling point for a buyer, and this is very likely to be it! This bathroom is full of custom touches including the amazing tub see here! A morning routine should be an enjoyable experience, not something to rush through. This incredible bathroom is amazing space to start the day off right! The double vanity features granite countertops and beautiful hardware. When seeing it all for the first time, the words "private spa" come to mind!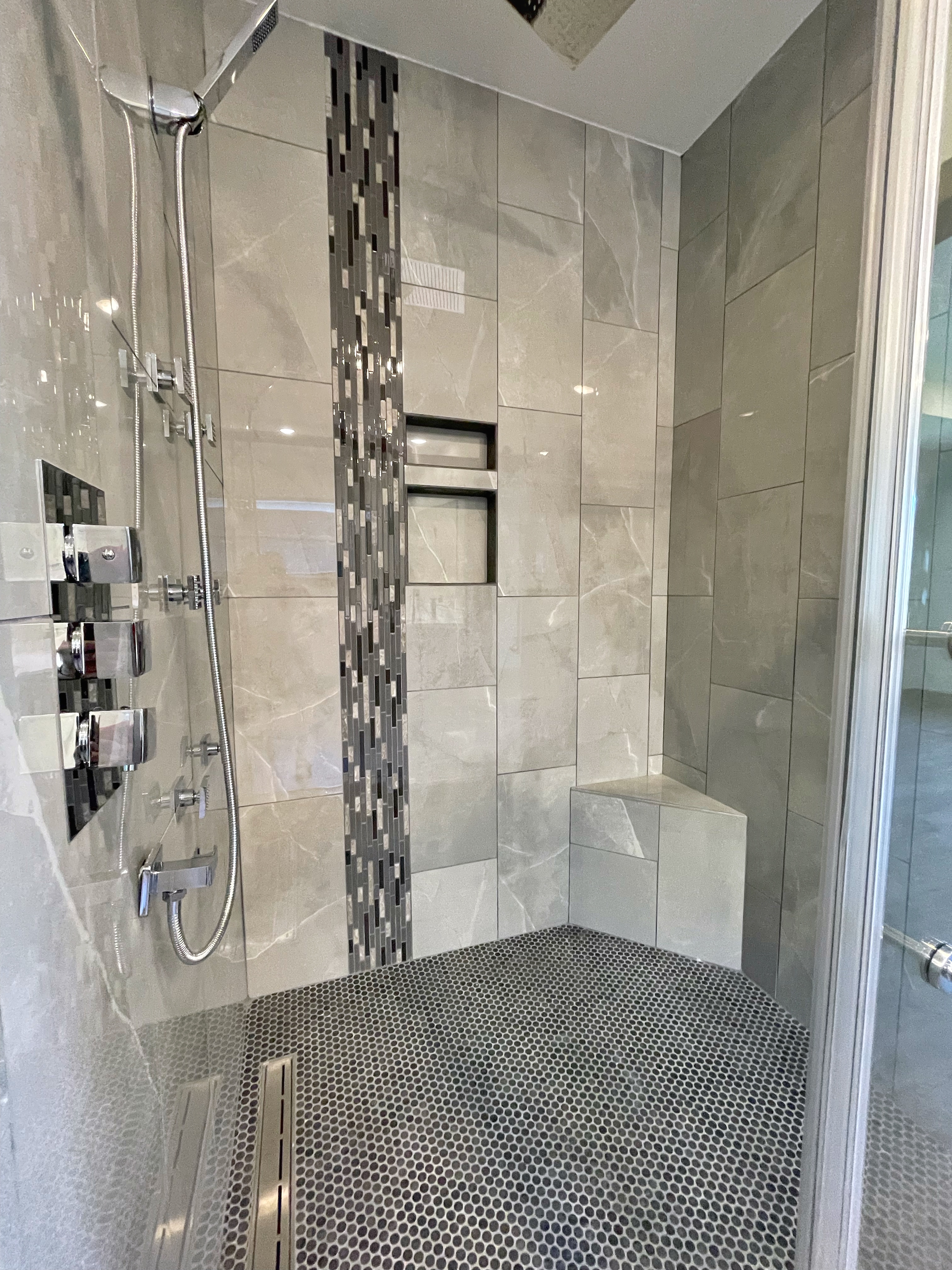 We' simply have to have to include a number of photos of this bathroom. Like this custom tiled shower above. It deserves every bit of attention given! Featuring high-end design touches like the rainforest/jetted shower hardware, the glass door, and the decorative linear drain. Not only is it huge, but it's simply luxurious beyond belief! No more rushing through the shower for whoever buys this home!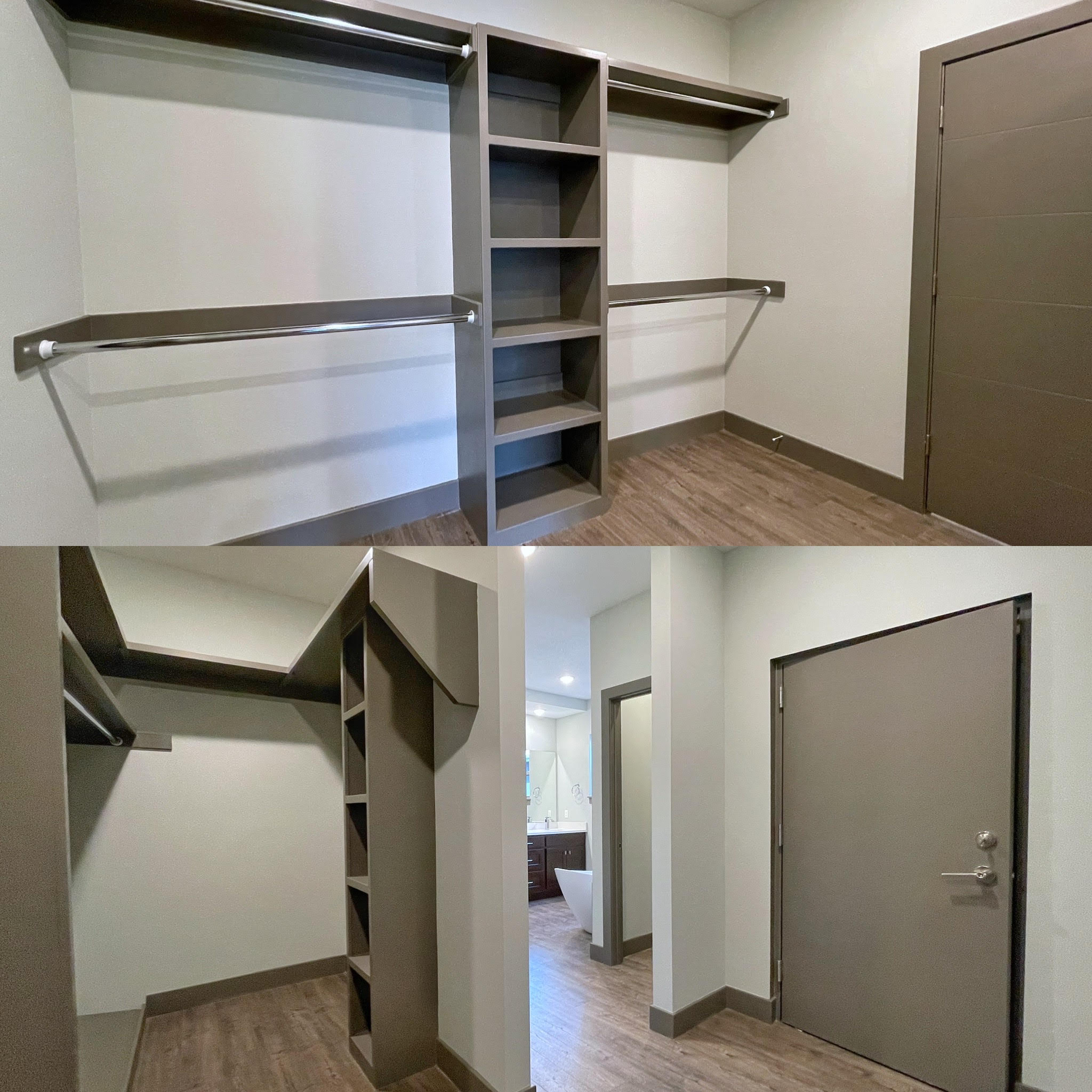 And that's not all. Continuing on, we find a very huge walk-in closet with even includes a safe room! This photo shows views both into and from inside the closet space. The door shown on the lower photos right side is the safe room. The door shown on the upper photo's right side opens up into the custom laundry/mud room. Talk about convenience! We're not going to include a photo of the laundry room in this tour because we don't usually do that. But it is yet another highlight of this home that needs to be seen to be believed. And we can't give away all the home's secrets in our tour!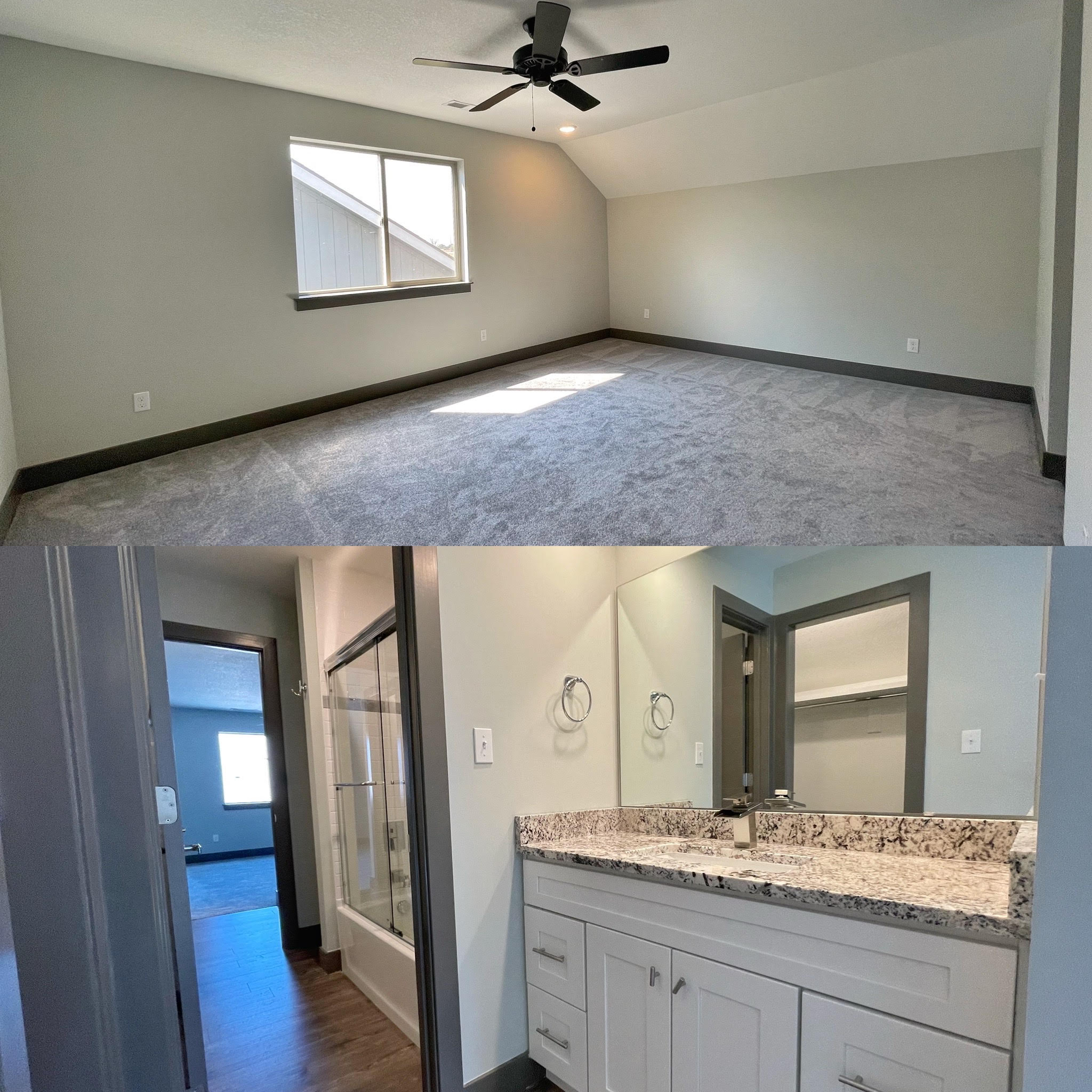 The home's two other bedrooms are found on the 2nd floor and are connected with this incredible bathroom/closet suite! Featuring granite countertops, another custom tile shower, and huge walk-in closets. Each bedroom has it's own adjacent vanity and closet connected by the shower room. Both bedrooms are very large rooms featuring high-end carpet and big windows for lots of natural light.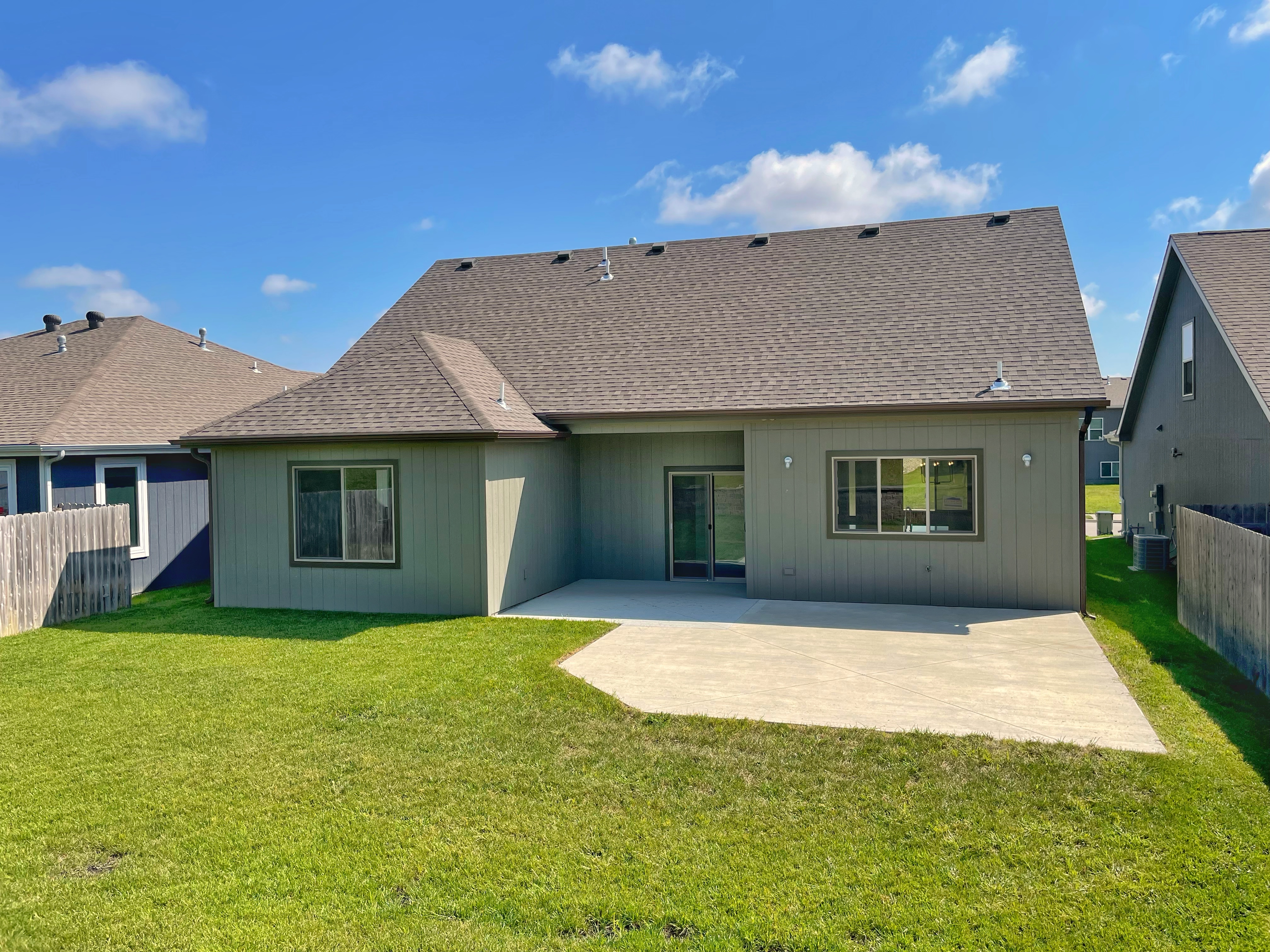 Heading out back, we can see the gorgeous backyard and the huge patio space. This yard is perfect for a buyer looking to hold a Garden Party! The yard is newly sodded and features a sprinkler system. It's the very last piece that really shows off this home's potential for entertaining!
This home is truly something special! We hope you enjoyed this tour. Like all good things, this tour like all, must come to an end. Home inventory in Lawrence is at historic lows. Every home that comes on the market is an opportunity. We hope everyone who wants a shot at this home gets a chance to see it. Hurry, it certainly won't last long!
OPEN HOUSE! Sunday 9/25 1:00 - 2:30 PM
To inquire about a personal tour, contact Ryan at 785-218-1975.
For Listing Details, click here.
If you would like for us to feature your home here, find out more about our Home Seller Services.
If you're thinking of buying a home this Spring, find out what we do for our buyer clients on our Buyer Services Page.