Welcome to 8315 Primrose Street in De Soto, KS! Proudly brokered and brought to you by R+K Real Estate Solutions. This incredible ranch home is located in one of NE Kansas' quickest growing and hottest areas of Johnson County. With the coming of new industry surrounding the construction of the new Panasonic plant, this area is poised for real, actual growth. It's an incredibly exciting time to be looking for a great home in De Soto, and this new listing is easily the finest available today! With an open floor plan, high ceilings, modern touches, over-size trim, cool light fixtures, this home packs a lot into it's 2,657 square feet, 3 bedrooms and 3 bathrooms. Join us on this tour through this exciting opportunity!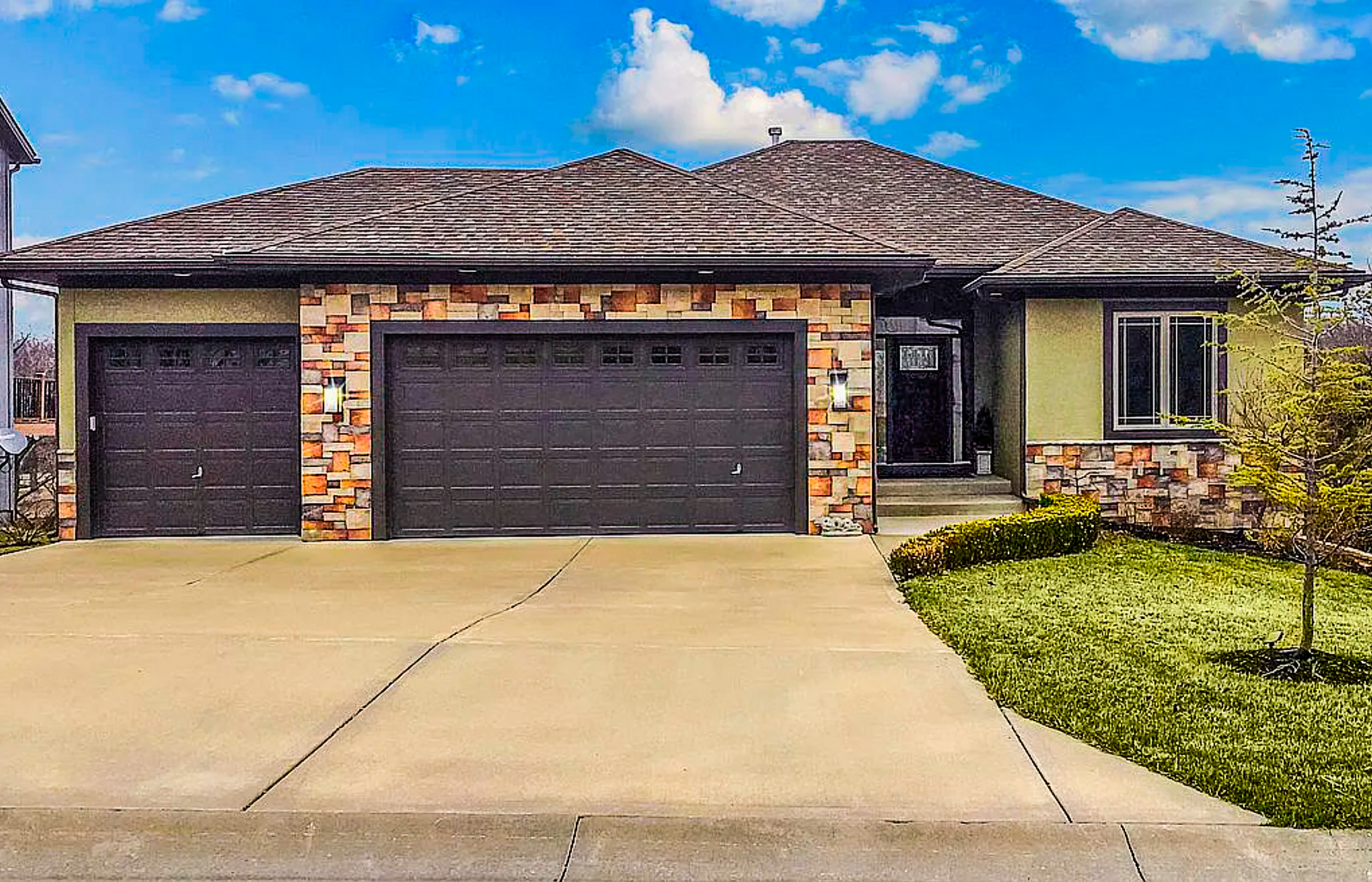 From the very first look on the outside, it's clear what we mean. This home was built by it's current owner and no details were spared. Curb appeal is the name of the game and this house stands out with it's incredible stucco & stone, fashionable light fixtures, and impeccable landscaping. Obvious from the front is the large 3-car garage which is just a hint at the rest of the cool things inside!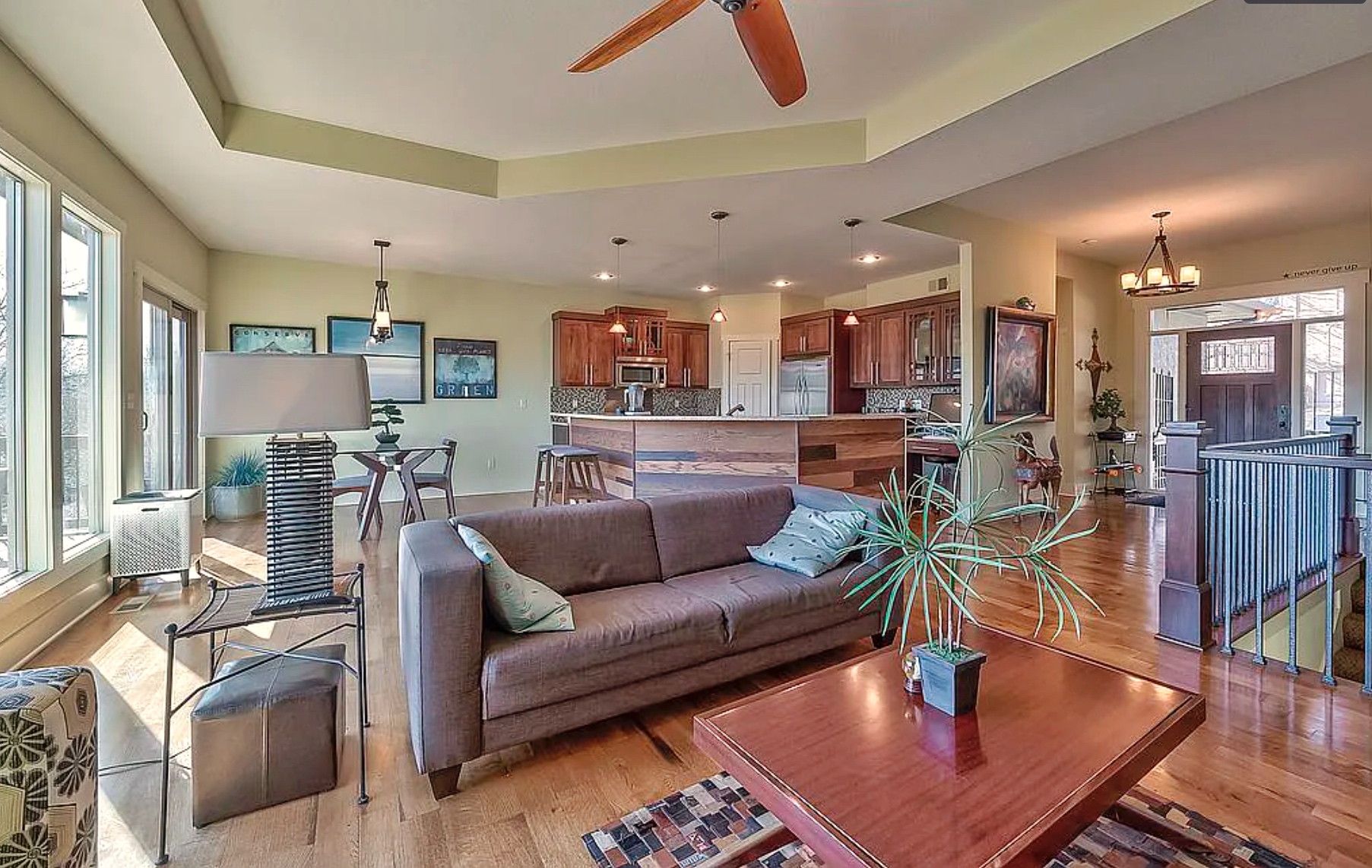 Taking a step inside, this is where one's jaw really drops! The floor plan is open-concept and features lots of windows for natural light through large east-facing windows. Wood floors, dark wood cabinets with modern hardware, stainless steel appliances, a large kitchen island and granite tops are just a few of the details to sort through in the above photo. The kitchen pantry hiding behind the door next to the refrigerator is a walk-in feature with tons of extra space. The home's utility room/mud room is just off to the right of the staircase and walks-through to the main-level master bedroom suite for extra convenience! All of these details are precisely what a buyer would find in a new construction home today.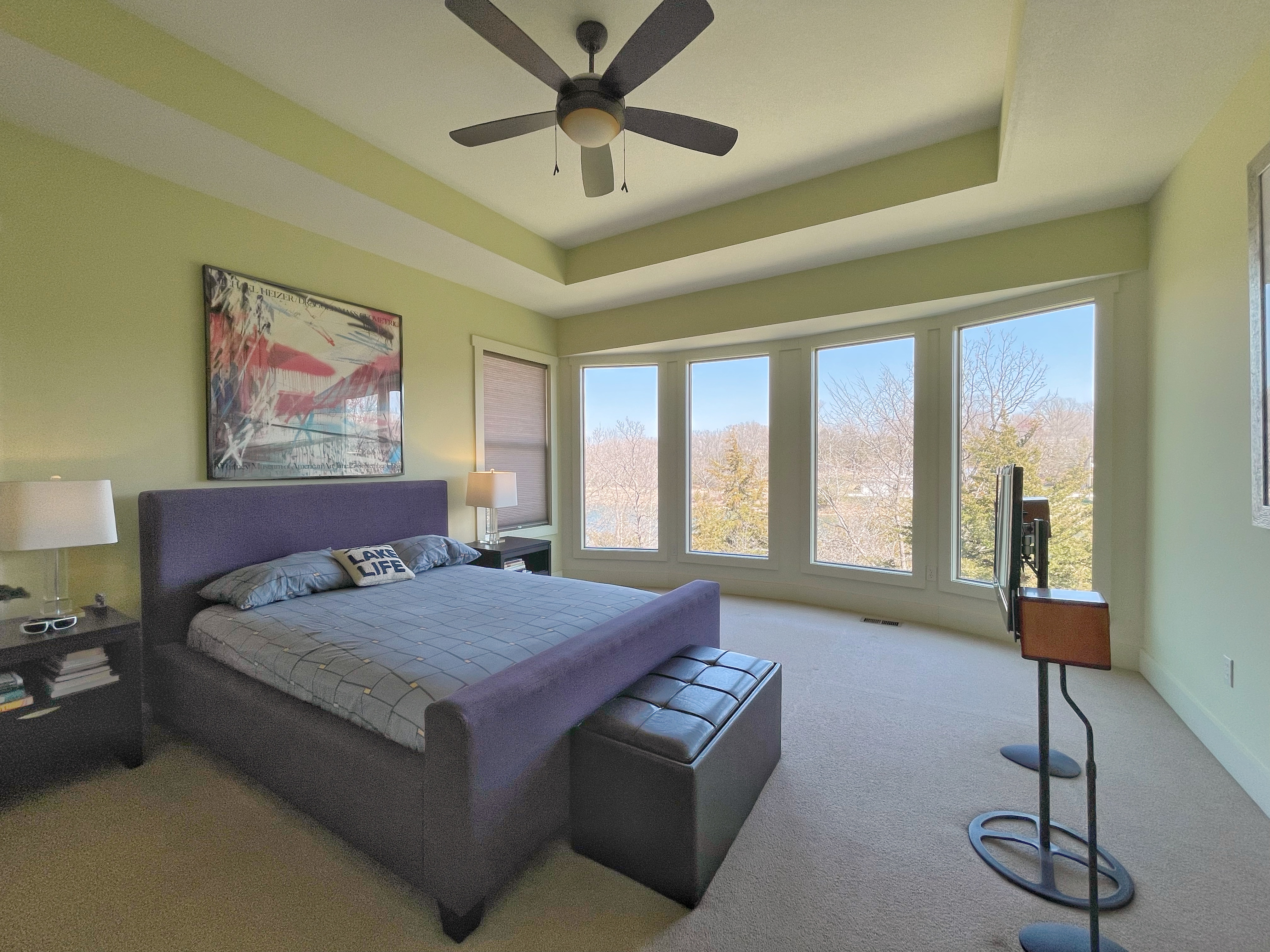 The master suite continues the open-concept with it's large space, high 10' ceilings, and large windows. Large base trim and high-end carpet and tons of natural light give the space a relaxing and airy feeling, perfect to wake up to or wind down the day!
The huge en-suite master features luxurious, large tile floors, a custom two-person tile shower with glass doors, modern cabinets and hardware in the separate vanities, and a private water-closet. As a bonus, there's an over-size soaking tub. The perfect luxury to start or end any day! To the left is the large walk-in closet which leads back to the utility space as we previously mentioned. This feature is found in nearly all new construction homes and is a wonderful convenience for main-level living concepts.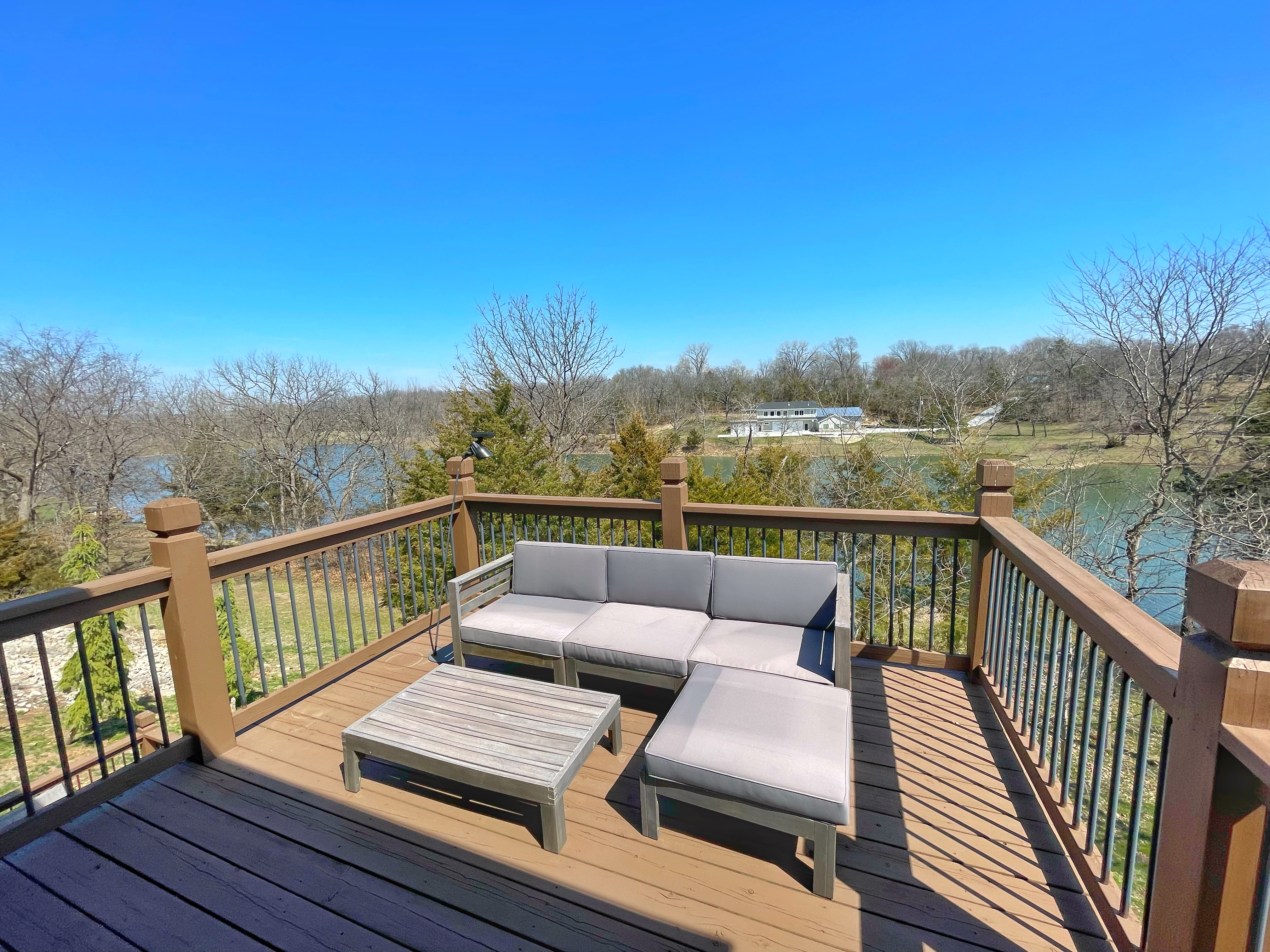 The back yard is gorgeous and looks out onto a small private lake! Featuring not one but two decks, this one shown above is the upper deck off the main level's kitchen and dining area. Take a look at that view!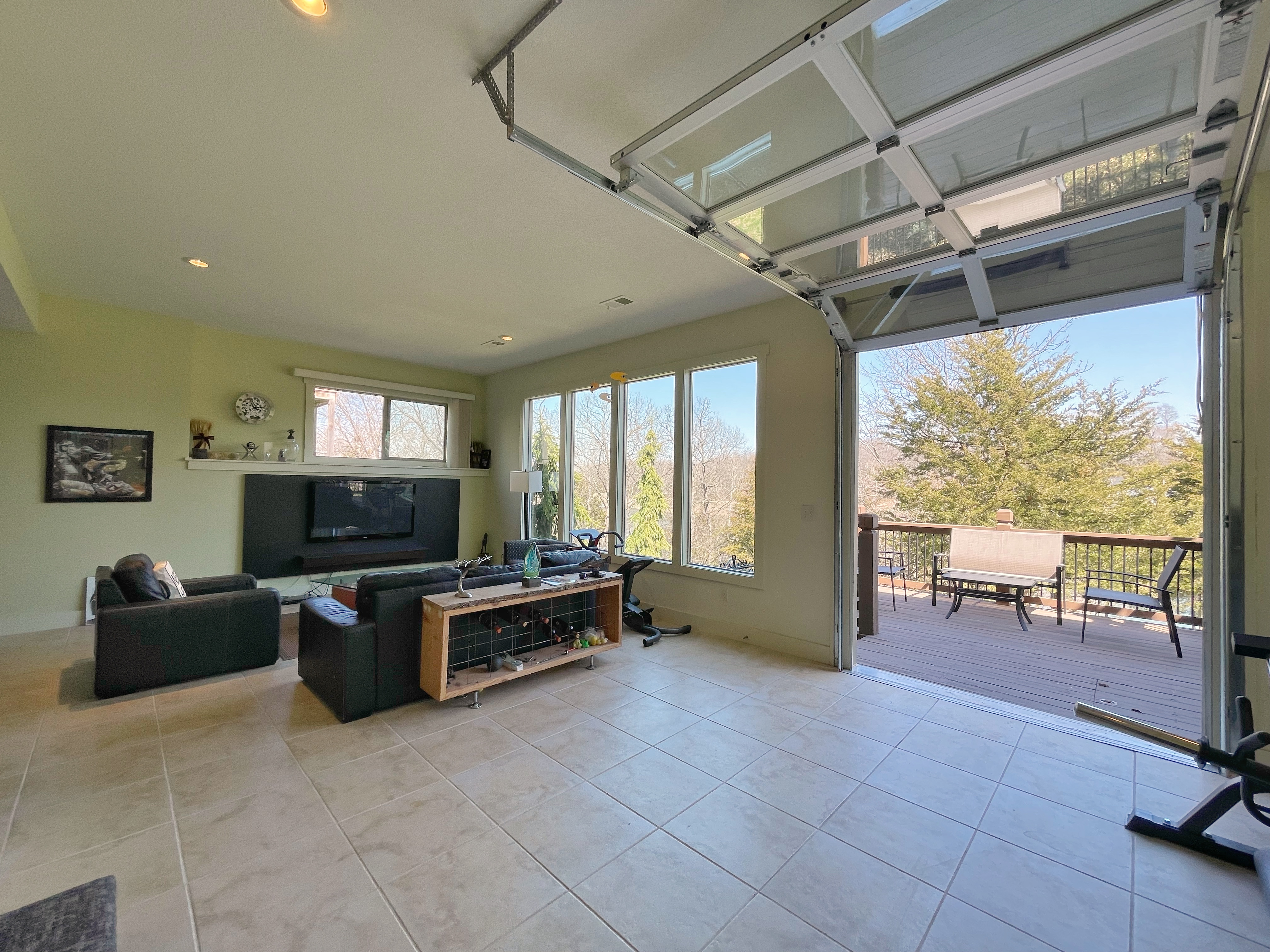 Down to the basement, and this is where things get really cool! A rolling garage door opens up to the home's lower deck. The lower level/basement continues the home's open concept with a very large entertainment/living space with modern touches throughout. More large windows on three ends of the home and 10' ceilings give this space an open versatility.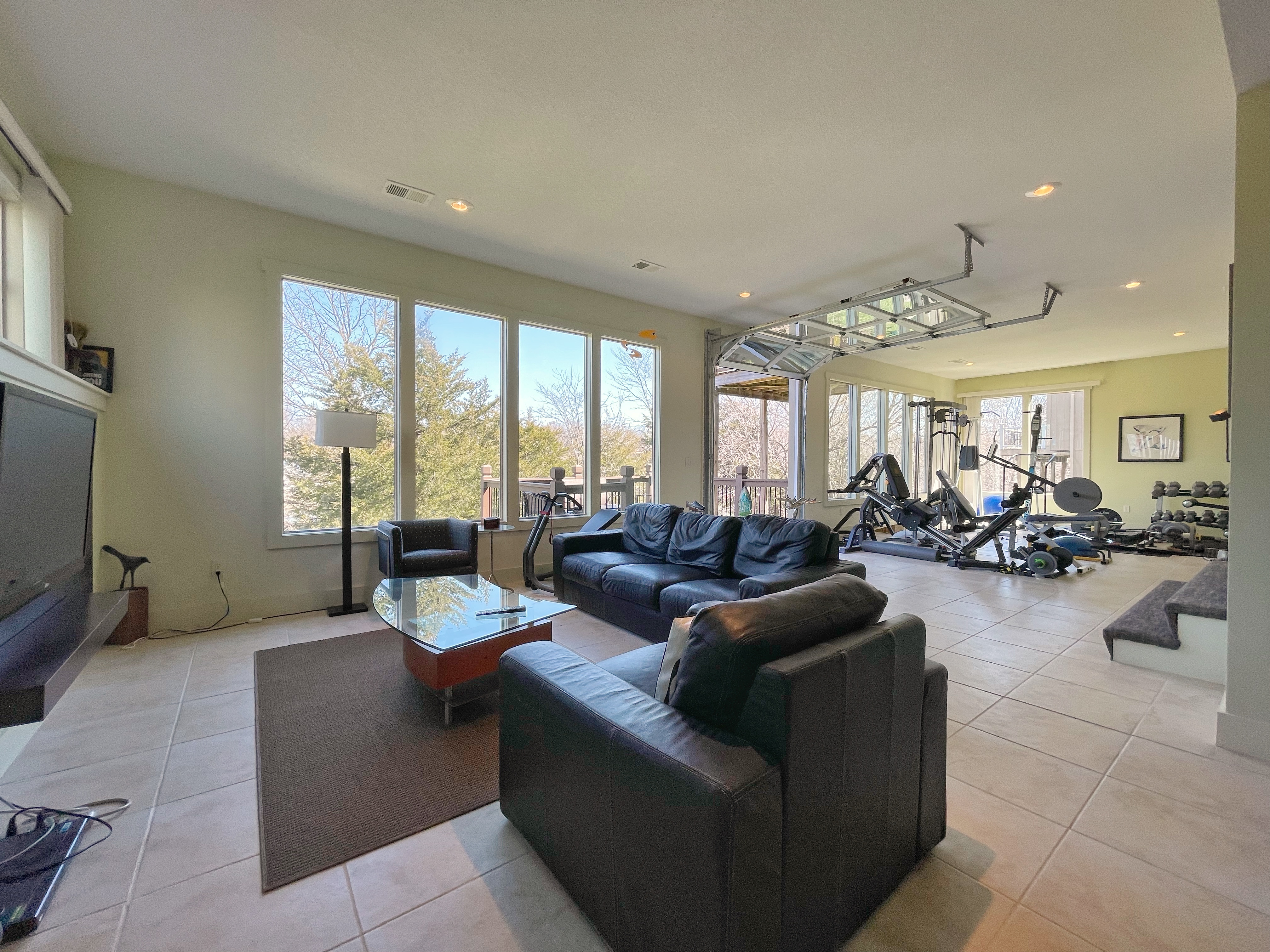 Looking back the other direction here, one can see what we mean by versatile. Whether as a workout space, Playstation space, game room, party space, or literally all of the above, the sky's-the-limit down here. How many basements can you say that about? The home's third bedroom with walk-in closet and safe room are located on this level along with a full bathroom.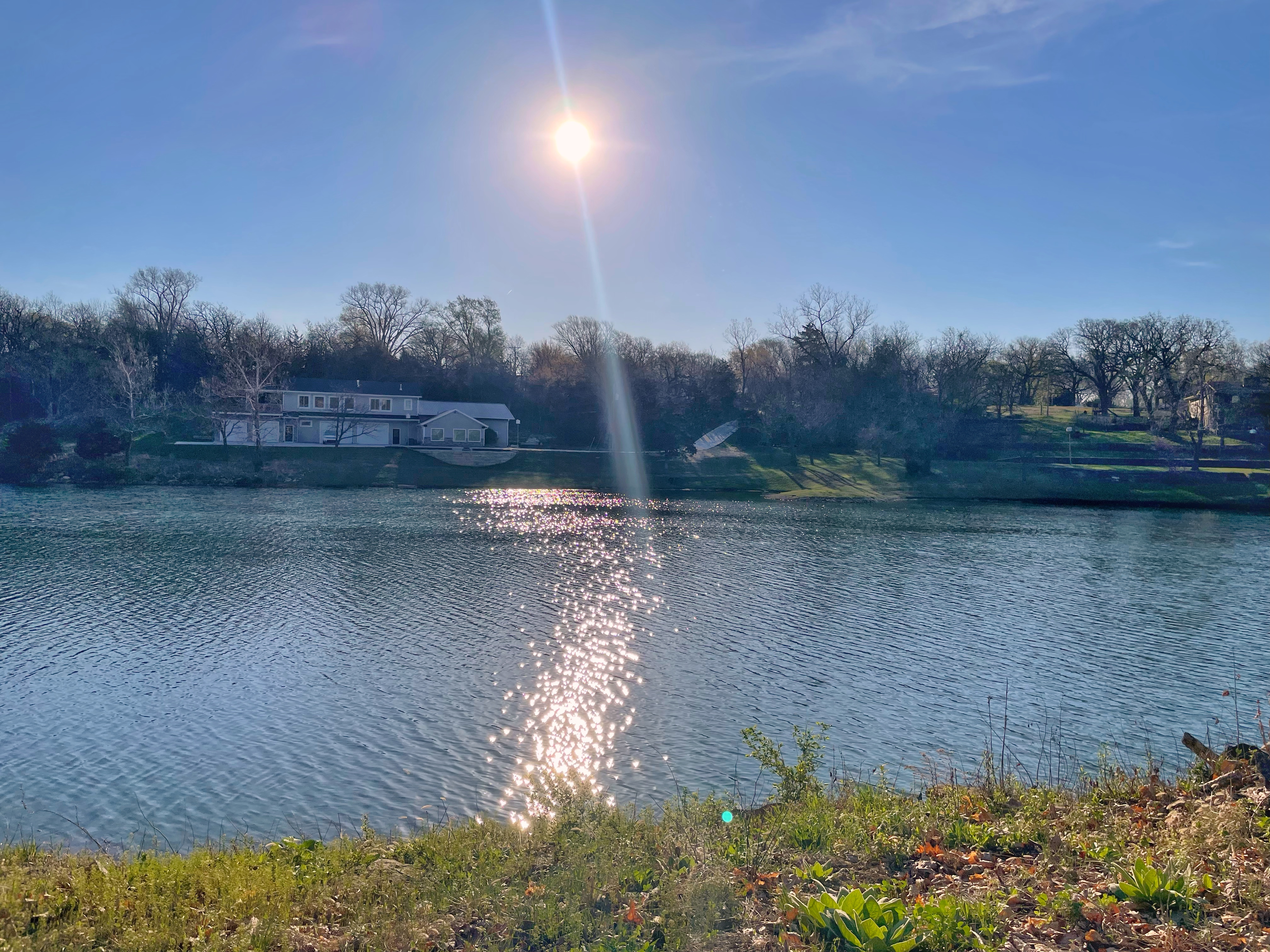 And lastly, check out this view! Who doesn't want to live on a lake? This is yet another feature that sets this home apart from any other available in De Soto today. Seen here is the morning sunshine rising over the water. If there's one word that sums up this home and the lot upon which is sits, it's "sanctuary!"
This home is truly something special! We hope you enjoyed this tour. Like all good things, this tour like all, must come to an end. Home inventory in NE Kansas is at historic lows. Every home that comes on the market is an opportunity. We hope everyone who wants a shot at this home gets a chance to see it. Hurry, it certainly won't last long!
To inquire about a personal tour, contact Ryan at 785-218-1975.
For Listing Details, click here.
If you would like for us to feature your home here, find out more about our Home Seller Services.
If you're thinking of buying a home this Spring, find out what we do for our buyer clients on our Buyer Services Page.