We want to empower YOU, the consumer. Our flexible, dynamic real estate model puts the power of choice into your hands.
Flat-Fee Listing Model
Typical seller-side listing fees are a percentage of the sales price of a home; usually upwards of 2.5-3.5% of the sales price (with another 3% for the buyer's agent). Our commission model is a tiered flat-fee structure: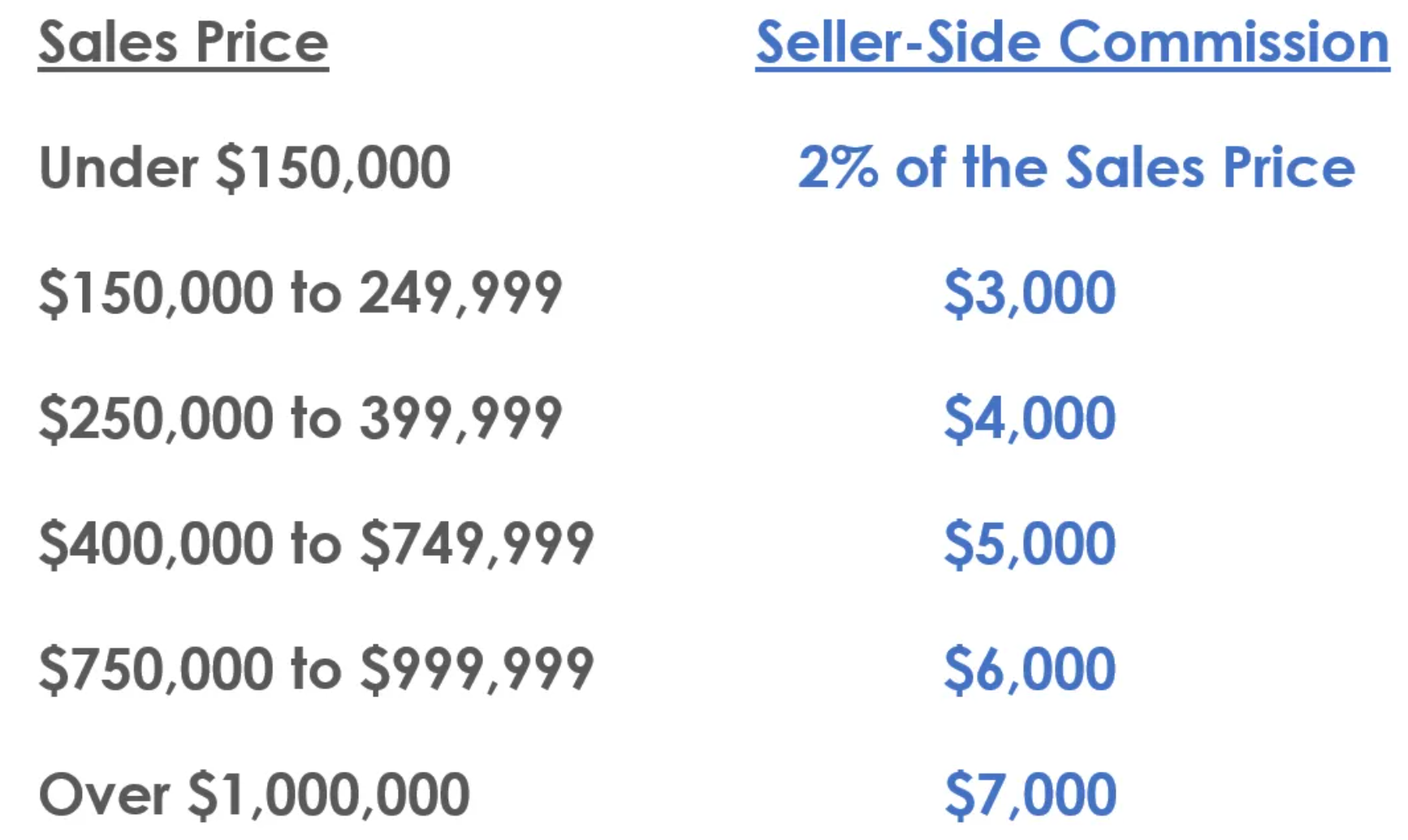 This pricing structure does not sacrifice anything when it comes to service. You still get all the same things you would for a 6% listing! As soon as your listing enters the Lawrence MLS, we syndicate it to all the sites you're probably familiar with (like Realtor.com and Zillow.com), plus others that you may not have yet heard of such as WikiRealty. This IDX feed casts a wide net and provides maximum exposure for your home.
Kansas real estate law states that an agent must represent their client to their full ability, not based on amount of their commission. This is why the R+K Real Estate model – only charging the seller either 5% or a flat fee – provides a tremendous advantage that many home sellers might not have previously had access to.
our flat-fee model means potential savings for home sellers
A commission is far and away the largest expense facing home sellers. Depending on what you pay the Buyer's Agent, which is typically 3%, here are some examples showing the difference in what you pay to sell your home with R+K versus companies offering only 6%:

The higher the home price, the higher the savings!
Think about it this, if you have a home worth $1,000,000 and you list with an agent charging 6%, you're paying them $60,000 to sell your home. That's more than the average annual salary in Lawrence! In theory, or by state law, an agent must work just as hard for a client selling a $50,000 house. Is there really a reason one agent gets paid $60,000 and another one gets paid $3,000 to do the same job? We don't believe so, and our pricing structure should prove it!
can a home seller choose what to pay a buyer's agent?
Easy answer: YES! You might find this answer surprising if you've talking with another agent who didn't offer this as a choice. Choose what to pay the Buyer Agent (these examples shows 2.5%):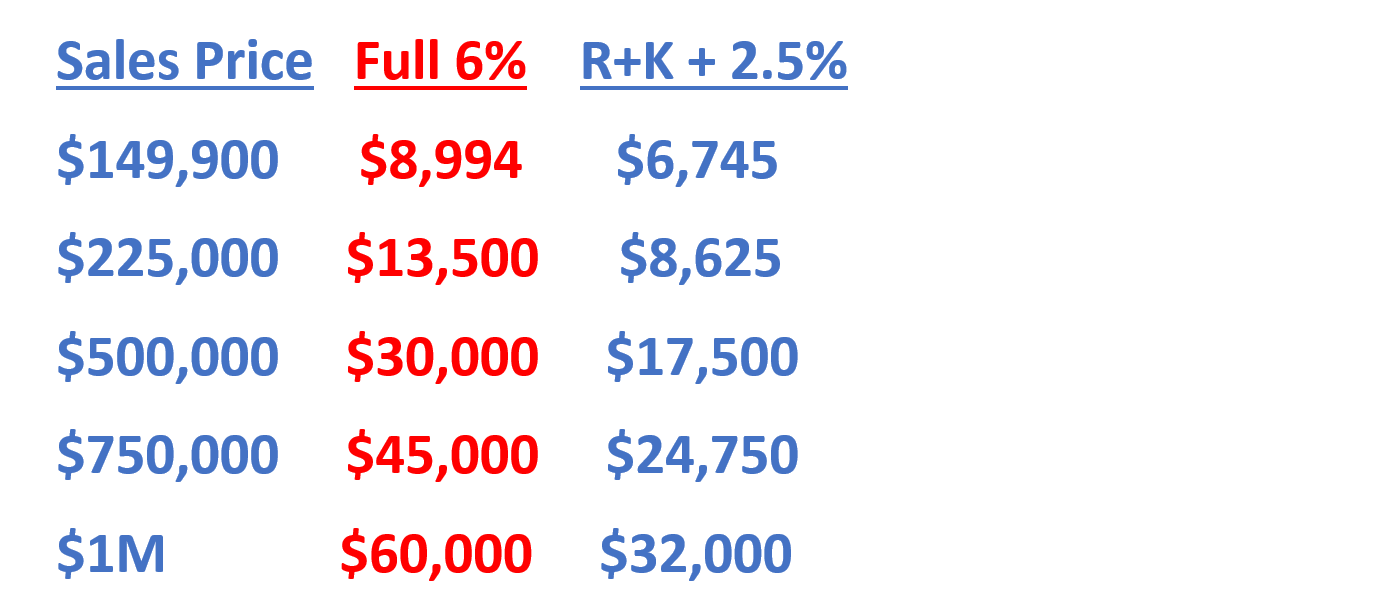 If R+K Real Estate finds the Buyer. . .
Many real estate agents are looking for an angle to find an unrepresented buyer so they can keep both sides of a 6% commission all to themselves. Too often, the strategies involved employ things that might be of benefit to the agent, and only the agent. Such behavior is the basis of NAR's Clear Cooperation Policy recently adopted by the Lawrence MLS. Why would an agent get paid to do two jobs when they're only doing one? At R+K we prefer that the Seller be the one to benefit from this circumstance, not us.
If either the Seller or R+K Real Estate finds the Buyer and the Buyer has no agent and wishes to remain unrepresented, we will reduce the Buyer Agent fee. No joke.
________________________________________
This may all seem to be "too good to be true." And we wouldn't blame anyone for wanting to feel this way. It's a testament to the fact that no one's ever offered anything like it in Lawrence, KS. Change comes slower to places like Lawrence. Certain companies in larger cities in the US already offer things like our flat fee commissions. We want to bring this change to you! Any prospective home seller should interview multiple agents before signing a listing agreement. We'd love to be in that mix and we think that anyone who hears our listing presentation will choose us for sure! We are a transparent alternative to high priced commission fees!
_________________________________________
Interested in Transaction Broker Services?
Yes, we do that too! It's not for everyone and every situation. But, for some sellers it might be the perfect fit resulting in saving thousands, to tens of thousands of dollars on real estate commissions. Transaction brokerage is ideal for:
professional home sellers
home builders
corporations
local charities
experienced home sellers
a home seller who's already identified their buyer
a home seller considering for-sale-by-owner
If you're interested in finding out more about how R+K Real Estate Solutions can work as a Transaction Broker, please contact us!
_____________________________________________
HOW CAN R+K REAL ESTATE HELP ME SELL A HOME?
NAVIGATING THE MARKET FOR SELLERS
Sure, buying a home can be a complex process. What about selling? While buying a home surely brings its own anxieties, selling a home can potentially bring more. Having the right agent who understands the evolving marketplace is the right place to start!
When is the worst time of year to sell?
Conventional wisdom says that selling during the Winter is the worst time to sell. This is sort of true, or at least it used to be. While no one really considers the Winter months the hottest time to sell, current levels of housing inventory suggest that it's still ripe with opportunity and buyers. The holidays certainly put a hamper on things, and Winter weather can quiet things down. Spring is coming ever earlier however, and January is a great time to be getting prepared to sell in the upcoming Spring market.

When is the best time of year to sell?
It's been consistent for years; Spring really is the best time to sell! As the environment greens up, the home's curb appeal follows. But like I've already mentioned, this is earlier and earlier. Buyers are out and about in full force by February. And if we have a couple of 50-degree weekends in January, then it can be even sooner. If Spring is your target, talk with an agent in the prior Fall. Identifying areas to spruce up a home's appeal and getting to work early can maximize your return on a sale.
Do you know what percentage of List Price homes are selling for in your area?
Your agent should know. And it can be quite different depending on the price range of the house. Being competitive when it comes to deciding on an Asking Price is one of the ways in which home sellers can fail to find success without a good agent.

There are 3 reasons a home will sell: Location, Condition, and Price.
How an agent markets your home can bring these 3 reasons together, finding the right price for the current market and the right buyer for your house.
Did you know that you have a choice when it comes to what it costs to sell a home with an agent?
If the answer is "no," then it might be because no one's ever offered you a choice before. It's their way or the highway. But the consumer should, and does, have a choice. At R+K Real Estate, we offer full service solutions that are meant to empower our clients!