If you're thinking of selling right now in Lawrence, KS, there is some potentially good news for you! Housing inventory is historically low at the moment. Take a look at this info graphic: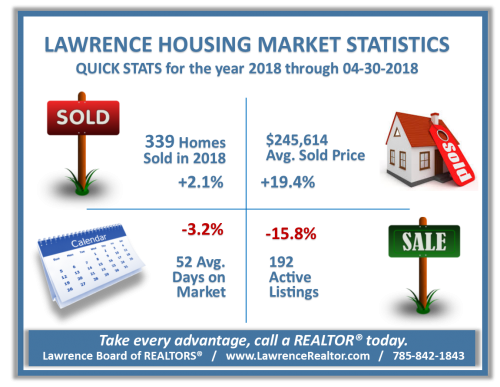 As you can see, time on market is down and active listings are down from the same time last year. And then take a look at the average sale price in 2018. It's over $245,000, an increase of nearly 20%! That's good news on many levels, and may be a good enough reason for a seller to consider getting on the market.
But, it's important to consult a REALTOR® before making a decision. Not all listings are created equally, and depending on the value of a home can make all the difference. For example, most of these gains are only happening in the range of homes priced about $100,000 to $350,000. Homes priced above $400,000 are not seeing quite the same frenzied market activity as those below. And that makes a lot of sense. There are other factors that can influence a home's value, so the important take-away here is to contact an agent if you're thinking of selling.
Another reason to contact an agent: It's a great thing to sell right now, but if you also want to buy then things can get really complicated. Navigating the market is what we do, and buying in a "seller's market" can be quite tricky! It's all about strategy, and the goal should be to win/win.
I love working with both buyers and sellers in any market. This one presents some particular challenges. But, I have solutions! Contact me if you're curious about your home's value, or if you're thinking of buying in Lawrence.