Welcome to our Real Estate 101 series! This is the first in a series of articles we'll be doing to help educate clients and the public in general about relevant topics in the world of real estate. This is important because real estate is a "hyper" local market. What works in one location may not work in another. Lawrence, KS is very different from rural Kansas markets. Perhaps even more different than it is from say, New York City! So, these topics we cover will be very specific to Lawrence and the surrounding areas, but may not relate to other places so well. With that being said, let's dive into our first topic: Getting Started Buying a Home!
So you've decided to buy a home. Good for you! A house is not only a place to call home, it's also an investment tool. I won't quote the stats here, but they clearly show the differences in personal wealth between renters and owners. Buying a home just makes sense and there's a reason it's referred to as the American Dream. But how in the heck to you go about getting it done?
The task can seem daunting. No doubt, it's a complex and tricky process. More so now than ever! There's a reason that buying and selling real estate is handled by professionals. REALTORS are the professionals the public looks to in order to guide them through. So, it makes sense that the first step should be to interview and hire a REALTOR!
A good REALTOR will be able to get you started on the path to accomplish your goals. But what are your goals? This is part of the job of your agent, to help you establish the goals and the roadmap designed to reach them. It's never to early to find and talk with your agent. They will provide you with the information and tools to begin. Here's a flow chart that illustrates the path from beginning a search to closing on that new home: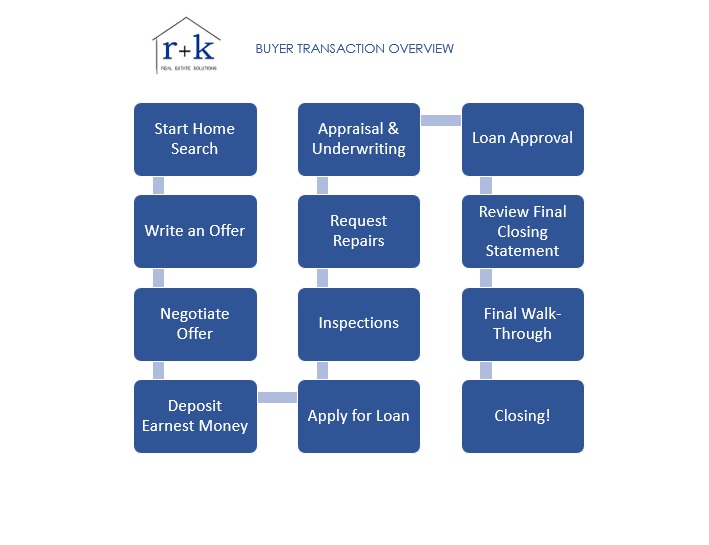 Buying a home begins with a search. REALTORS have access to the MLS (Multiple List Service). This is where homes are listed for sale by their Listing Agent. Your agent will work for you as your Buyer Agent. This is important, but more on that later. Your Buyer Agent will set you up with a search in the MLS based on the criteria you establish. Through MLS updates, you'll see new homes as they hit the market. Other tools that are handy include online websites like Zillow and Realtor.com. These are the tools you'll use to find your home!
Your Buyer Agent can work with you for as long as it takes. We've had buyers look for several years for the right thing to come along. Every buyer is different! Unless you have a different sort of agreement, your Buyer Agent will only get paid when you close on your home. You won't pay them upfront for their services. And the other good news is that your agent is usually paid via the commission the seller pays to the Listing Agent. Per the listing agreement, the seller agrees to pay their agent and to pay a Buyer Agent a fee. This fee is listed in the MLS. Whenever you're interviewing a potential Buyer Agent, you should discuss how they get paid. If you ask this question, you'll be miles ahead of most other buyers!
In order to get stared in any home search in Lawrence, the first step should be finding your agent. There are many good local REALTORS and it's important to stay local. It's also important to interview more than one agent and find out what differentiates them. Personal referrals are good to go on. Online research is also a good idea. Most good REALTORS should have a web presence that's easy to find. So go find your REALTOR and get started!