This week with R+K…
It's cold. I'm over it. With 4 kids under 7 years old, our house has been absolutely bouncing off the walls this week! Feels a little crazy, but we're counting down to that 28 degree day on the forecast!


Updates around Lawrence:
- The Lawrence Schools Foundation and Lied Center of Kansas presents Ovation! talent show TODAY 02/12 at 7pm. This free and virtual event features middle school and high school students in USD 497; donations encouraged go to the Lawrence Schools Foundation: https://lied.ku.edu/?event=ovation-2021
- This past week we learned of the reporters that left LJWorld, with various reports of toxicity after they unionized. Mackenzie Clark is launching a new newspaper, The Lawrence Times. Hopefully the LJWorld will address this from their perspective as well. Read one account here: https://connermitchell0.medium.com/the-toxic-culture-of-the-lawrence-journal-world-ef2061fbbd5b
- Lawrence Douglas County Public Health has moved the school virus guidance to green for the first time since October, allowing schools to make plans to resume more in-person classes. Read more here: https://www2.ljworld.com/coronavirus/2021/feb/11/douglas-county-school-virus-guidance-downgraded-to-green-tier-for-the-first-time-since-october/
- One of the best things about living in Lawrence is our proximity to Kansas City, without actually living in the metro area. The Nelson-Atkins Museum of Art opens the traveling exhibit, Monet's Water Lilies today 02/12! https://nelson-atkins.org/news/water-lilies-moved/
Valentine's Day Weekend:
If you know me, I'm not a huge fan of Valentine's Day, but there are some local businesses doing fun events and dinner menus if you're so inclined…
- Merchant's is running live music and specials Friday-Sunday, with a 3-course carry out option as well: https://www.merchantsonmass.com/
- The Commissary is hosting its first-ever dine in experience! See menu and make reservations: https://www.facebook.com/thecommissarylfk/
- J. Wilson's has Valentine's brunch, dinner, and carry out plans here: https://jwilsonsrestaurant.com/uncategorized/valentines-day-2021/
- Eccentricity is hosting a fun, limited capacity Galentine's party; as of right now there are still tickets available for 02/13: https://shopeccentricitykansas.com/posts/galentine-s-event-vip-admission
- AR Workshop Lawrence is also hosting Galentine's events on Saturday the 13th with projects, photo sessions, and shopping! Book your limited capacity reservation here with time windows to choose from, as well as family and couple events on Valentine's Day: https://www.arworkshop.com/lawrence/
- Latchkey Deli is offering a $50 custom package deal, 10% of proceeds go to support the Taproom: https://www.latchkeydeli.com/
Need some last minute Valentine shopping ideas? Au Marche has a great selection of artisan chocolates and treats, Phoenix Gallery and Striped Cow are my go-to gift spots, Eccentricity has locally made cocoa bombs, Valentine soaps, and other gifts, Jungle House goods has the cutest plant gifts (they'll pot it for you!) and even floral bouquets for the weekend. Tag me on Instagram (@exploring_lawrence) with your finds!
And last, here's a cocktail recipe from Ryan:
"Naked and Famous"
Equal parts of each of the following:
- Mezcal
- Yellow Chartreuse
- Orange Bitter Liqueur like Campari or Bruto Americano (used here)
- Lime Juice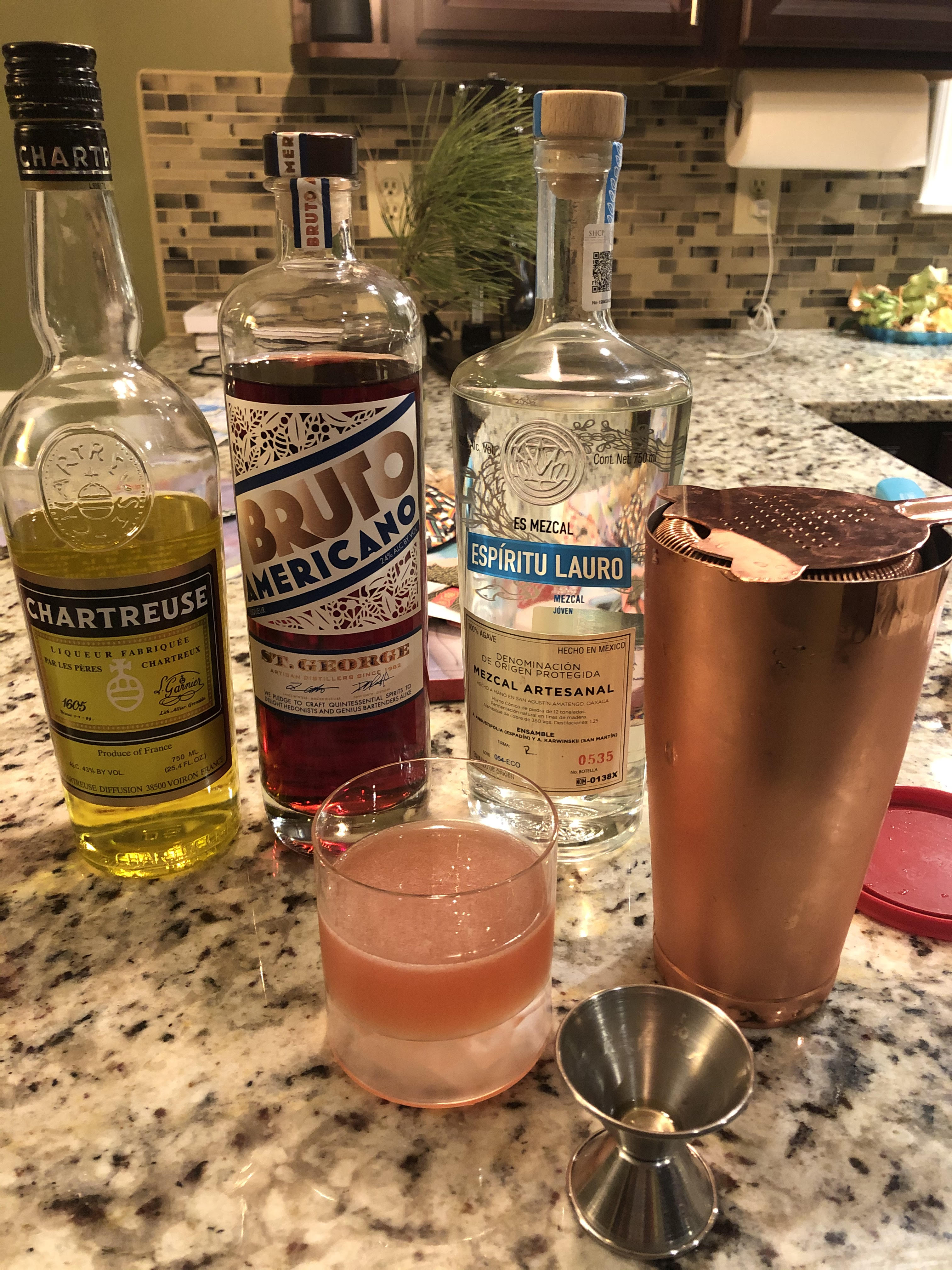 To make a single drink, just use 1 ounce of each. This Mezcal was a generous gift from a client that travelled to Mexico. What a gift!
- Katie, Owner/REALTOR