Welcome to 3017 Oxford Rd. in Lawrence, KS, proudly brought to you by R+K Real Estate Solutions. This stunning Gene Fritzel-built home is full of surprises and loads of character! Located in the tree-filled hills of Orchards neighborhood just west of the University of Kansas, this home is truly specular, inside and out. Let's start outside with the street view.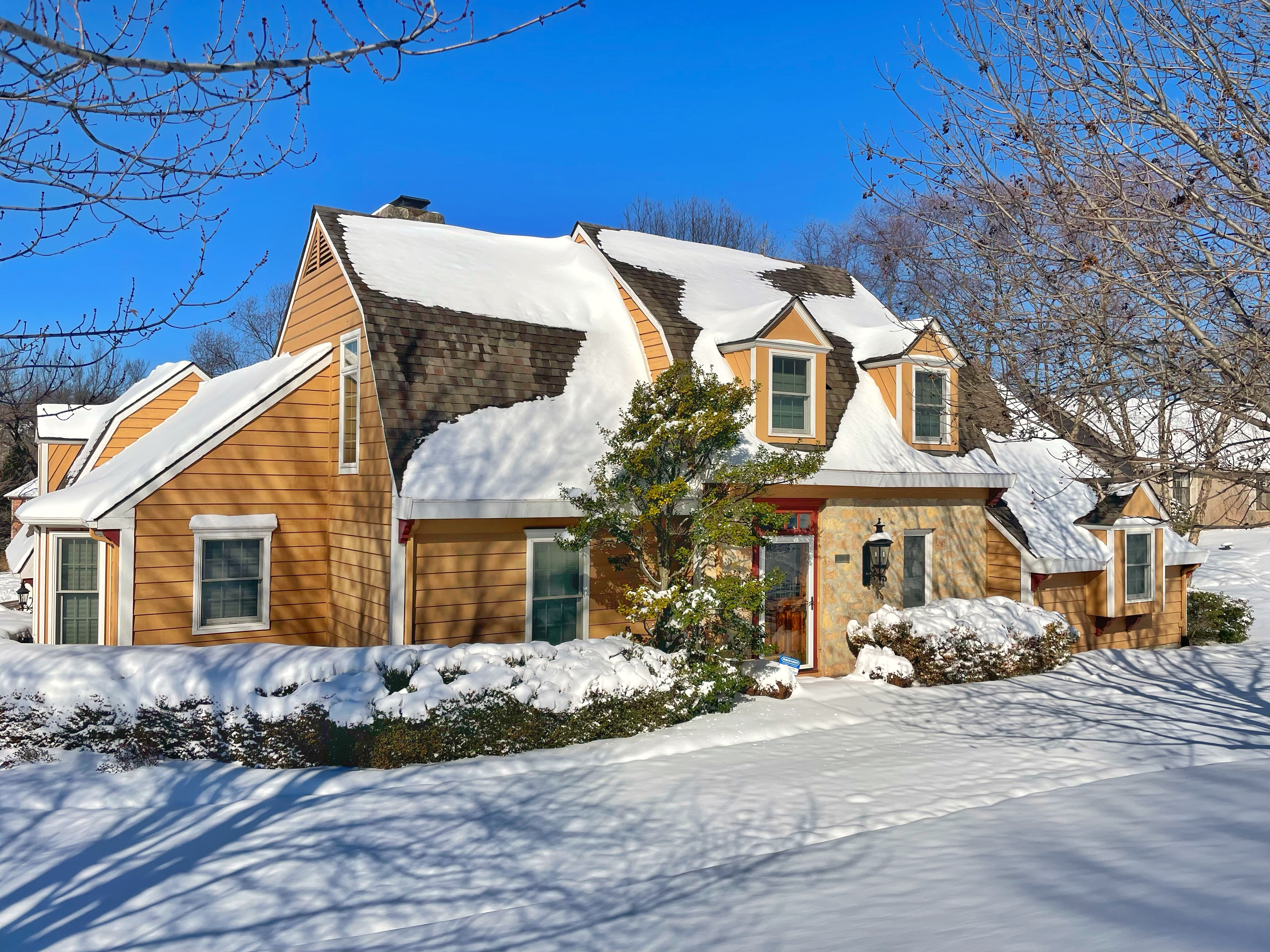 Taken after one of the biggest snow falls in recent memory, this photo shows the very unique character of the home's layout. While it is a large home, clocking in at nearly 4,000 sq.ft., it packs it all into an almost cozy footprint. Definitely the kind of home that invites you to stay in on a cold snowy winter day and get snug by the fire!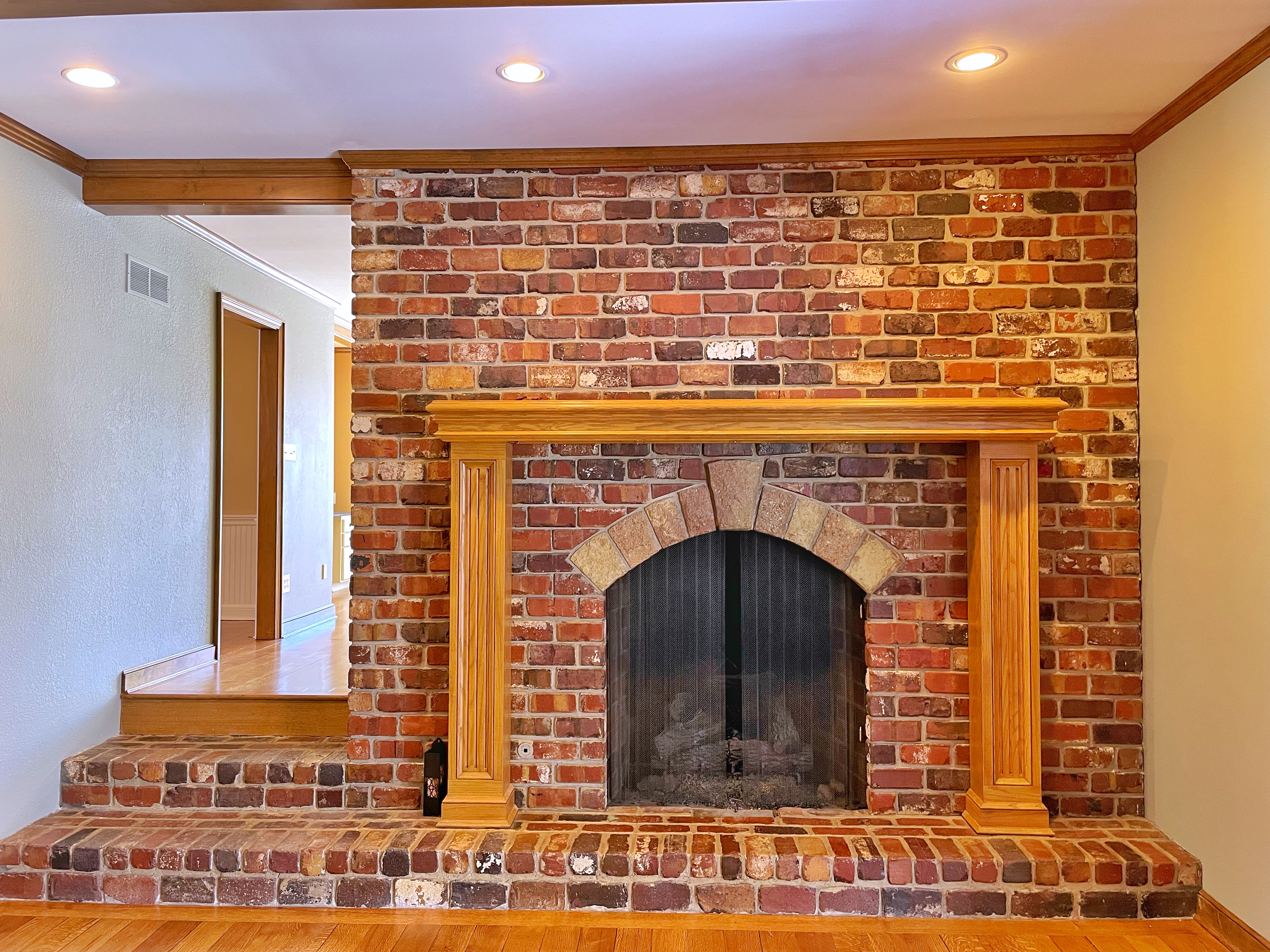 Talk about a fireplace! I'm told all the brick is reclaimed old Lawrence bricks. This home actually has two fireplaces. The one seen here sits in a large living room with tall ceilings and large windows looking out onto the wonderfully landscaped back patio area. We'll get to the that later down the page. The second fireplace is located just behind this one, in the kitchen. And what a kitchen!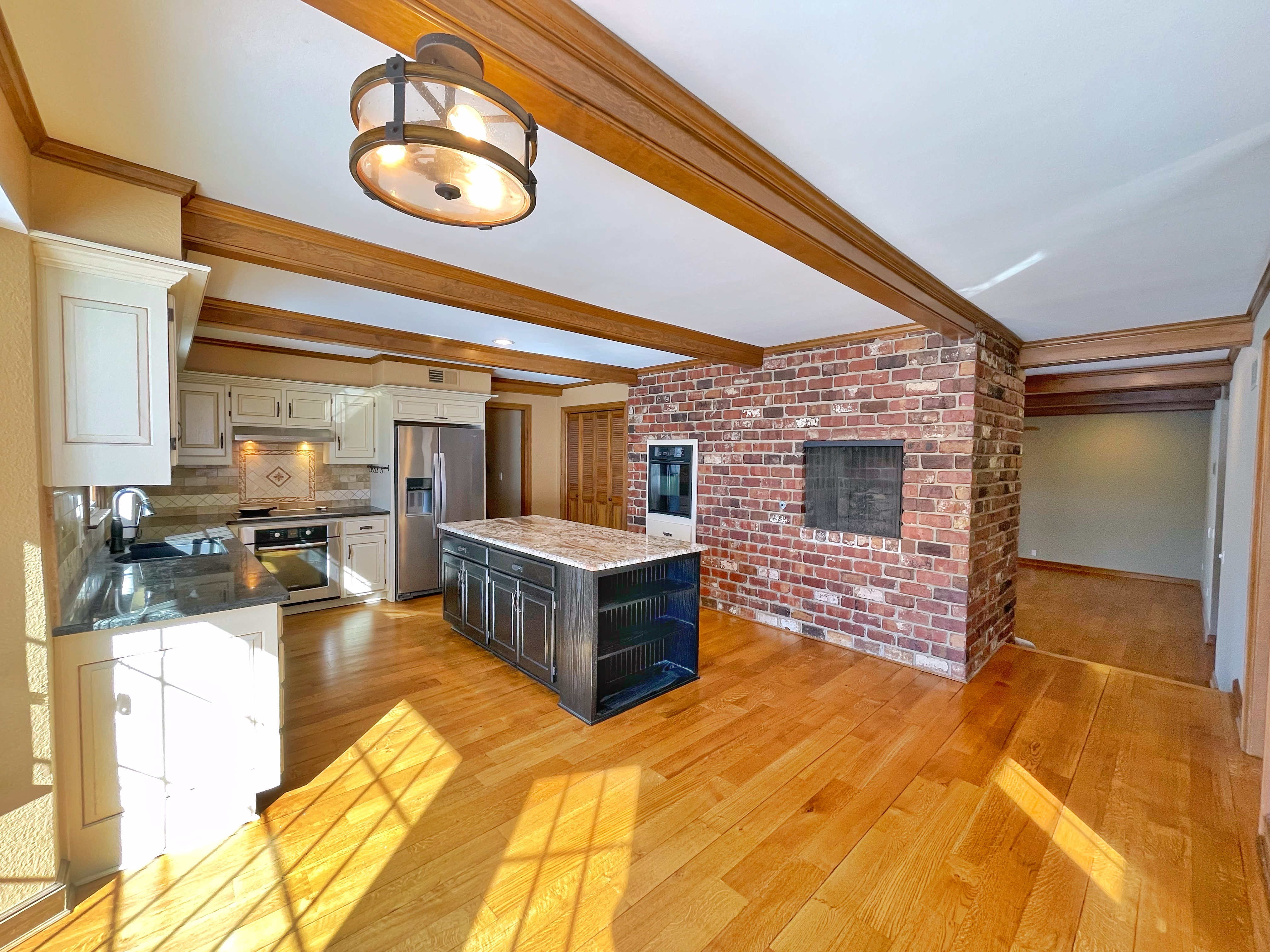 This kitchen is huge! Plenty of area to prepare, cook, open a bottle of wine, and wind down the day with family or friends! Just like much of the house, the living room and kitchen feature luxurious wood floors. From the tile backsplash to the kitchen island, the ceiling beams, the large windows, the granite counters, and right back to that reclaimed brick, the kitchen is an incredible space indeed!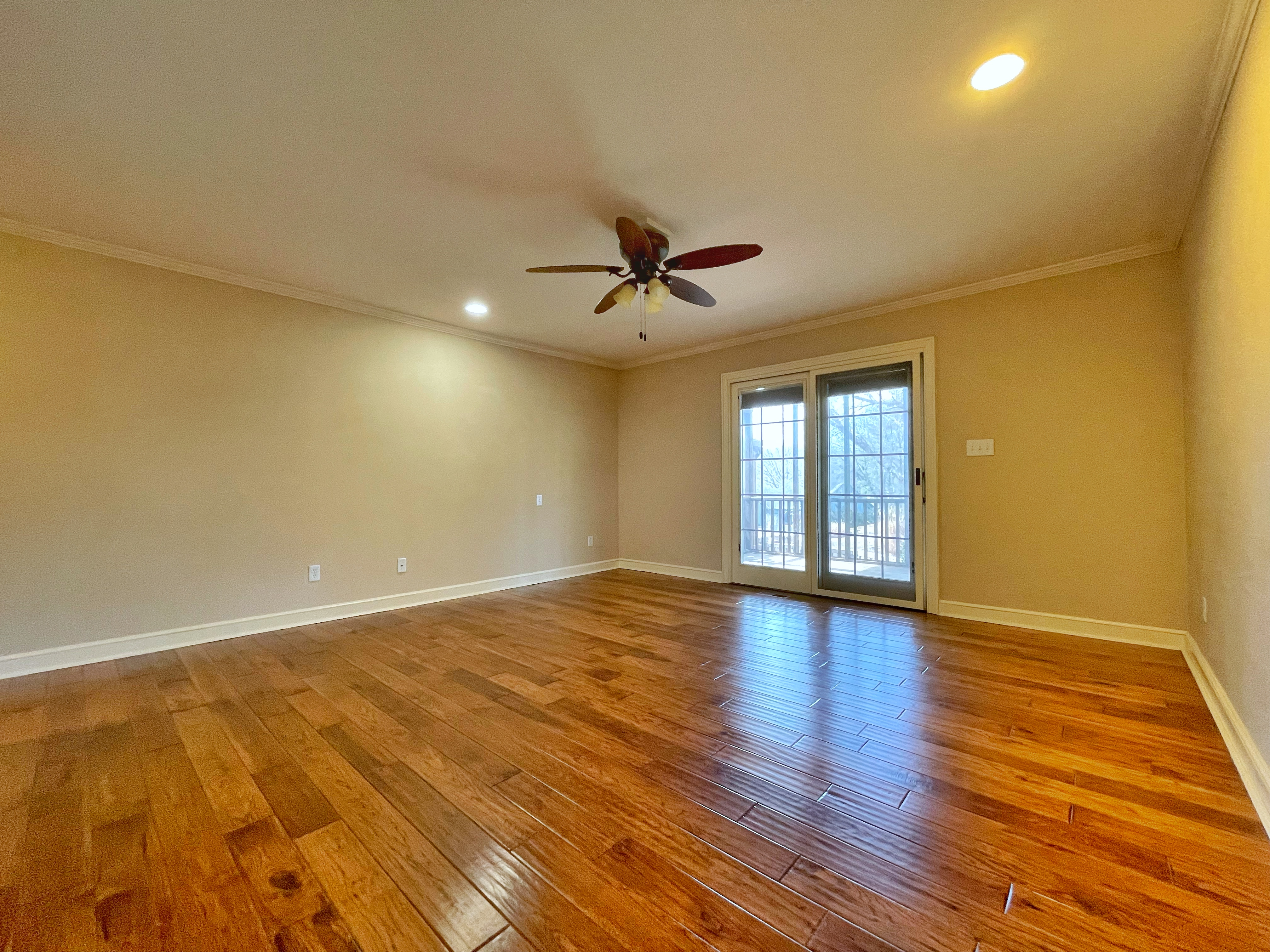 Featuring 5 bedrooms and 5 bathrooms, each like this one with absolutely incredible wood floors! We love wood floors, especially in bedrooms. This large bedroom is the primary suite. The doors to the back screened-in deck let in tons of light. Let's check out that deck while we're here: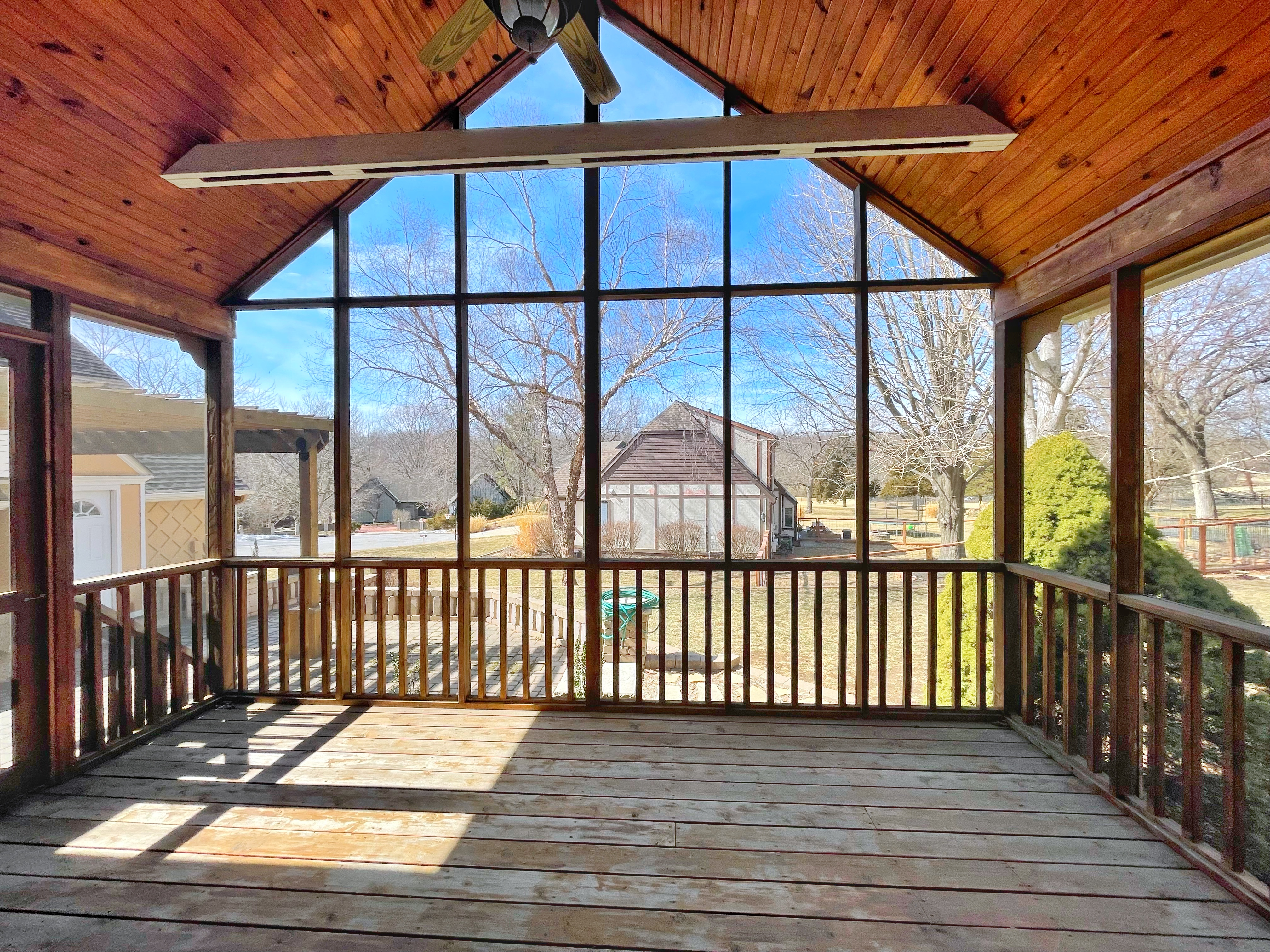 This has to be one of our favorite features of this home! In addition to the lovely landscaping and patio space, this deck feels like a bonus. A perfect place to enjoy a morning coffee or an evening's sunset. Without having to worry about any mosquitos or other creepy critters! We'll get back to more about that back yard below.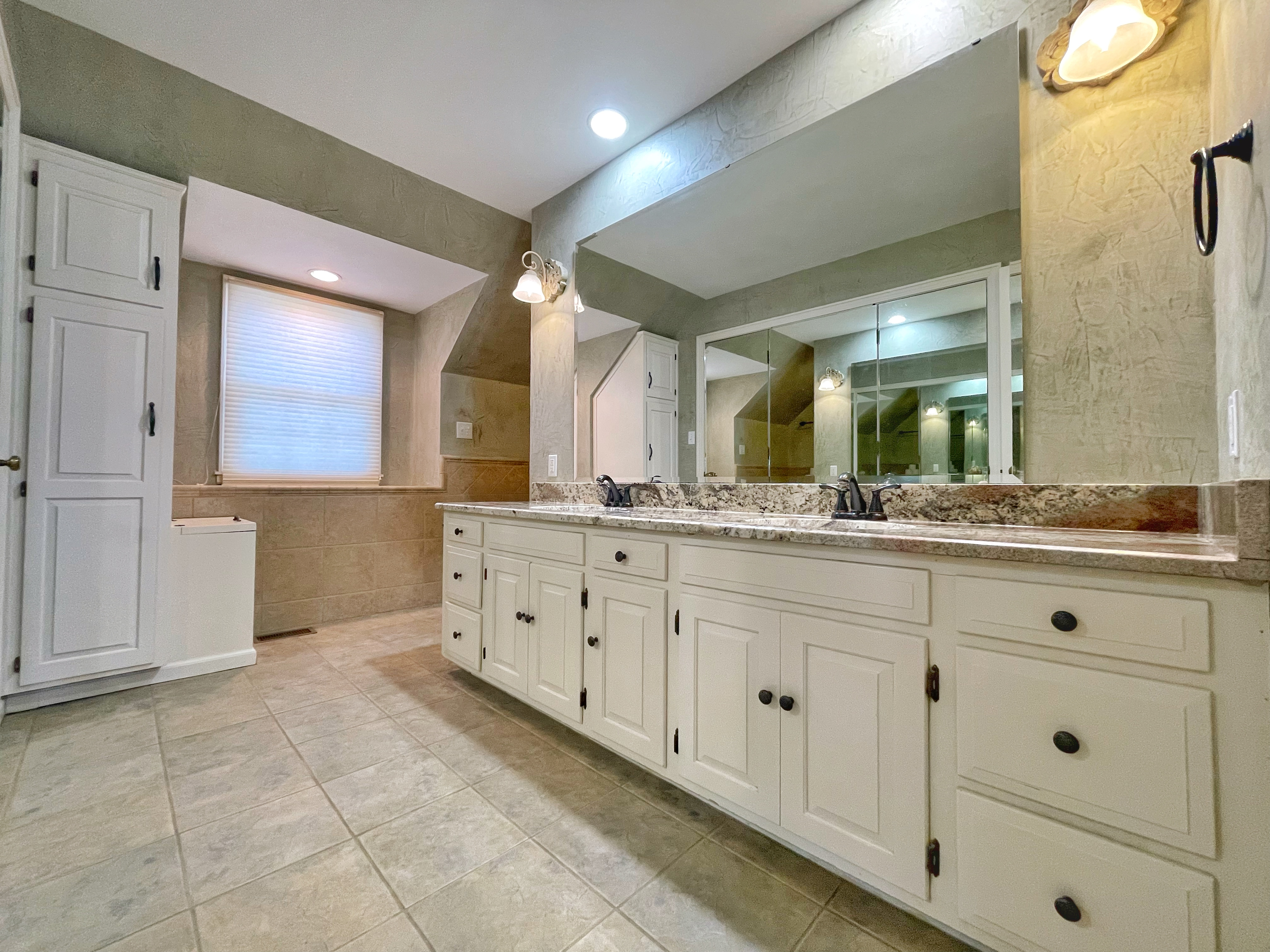 We can't leave the primary suite without giving mention to this large bath/closet. Featuring tile, granite, a full shower/tub combo around the corner, lots of closet space & storage, and access to the laundry chute, this bathroom is a warm and inviting space!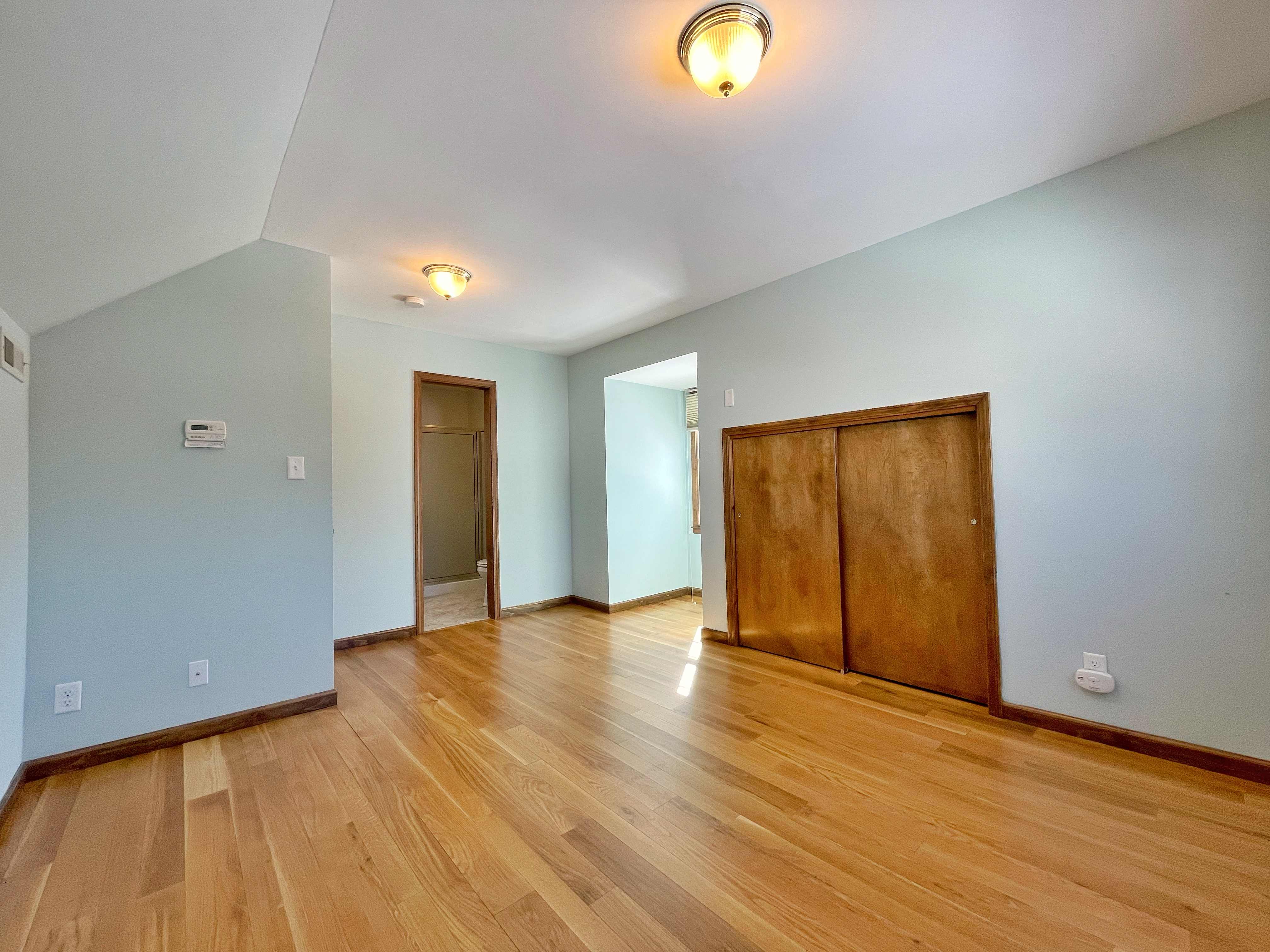 Moving on to the home's other 4 bedrooms, this one is located above the garage. Showing off the versatility of the home, this space could be used as a traditional bedroom, as it features it's own en-suite bathroom. Or, alternatively, it could be used as an office space, hobby room, or any other of your family's Room-of-Requirement needs! Other bedroom features throughout the home include a conforming bedroom in the basement and a non-conforming bedroom on the 2nd floor. The reason we're calling it non-conforming is because it's accessed off a closet of another bedroom. Yes, you read that right. This home is full of surprises! Time to head out back.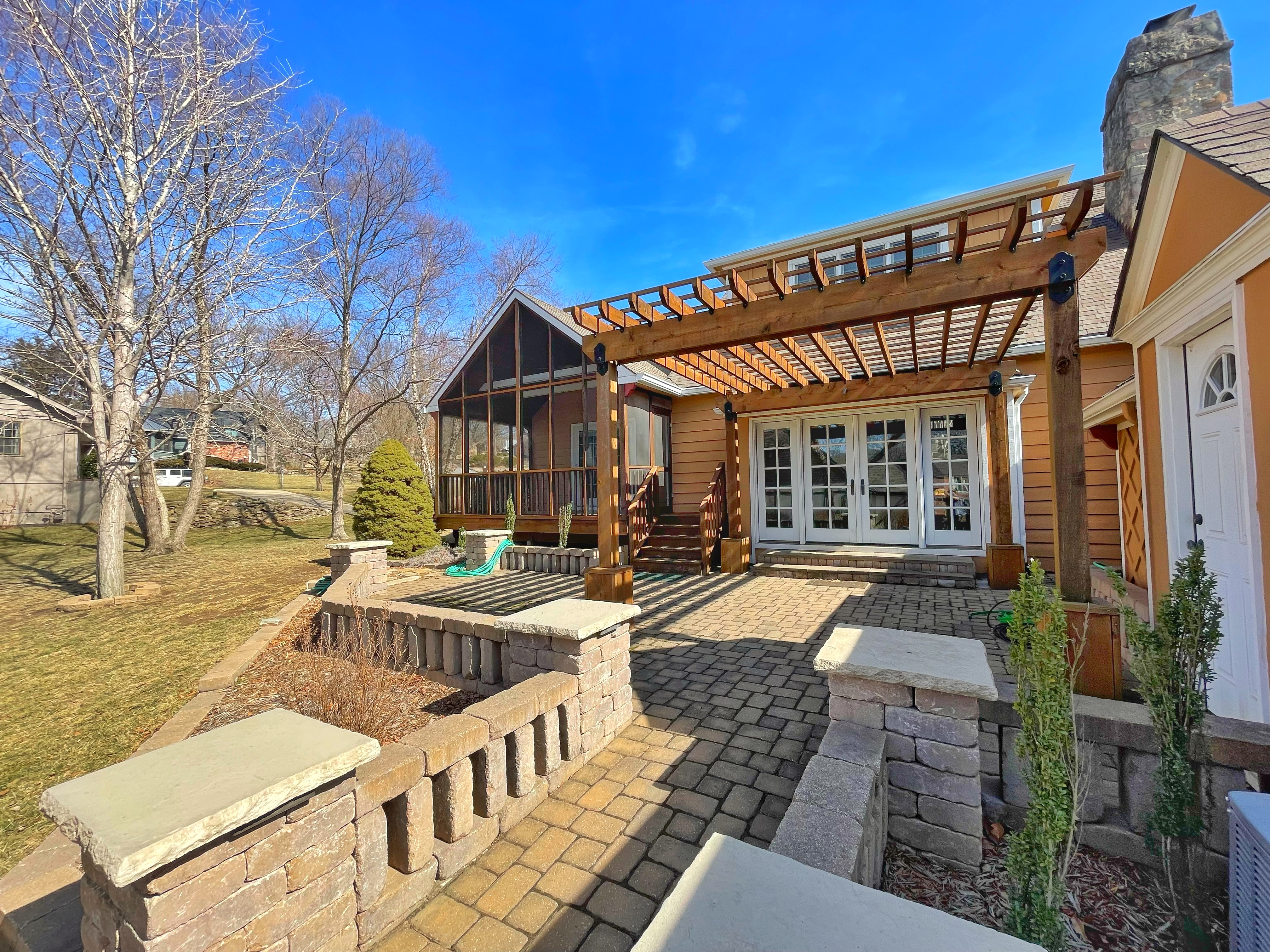 We can't say enough about this incredibly landscaped back patio! But, if you've read our home features before, you know where we're going with this. . . Garden Party! Just check out that pergola. After having viewed from the inside, the screened-in deck off the primary suite is visible from the outside here. This photo was taken in February. Imagine what it will look like in May! Backyard entertainment spaces are some of our favorite home features, and this home's backyard is next-level!
This home is a wonderful and unique Lawrence home. In addition to all that we showed above, there are dual, large-capacity water heaters, tons of unfinished storage space in the basement, and an alternate utility/laundry space. There's even an almost-hidden bonus room in the basement! So many custom touches, we just can't detail it all here. It has to been seen to be believed!
We appreciate bringing you on a tour of this gorgeous home! To inquire about a personal tour, contact Ryan at 785-218-1975.
For Listing Details, click here.
If you would like for us to feature your home here, find out more about our Home Seller Services.
If you're thinking of buying a home this Spring, find out what we do for our buyer clients on our Buyer Services Page.