Welcome to 3923 Aster St. in Lawrence, KS. Proudly brokered and brought to you by R+K Real Estate Solutions! This wonderful home located in the Northwest Lawrence neighborhood of Monterrey Bluffs is a fabulously constructed house originally built by Mallard Homes. This is a beautiful and convenient location in one of the most sought-after parts of town! We hope to take you on a little tour of our newest listing. If you've taken a tour with us before, you know there's bound to be a Garden Party. 3923 Aster St. definitely does not disappoint. With a huge backyard and open floor plan, this home is an entertainers dream! And, it even has a secret. We'll get to that. . .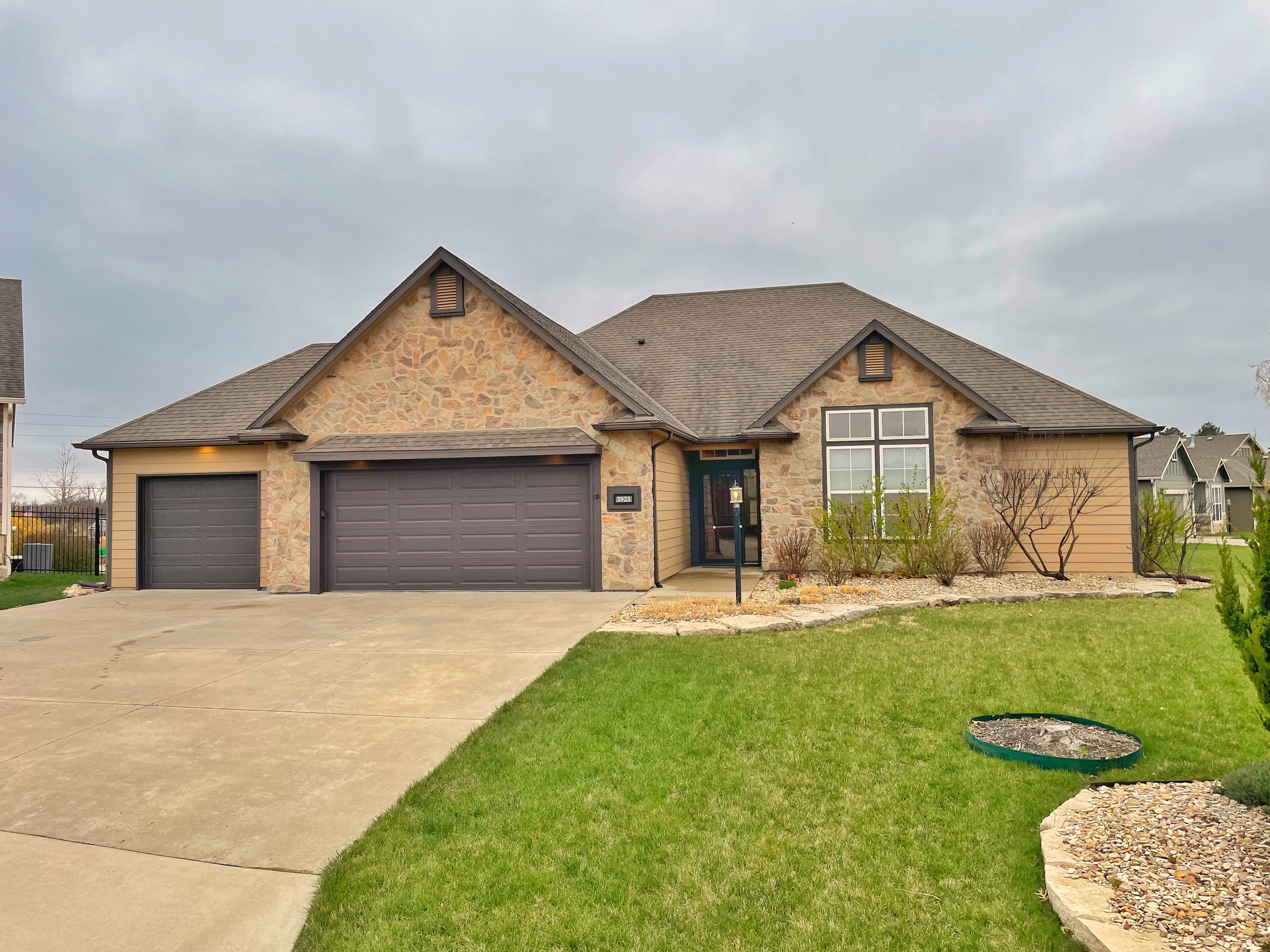 This home sits on a large corner lot of a cul-de-sac portion of Aster Street. There's tons of trees, shrubs, and lots of incredible landscaping everywhere. It also has serious curb-appeal with stone accents, large windows, a well-manicured lawn, and wonderful exterior accent lighting. Every house on this street shows the care each owner has for their home, and 3923 Aster is certainly no exception. It's apparent from the first moment you lay eyes on it, that this home has been loved!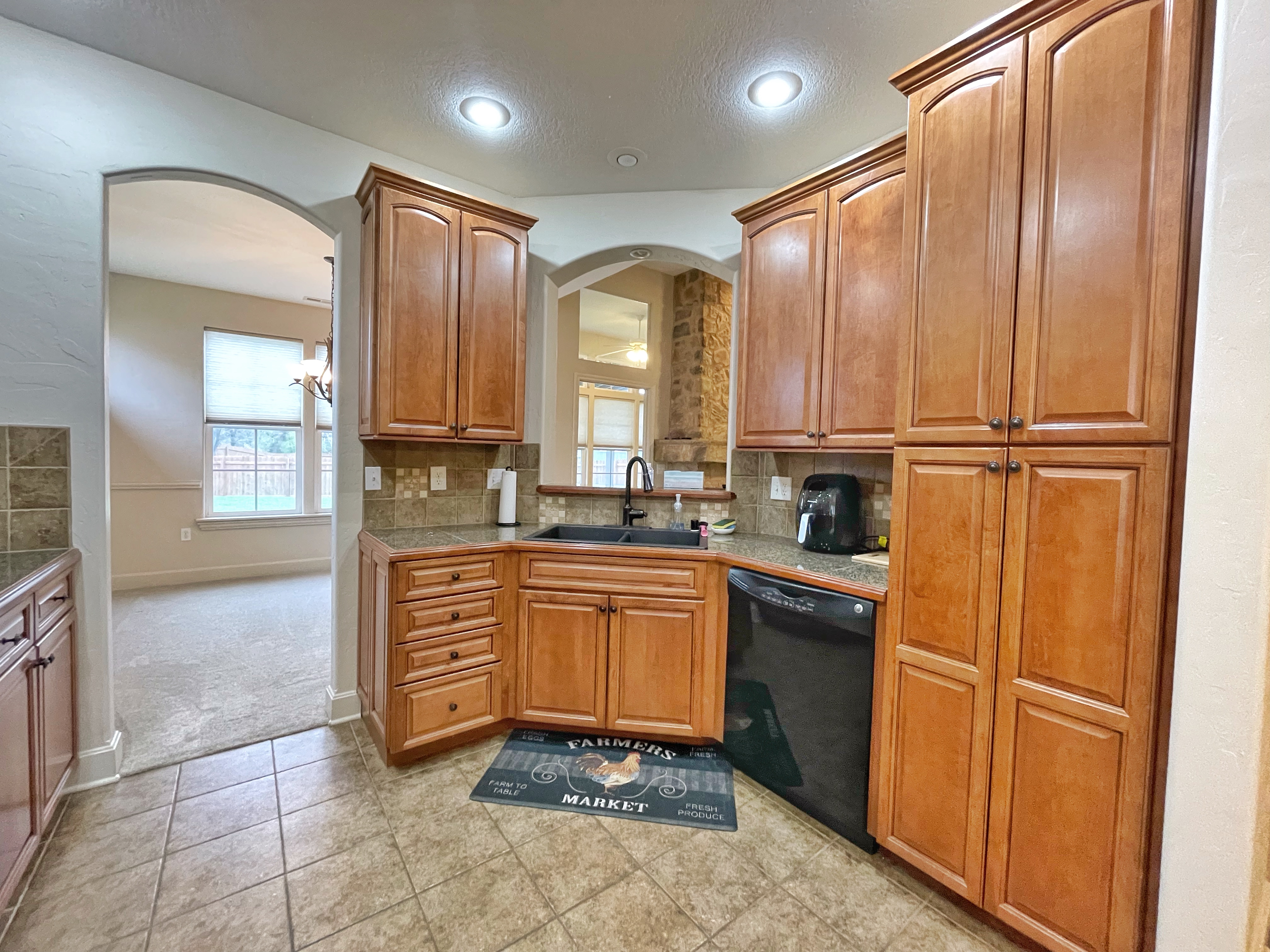 Heading inside, we'll start in the kitchen. This home's floor plan is best described as open. And that it is, indeed! The kitchen is very large and features lots of cabinet and counter-top space and a pass-through view to the dining room and the living room and it's two-sided fireplace and adjoining southwest-facing sunroom. Behind the camera in the above photo, there's even more eat-in/dining space. With large windows in this room and throughout the home, natural light is everywhere!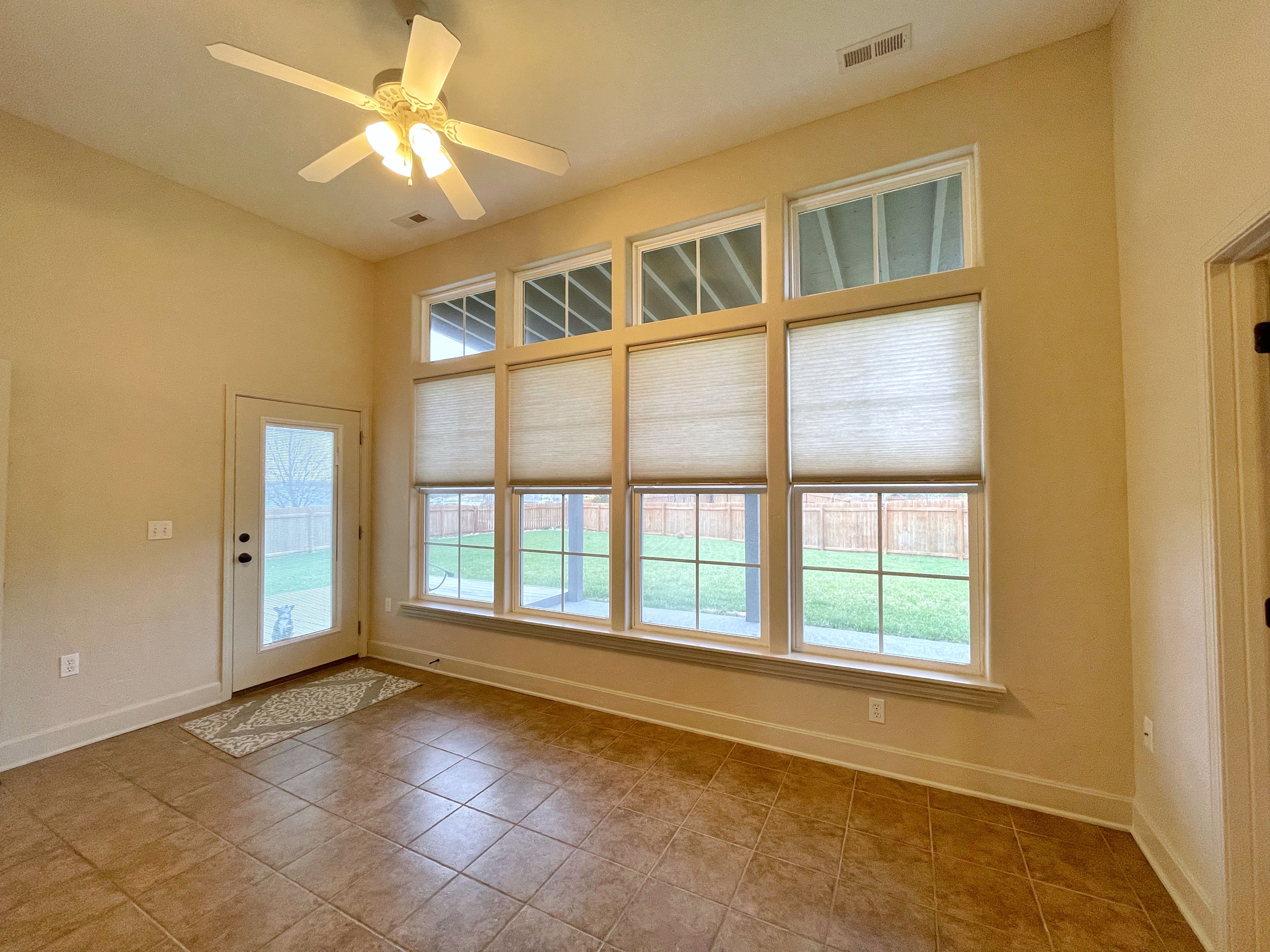 Here's a good look at that sunroom. Huge windows open to the view to the very large backyard and the deck & covered patio space. This room is perfect for entertaining, or as a that go-live-your-day morning coffee spot. High ceilings throughout the home are evident in this photo, along with the tile floors and large white trim. The sunroom also opens to the home's Primary Suite, which we'll get to next.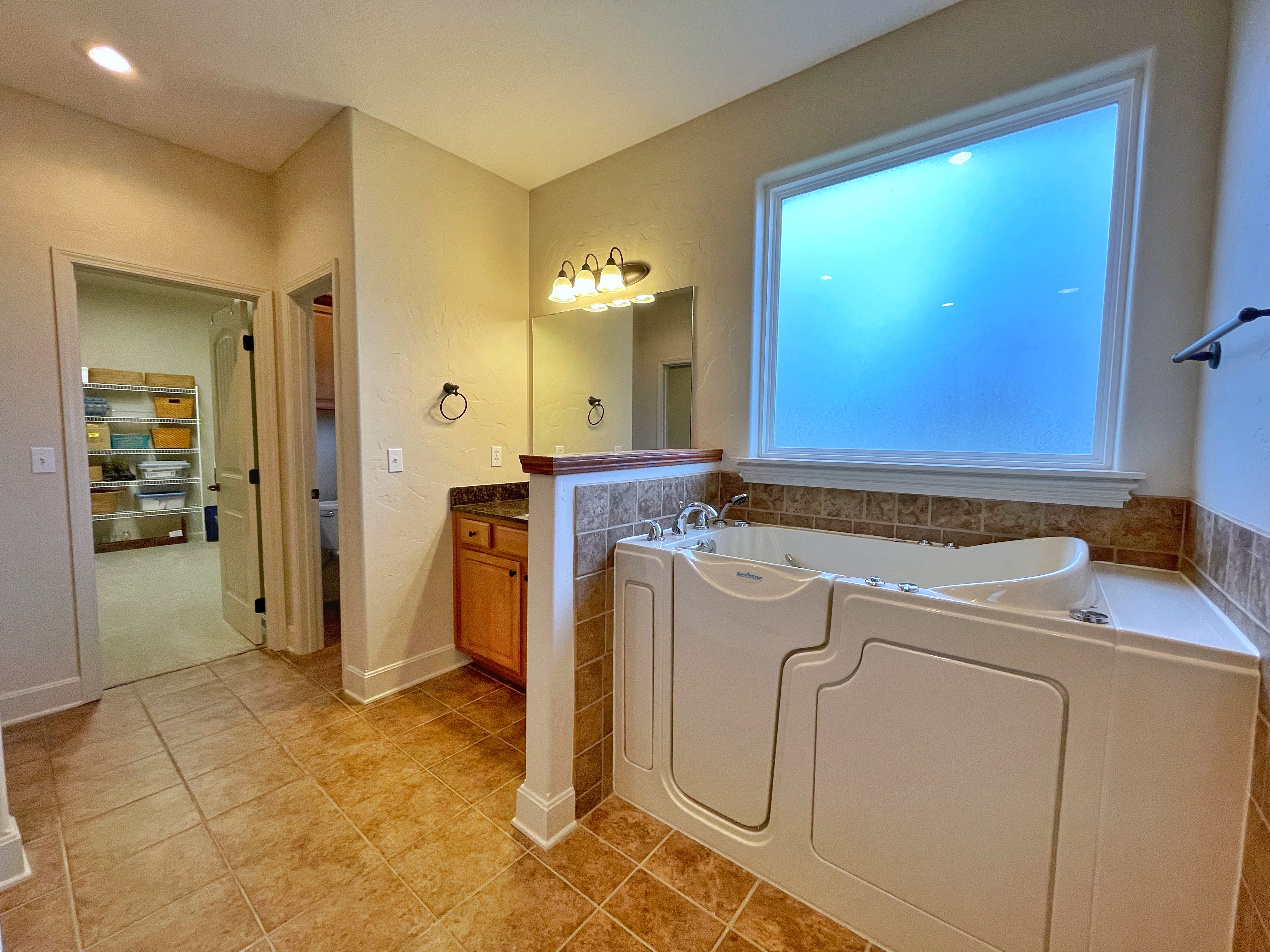 The Primary suite in this home is one of it's best features. A huge 20x13 bedroom is adjoined by this incredible en-suite bathroom and massive walk-in closet. Featuring two separate vanity areas with granite tops, walk-in shower, and enclosed tub area are accented all around by warm tile. This primary bath brings tons of useable space and storage options. For those seeking that extra little bit of privacy, the toilet is located in it's own dedicated water-closet, a classic home feature now often seen in newer homes with large bathrooms.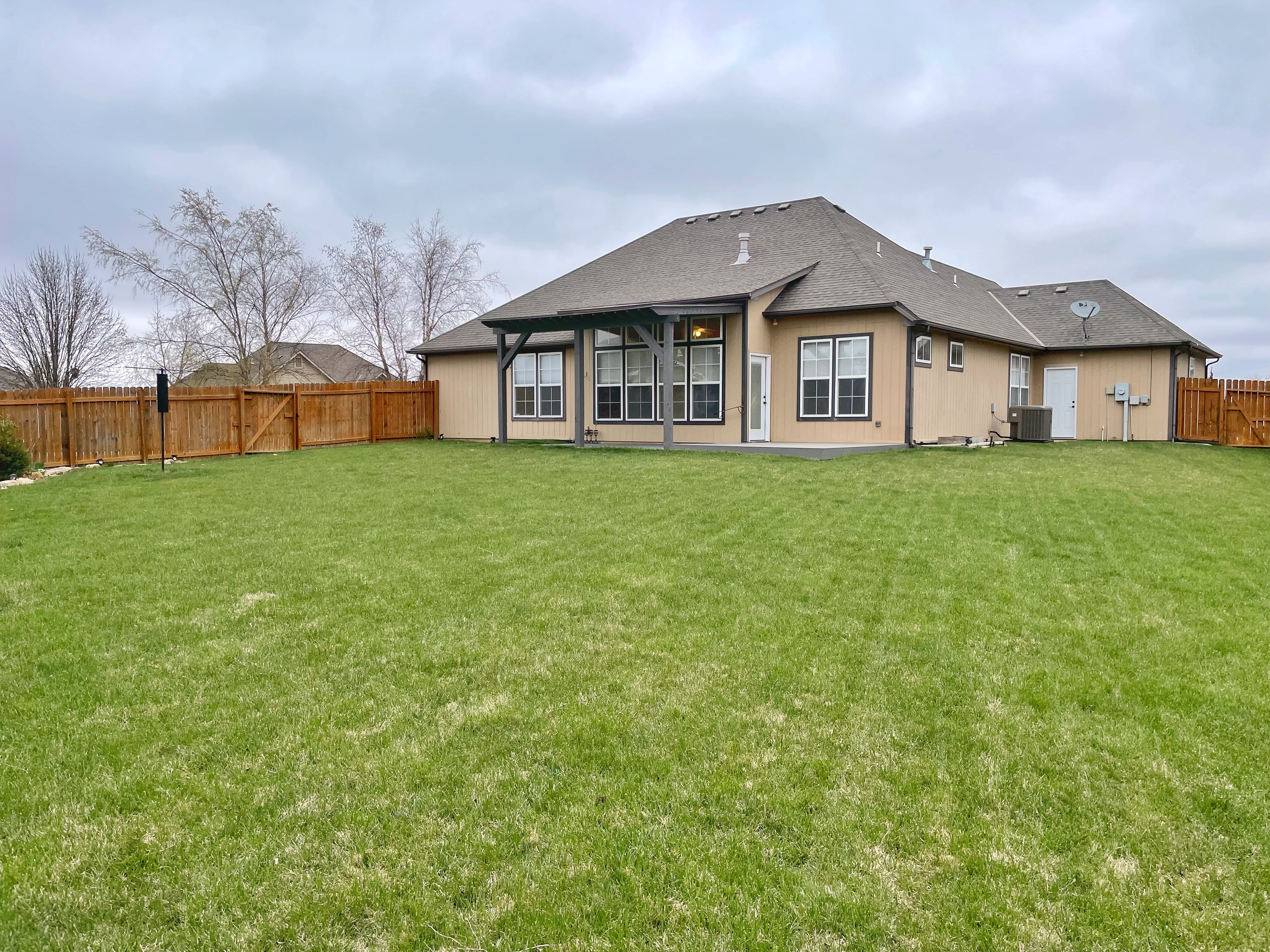 Now let's head out to that gorgeous backyard. Sitting on over 16,000 square feet, this home has a huge lot perfect for backyard play and hanging out. Heck, we think this yard is so big, you could probably play football in it! With the covered patio area, it's also perfect for family gatherings, BBQ's with friends and neighbors, and any kind of Garden Party your heart desires! Fully fenced and featuring a well-cared for lawn and some great landscaping are some great features to be found out here!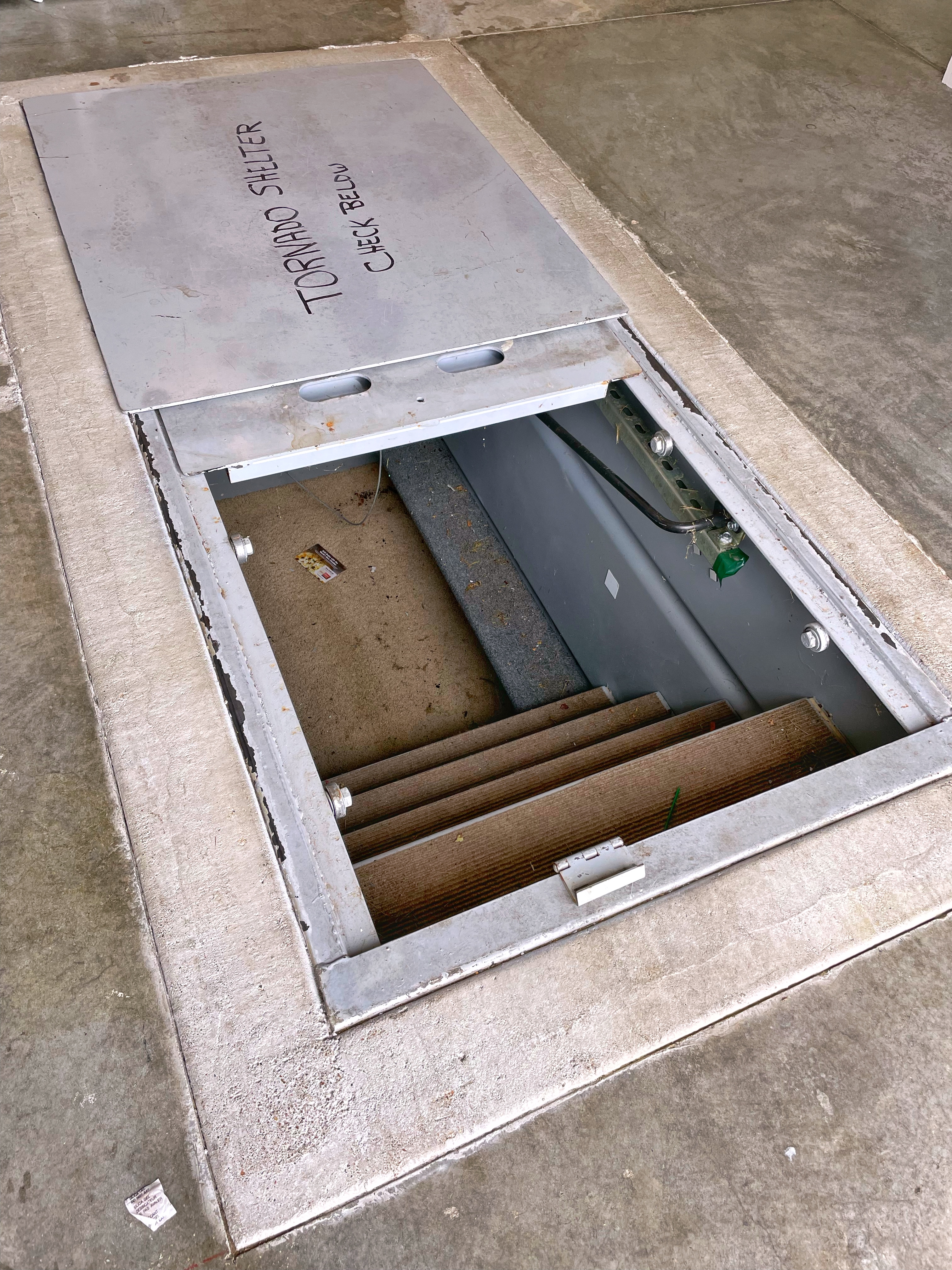 And now for this home's secret: An in-ground storm shelter! This is such a rarity, that we were actually surprised to see it in this home. Securely located in the concrete slab in the 3 car garage, this is bound to give peace-of-mind to anyone who dreams of a beautiful home such as this one, but laments that there might be no where to go when the weather turns bad. This is the perfect spot to set those fears to rest and to protect your family if and when that day ever comes. Easy to open in a hurry, and just enough space to fit the family and the dog. Now let's just hope you never have to use it!
Like all good things, this tour like all, must come to an end. Home inventory in Lawrence is at historic lows. Every home that comes on the market is an opportunity. We hope everyone who wants a shot at this home gets a chance to see it. Hurry, it certainly won't last long!
To inquire about a personal tour, contact Ryan at 785-218-1975.
For Listing Details, click here.
If you would like for us to feature your home here, find out more about our Home Seller Services.
If you're thinking of buying a home this Spring, find out what we do for our buyer clients on our Buyer Services Page.