Welcome to 18641 Jefferson Hills Dr. in Lawrence, KS. Proudly brokered and brought to you by R+K Real Estate Solutions! This incredible and unique home is located on 5 acres of secluded and wooded property just north of Lawrence, KS in the river bluffs overlooking town from the southern end of Jefferson County. We're sure you won't find a home this cool on a lot like this on the market today! This is truly a special home with some amazing features, and probably needs to be seen to be believed. However, we'll do our best to take you through it here. If you've been looking for a rural home with wooded acreage, don't delay because this one will be gone before you know it. It's just too cool! And to top it all off, the home has Starlink Internet service that will transfer to the home's new owner!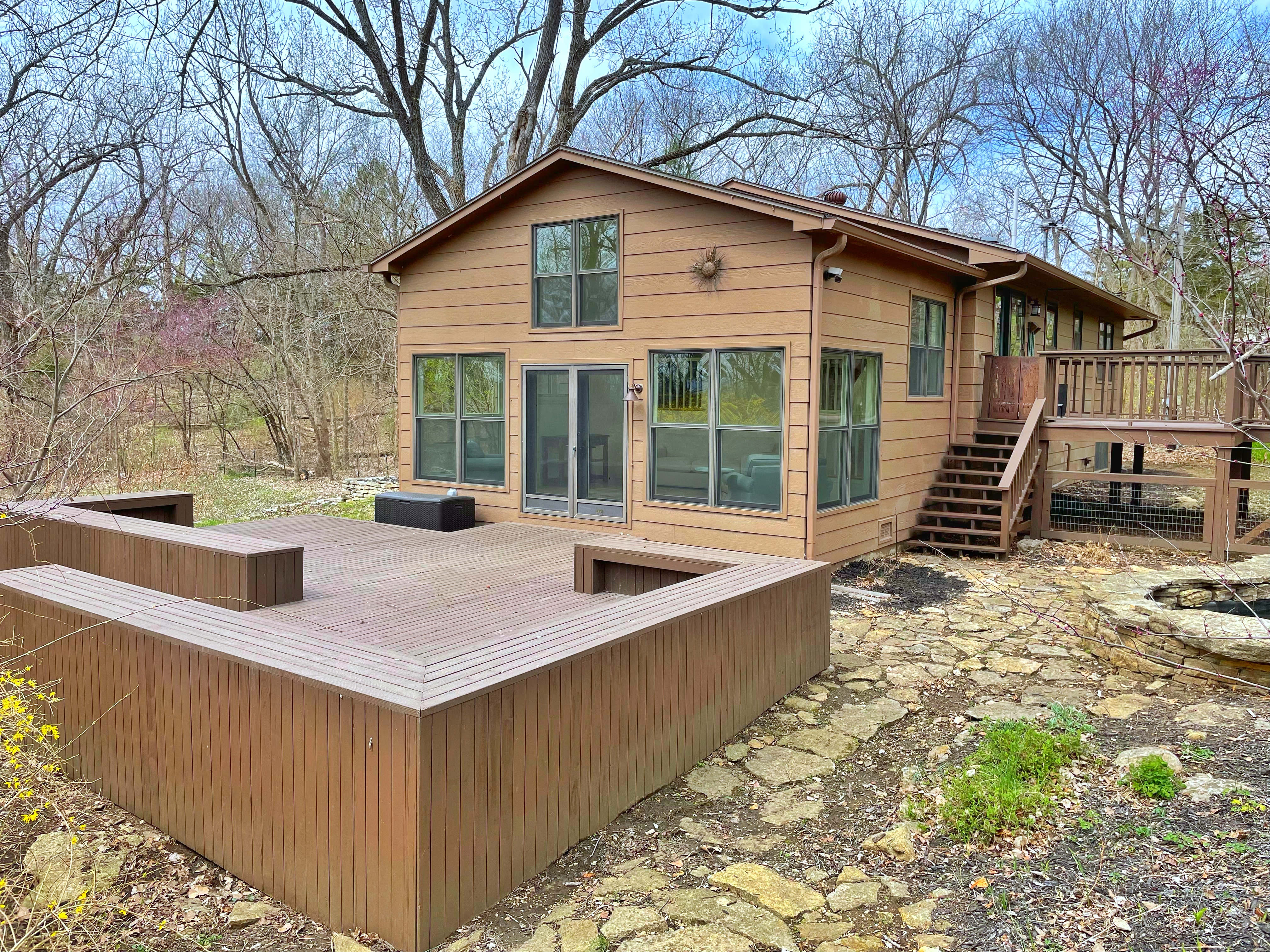 Here's a great first look at this home's exterior and a hint at it's surrounding setting. This lot, while open around the house, is about as wooded as it gets in Northeast Kansas. And this home makes the most of it! Just look at that modern deck that sits just outside the huge south-facing great room. It's the perfect blend of interior and exterior settings, and are just two of the many highlights we'll discuss. While we've been told on this listing that our photos look great, we still feel it's difficult to fully convey how beautiful this setting is. It's as quiet as can be, and the lights of Lawrence can be viewed through the trees at night!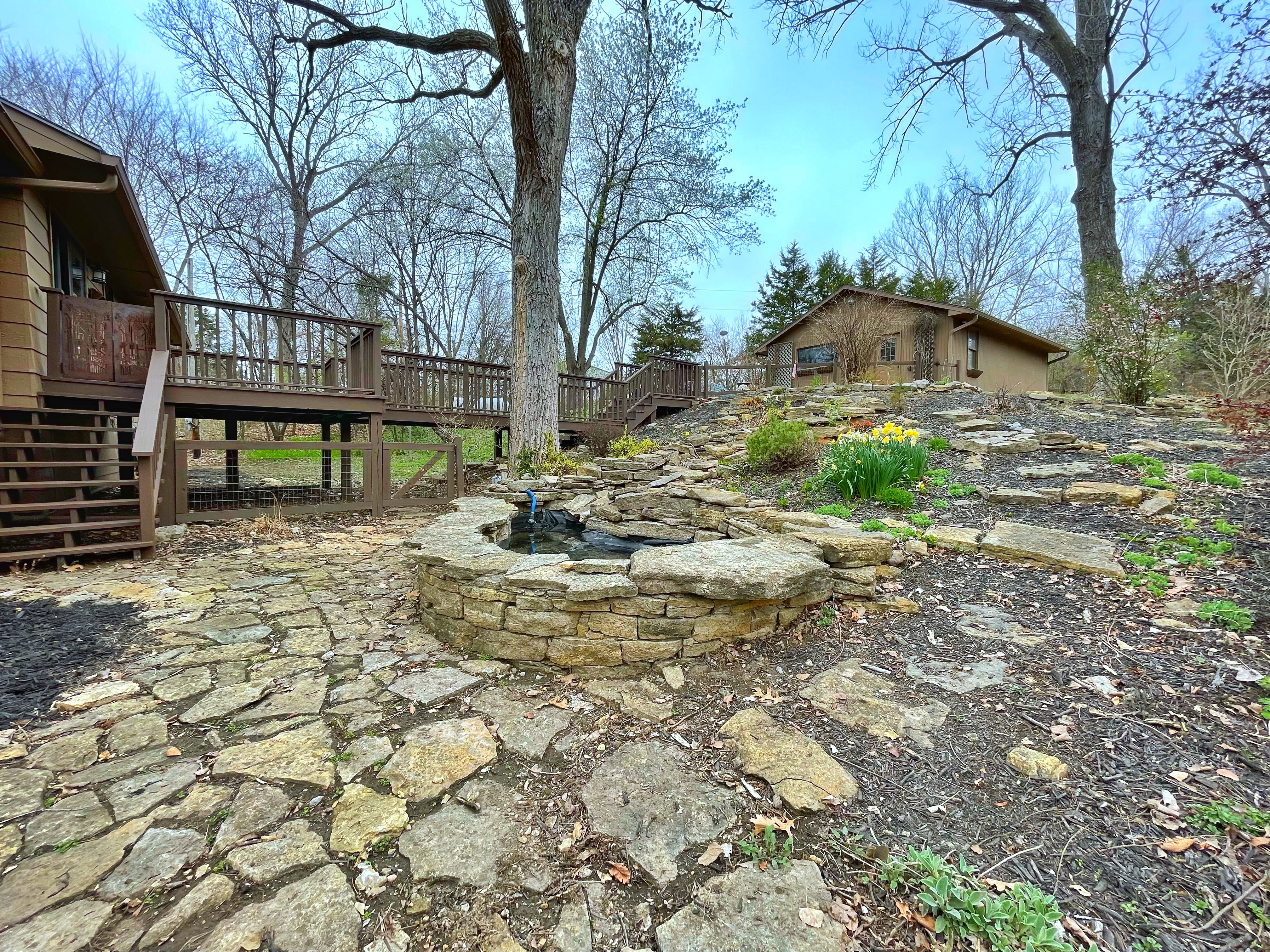 Before we head inside, we have to linger for a moment on the exterior of the home to focus on it's landscaping and setting. Here you can view the detached garage set up a little ways across the walkway from the house. There is a perimeter fence set up around the yard area of the house to keep the dog nearby. Also visible here is the incredible landscaping, stone, and the pond and waterfall. Spring is a little late-in-coming this year, but we can only imagine how wonderful this will look once all the plants come back in, the flowers fully bloom, and the trees green up again! This is possibly the most perfect setting we've yet found for a (yep, you guessed it) Garden Party!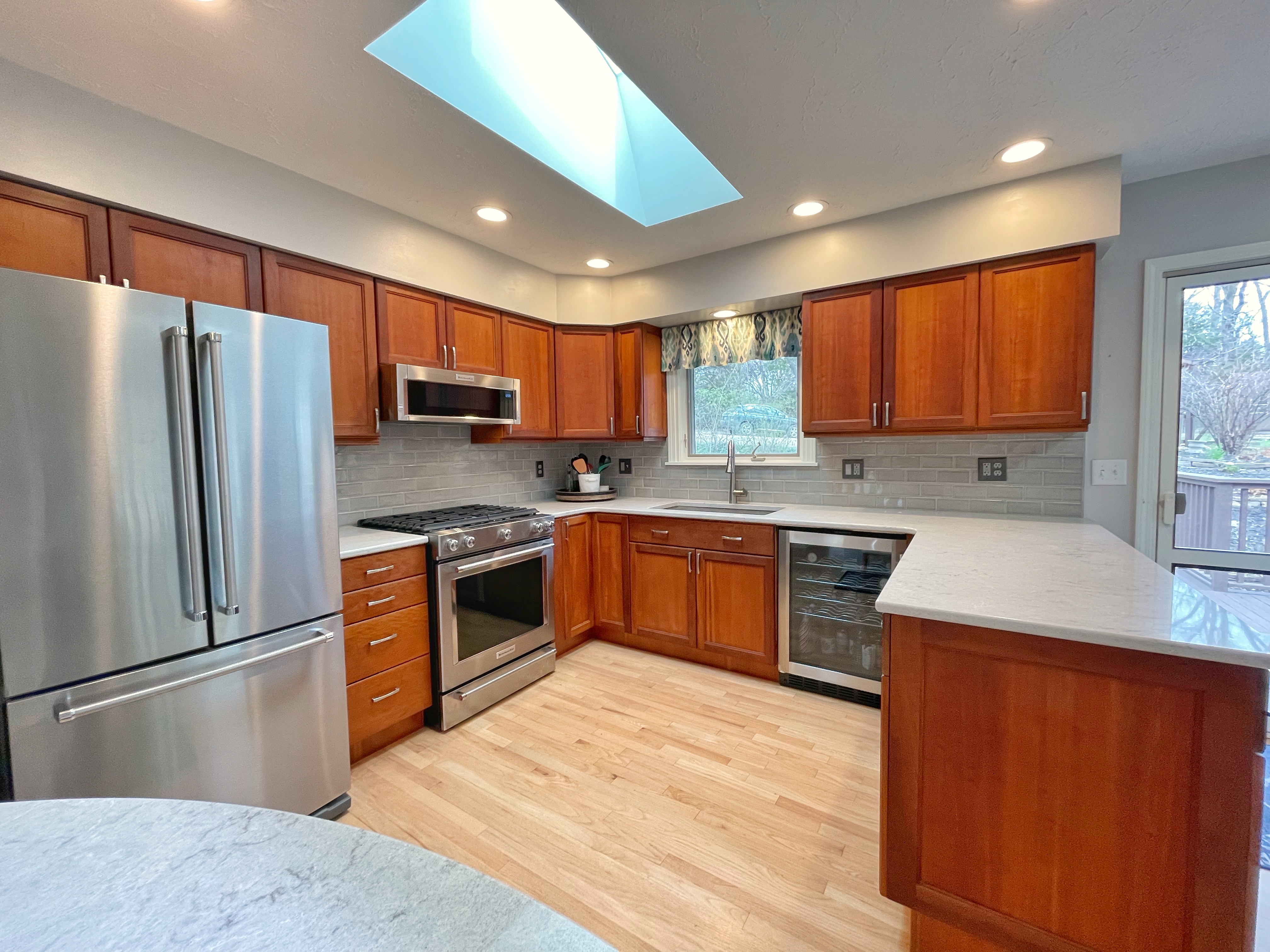 Heading inside the first room we encounter is this luxurious kitchen! Highlights and upgrades include Quartz countertops, new appliances, and a new tile backsplash. Wood floors feature throughout the home on the main level. Skylights and large windows let in a ton of light and bring the outside in, a perfect way to fully enjoy the home's setting from inside! Just to the right of this photo, there is an eat-in/dining area that leads to one of this home's most incredible features that we'll get to next: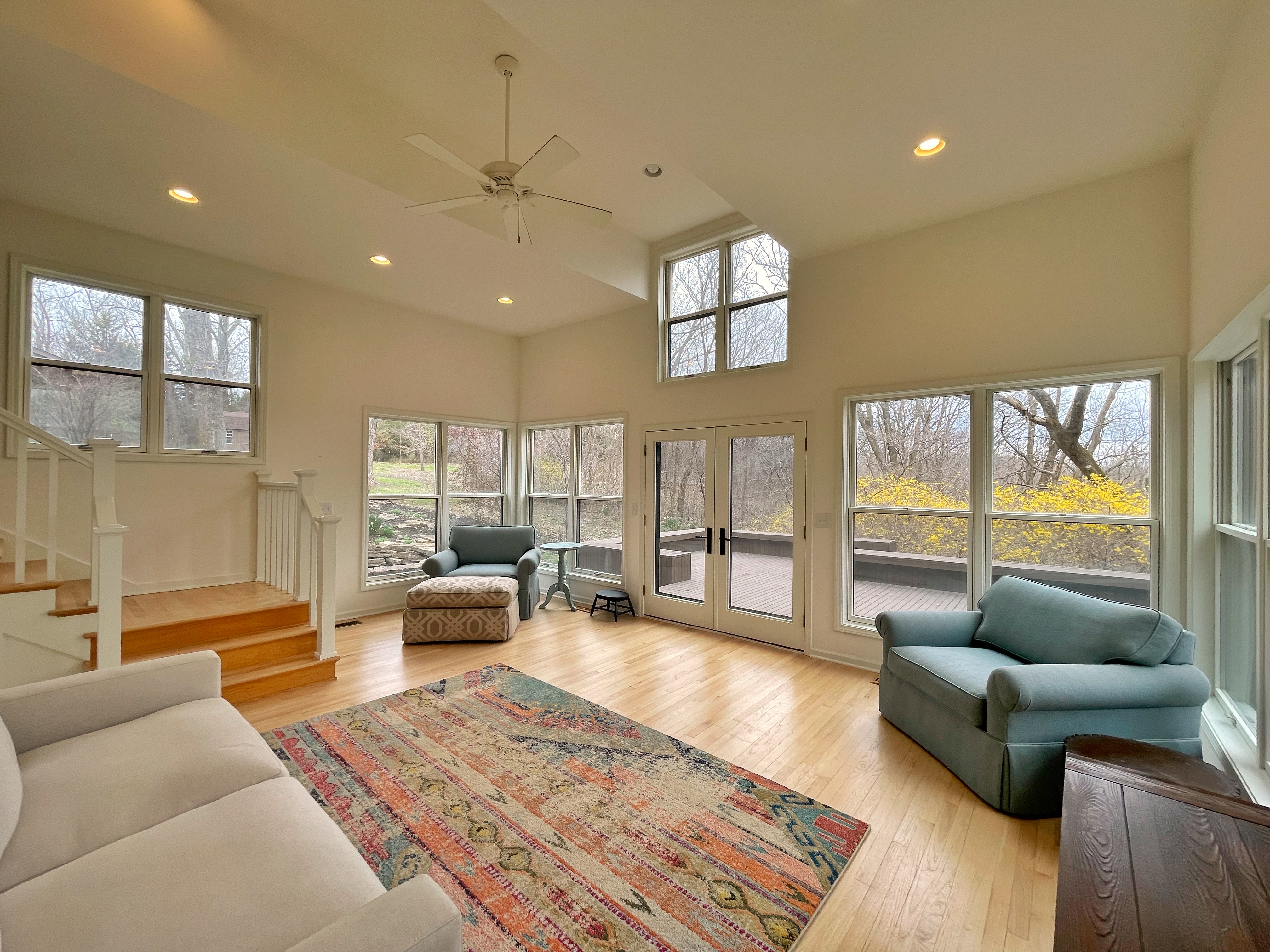 Behold, the great room! This is probably our favorite highlight of this home. Just look at how the large, south-facing windows let in the wooded outside! Opening to that great deck, this space is truly fantastic. It's worth stating again, that as great as this photo looks, it's hard to do this room justice without being there to see it. This room alone is worth the price of admission on this house. It's a show-stopper, and anyone looking for that perfect country setting would feel the heart skip a beat when they see it!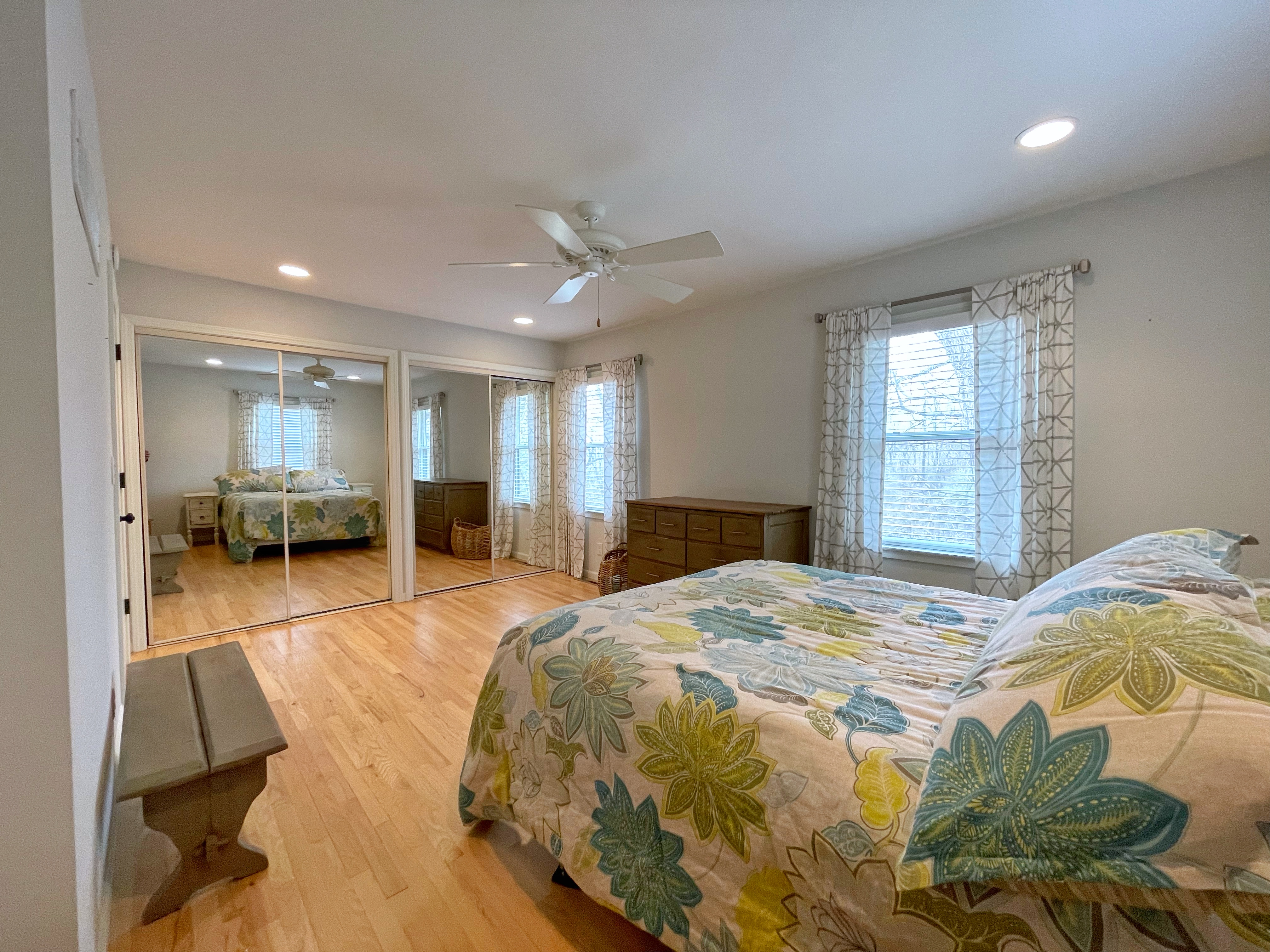 Looking here at the upstairs primary bedroom, you can see the wood floors again, and the natural light of the numerous windows for this large bedroom. The home's current owner has remodeled the basement to include an alternate primary suite that we'll get to here in a moment. This room is already a pretty good size at 17x11, but with those double glass closet doors, it feels even bigger!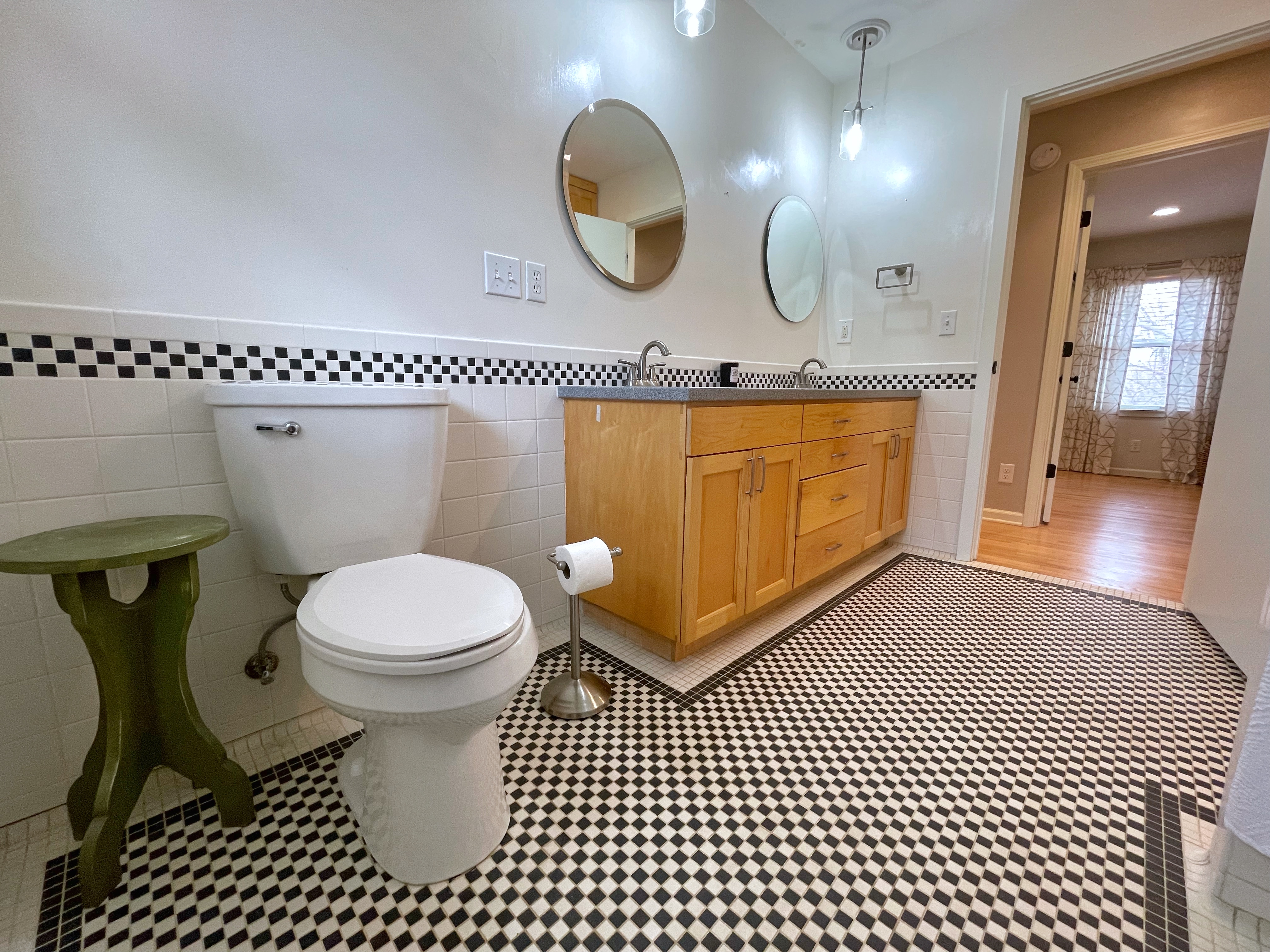 Before we head downstairs, we have to say a quick word on the upstairs bathroom. It's gorgeous! The tile is period-specific, and in a way that is truly timeless. Classic white & black but with updated fixtures to bring it up-to-speed. There's also a ton of storage with the large vanity with dual sinks and, not shown in this photo, the huge matching cabinets opposite the vanity.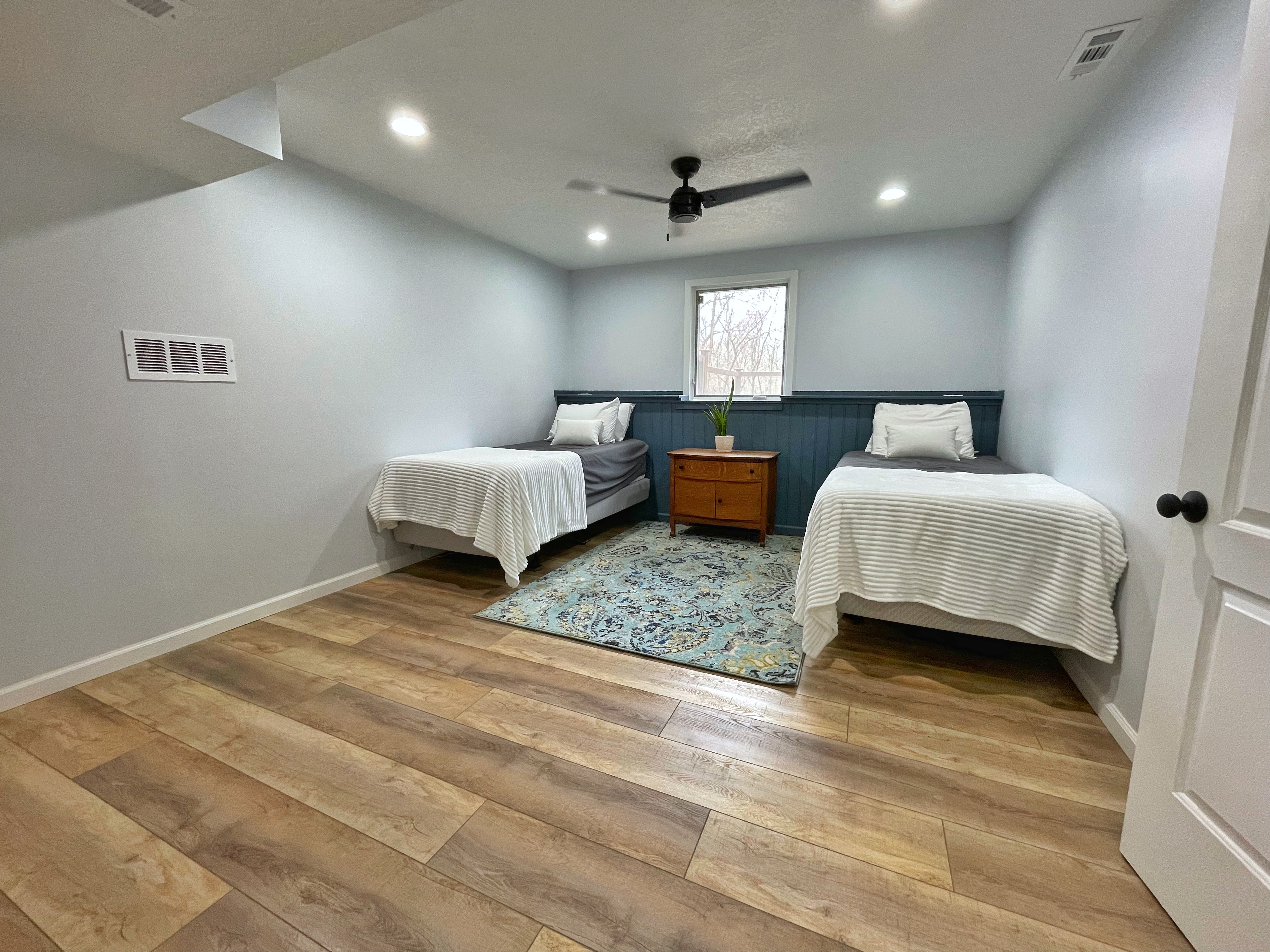 Now we'll get to that alternate primary suite in the basement, and there's a lot to go over here, so we'll do what we can for this tour! The large bedroom adds a lot of finished square footage to the basement and features a luxurious and warm LVT floor with a wood finish that sets it in-line with the rest of the home. Not pictured in this tour is yet another bedroom space downstairs, although due to not having a closet, we're calling it a non-conforming bedroom. However, it could easily be made into that fourth bedroom, or used as an office space for remote working, which is made possible at this location by the Starlink Internet service.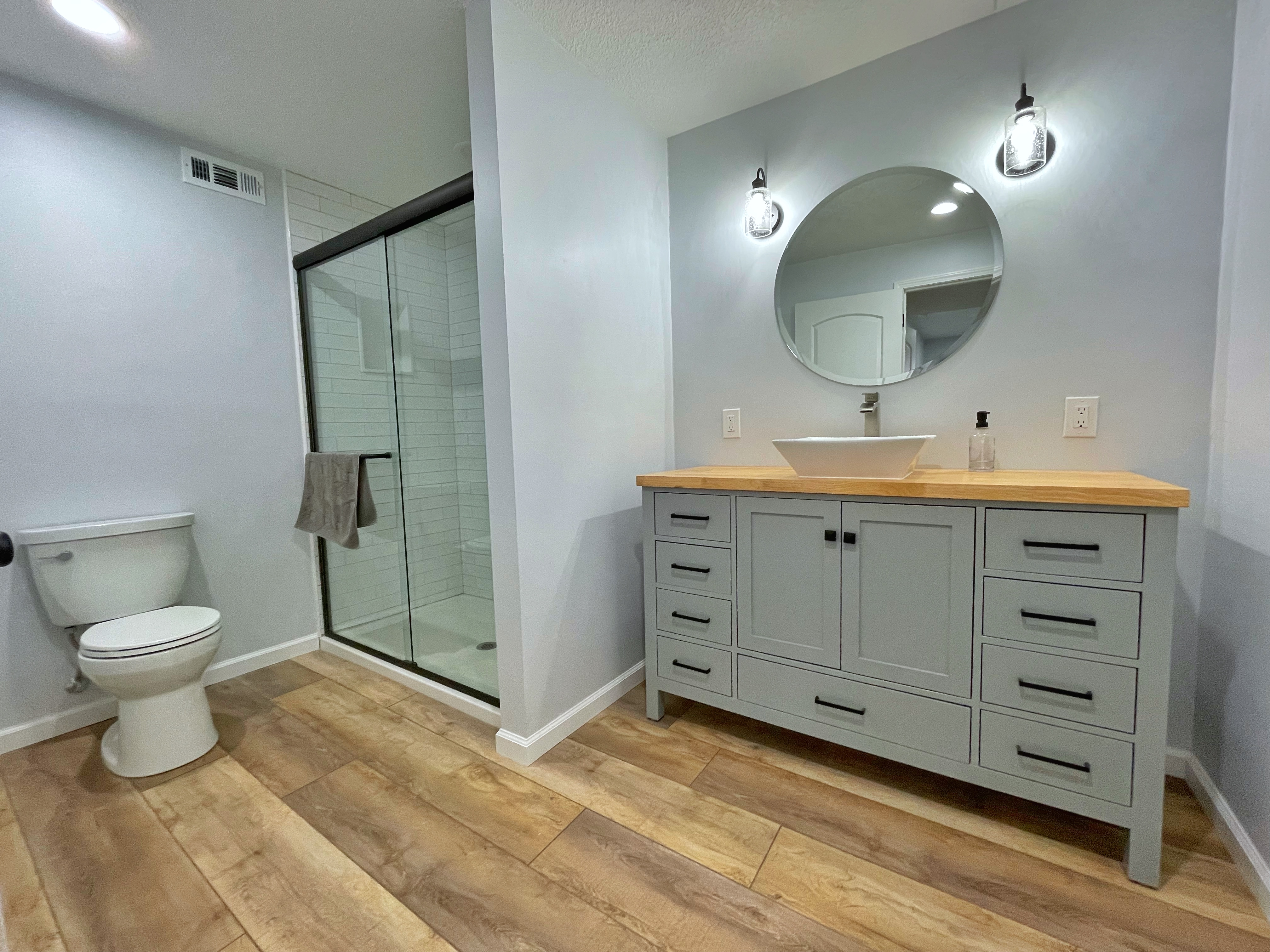 Just look at this bathroom! This bathroom was added as an en-suite addition to the alternate primary bedroom. And it's gorgeous! We think that's pretty self-evident from the above photo. As pictured here, the LVT flooring continues throughout this space. What's not pictured here? The HUGE closet adjoining the bathroom. This is pure bonus for a home that was already incredible!
So, like all good things, this tour must come to an end. We feel there's no better place to end it than heading back outside into that incredible setting and that wonderful deck space. Spring is coming soon, we promise! And when it does, there will be no better place to be than right here! Homes like this do not come along every day. When they do, it's a true pleasure to see. Especially these days with very limited home inventory. This property stands out as a unique and well-cared for home on a truly one-of-a-kind setting. When we arrived to see it for the first time, the reaction was one of awe and wonder! As stated before, it's one that absolutely has to be seen to be believed. We hope you'll come check it out and be as amazed as we are!
Open House this Saturday, April 16th from 12:00 to 1:30
To inquire about a personal tour, contact Ryan at 785-218-1975.
For Listing Details, click here.
If you would like for us to feature your home here, find out more about our Home Seller Services.
If you're thinking of buying a home this Spring, find out what we do for our buyer clients on our Buyer Services Page.