Welcome to 1627 Alvamar Dr. in Lawrence, KS. Proudly brokered and brought to you by R+K Real Estate Solutions! This is a rare opportunity to own a home in one of our favorite neighborhoods in town, Alvamar Heights. Set into a hill on the northeast corner of the Jayhawk Club golf course, this home sits up off the street for a gorgeous view of the surrounding area. Features include 3 bedrooms/3 bathrooms, a 3 car garage, hardwood floors, new carpet & tile, a full finished basement w/ an extra cedar-lined closet, a gorgeous lot with tons of tall trees and space, and a back deck to enjoy it all from! Let's take a look!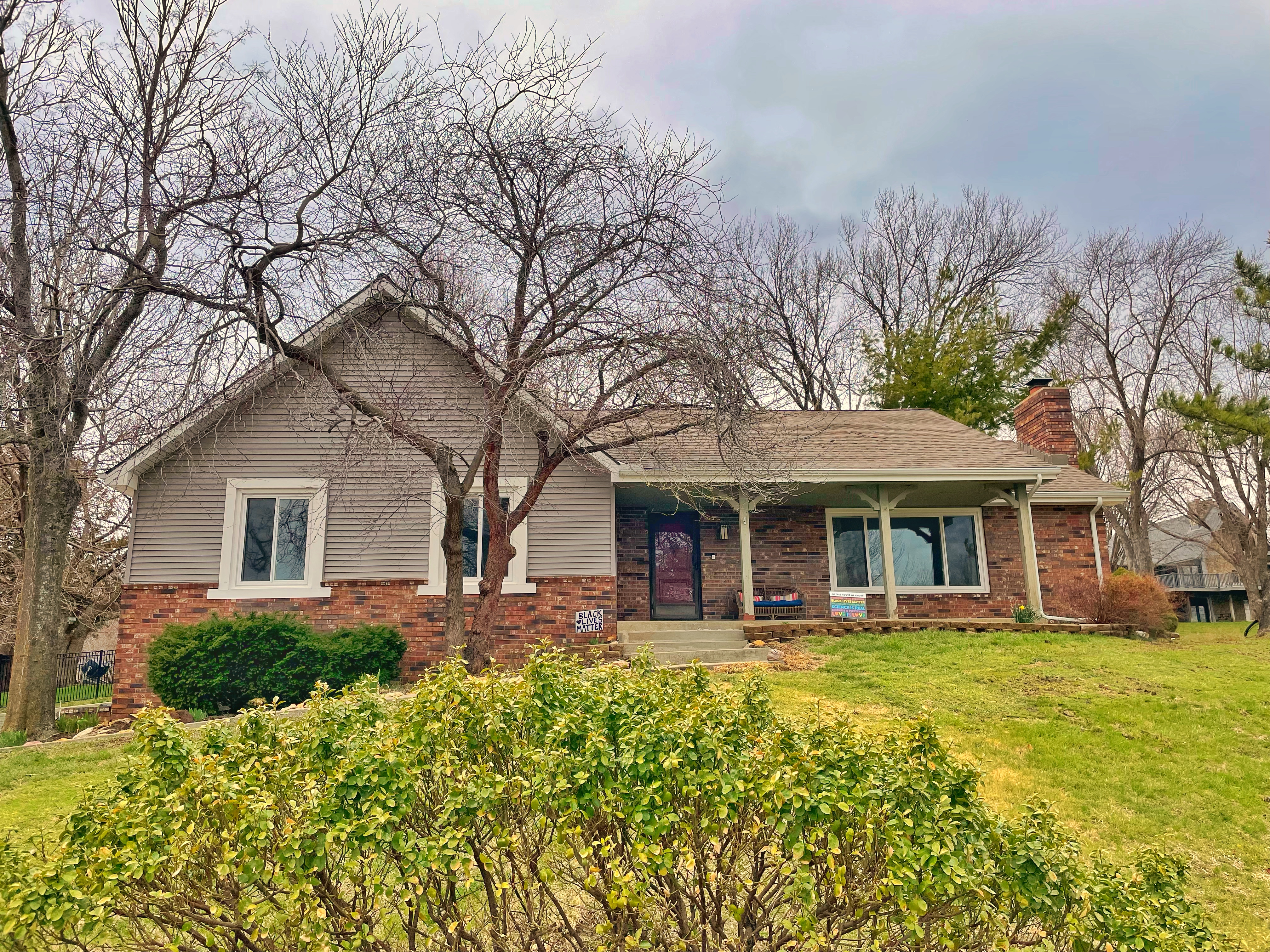 Unfortunately the day we took photos was a little cloudy, and because it's only late March, not all the beautiful trees and shrubs have had a chance to green up quite yet. But still, this front photo came out really well and shows how the house sits up into the hill. Features like the large windows, brick front, huge porch and just some of the wonderful trees that are found all around the property give this home some pretty serious curb-appeal. We can only imagine how gorgeous it'll look here in just a few short weeks!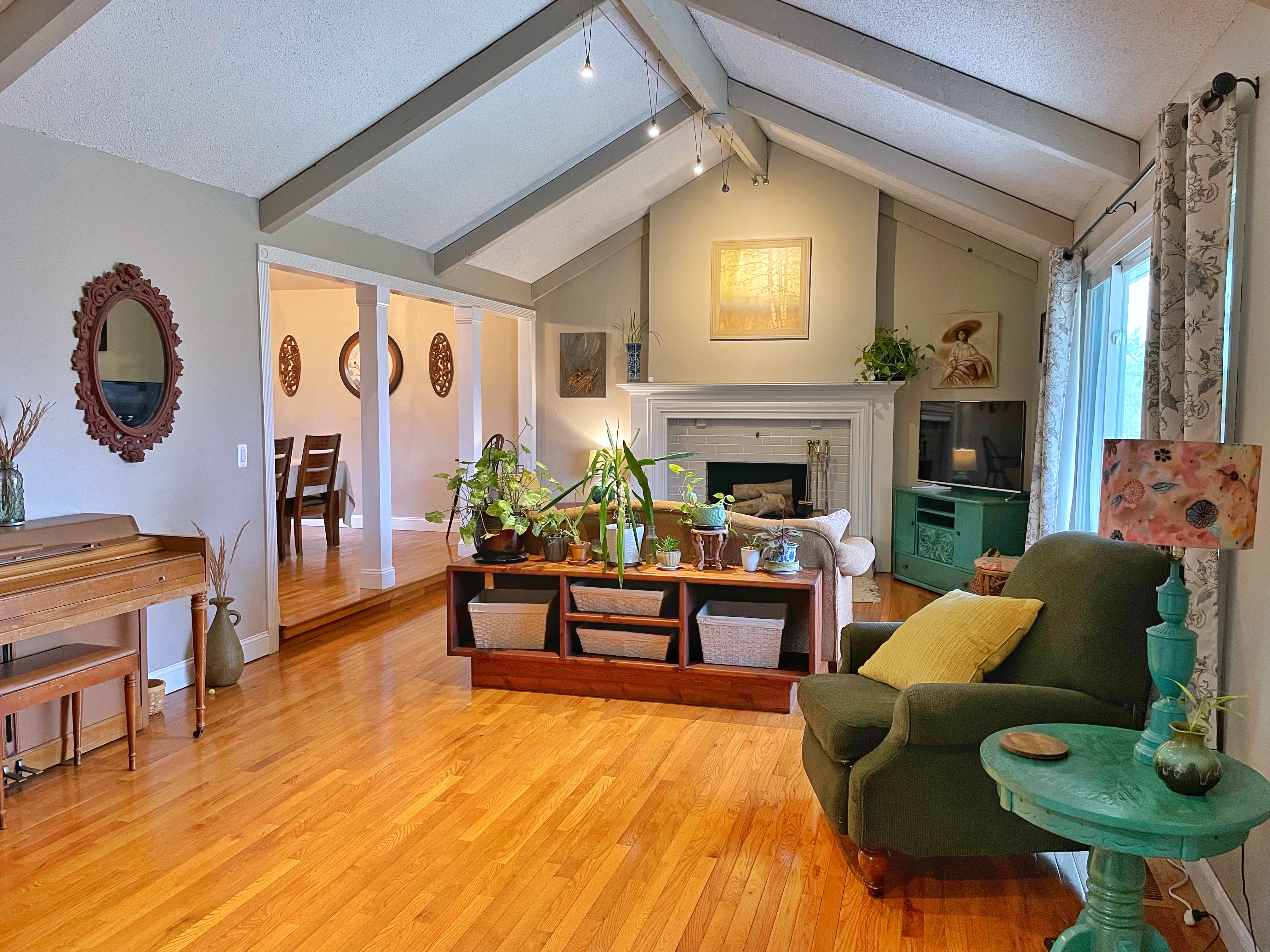 Stepping inside, this front living area is undoubtedly one of our favorite things about this home! It's kind of hard to pick between this incredible room and the back yard, so we'll leave that up to a lucky buyer to decide which they like best! The room shows off the home's beautiful wood floors and sets the tone for the character of the house. Vaulted ceilings, large windows, and a fireplace are classic elements of a home built in 1974.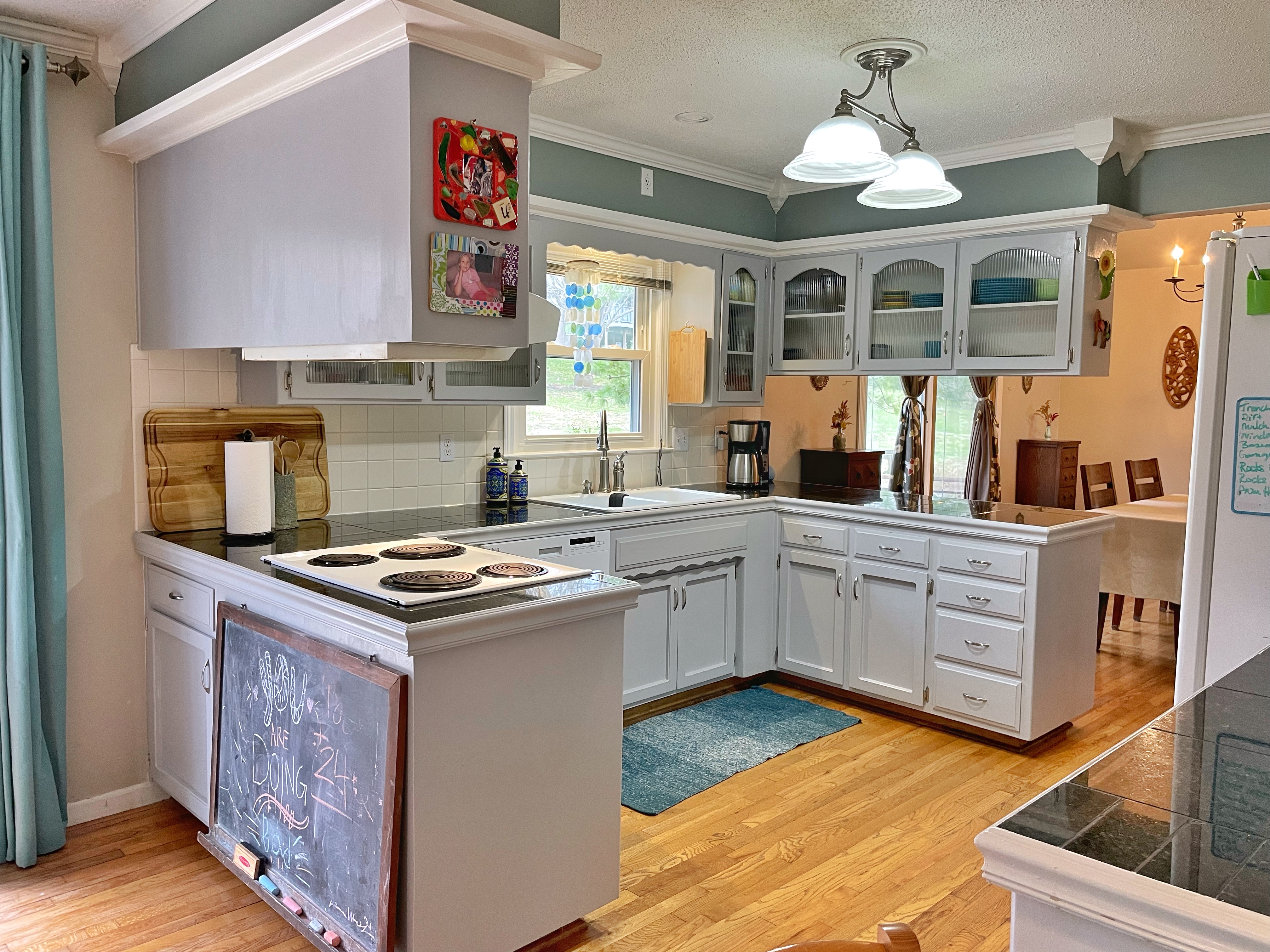 The hardwood floors continue through the kitchen. We love how open and large this kitchen/dining area is. Featuring a formal dining room, and less formal eat-in area, each with a door to two back decks on either end, there are lots of options for the daily use of the heart of the home or for entertaining. And, there's tons of cabinet and counter space!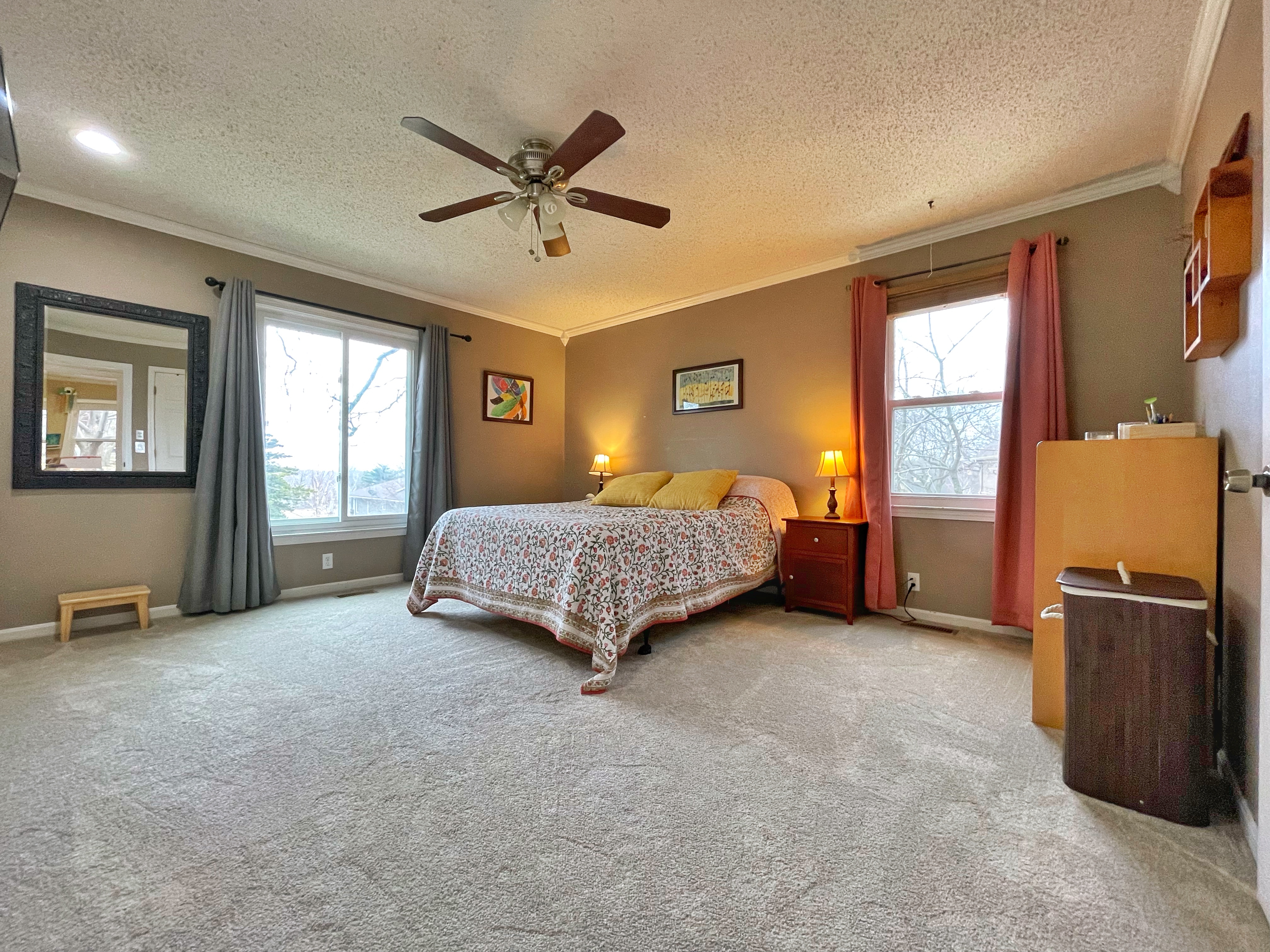 This home features 3 bedrooms and all are located on the main level. Shown here is the Primary Suite. Plenty of space and large windows look out on that spectacular aforementioned view. The white trim throughout the home gives a fresh, clean vibe and the Primary bedroom even has an added subtle detail of crown molding. This is also a great view of the new carpet just recently installed!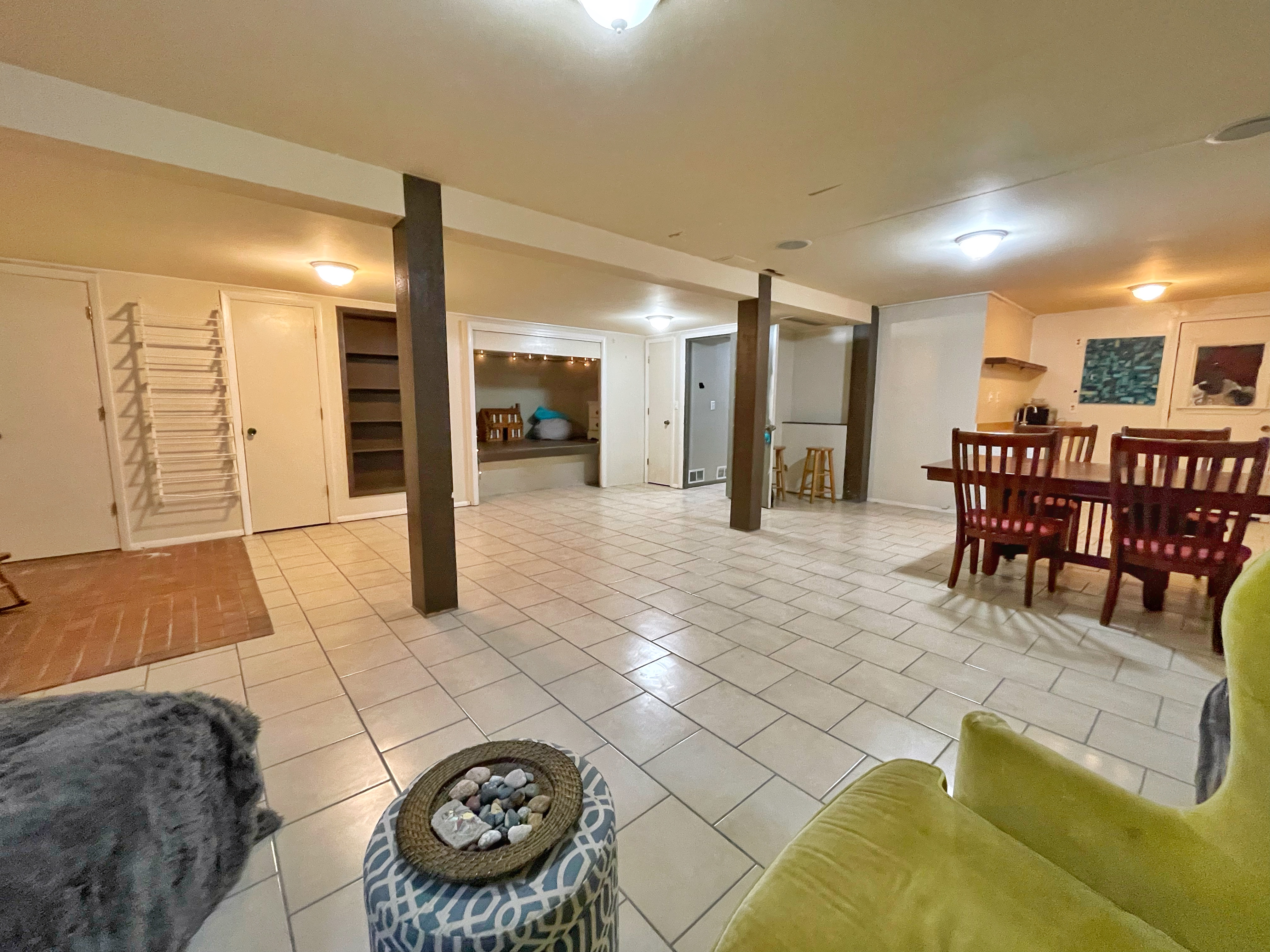 Here's a look at the basement and talk about potential! There's so much that can be done with this space. It's hard to say what all uses a creative buyer could come up with. It could be a play room, gaming room, gameday room, or a combination of these or any other Room-of-Requirement needs you may have!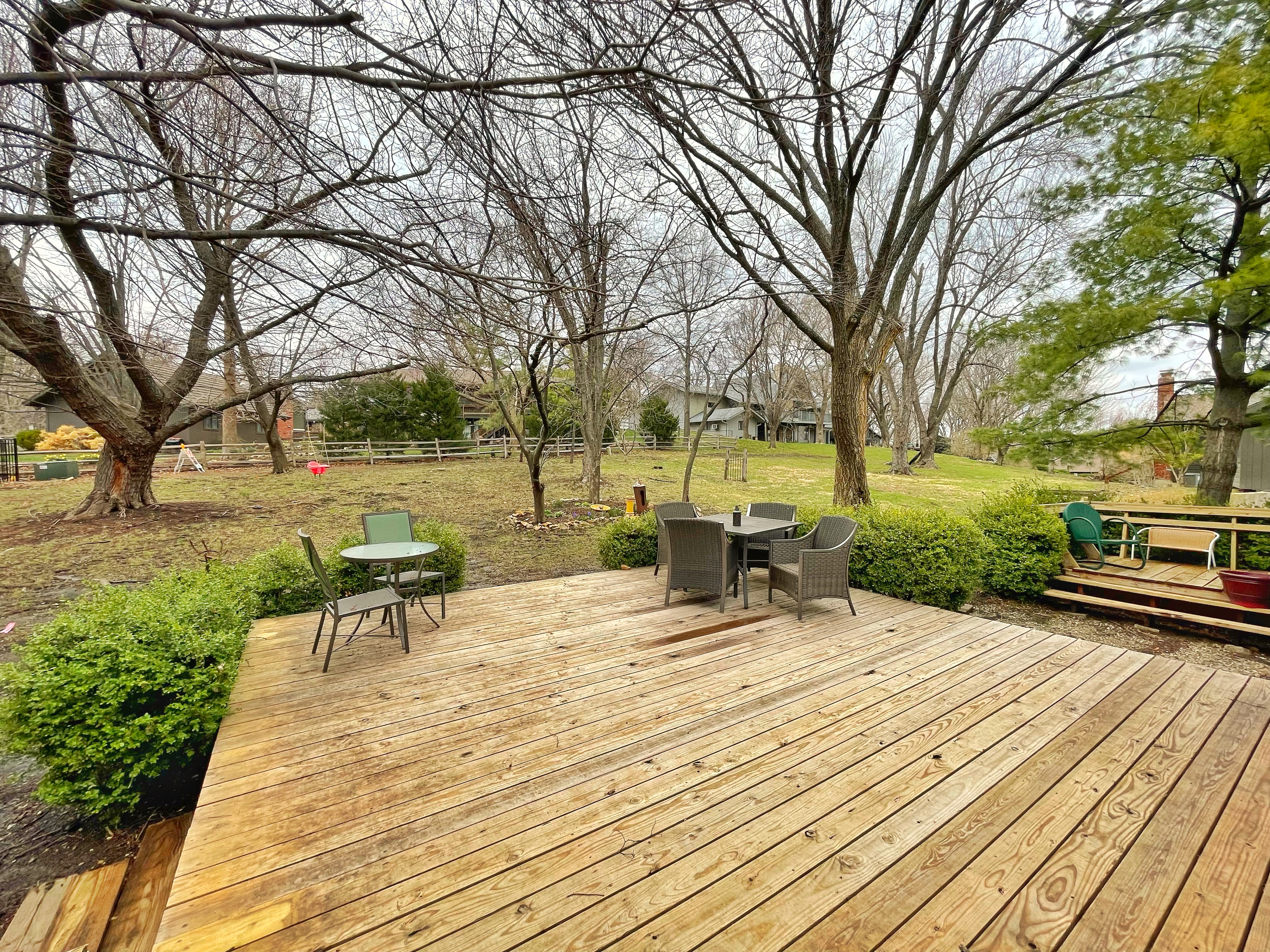 Now, if you've read our home features before, you already know how much we love backyards. But this one definitely makes us swoon! This space is huge and just look at all those trees! The home's lot clocks in at over 16,000 sq. ft. Partially fenced on 2 out of 3 sides and featuring large draw-distances to the neighboring yards, this is a wonderful space for kids playing or for a large family gathering around the grill. And you know what would look great here in just a few short week when everything is blooming and greening up? That's right: Garden Party!
We hope you enjoyed this tour through our latest listing. There are so few homes available to buy so far in 2022. Listing inventory is historically low and so far there have been fewer sales this year compared to last year. Every home that comes available is an incredible opportunity. We feel that this home is truly special. It's not everyday a home with a lot, a location, and a view like this comes along. We hope everyone who wants to gets a chance to see it in person before it's gone!
To inquire about a personal tour, contact Ryan at 785-218-1975.
For Listing Details, click here.
If you would like for us to feature your home here, find out more about our Home Seller Services.
If you're thinking of buying a home this Spring, find out what we do for our buyer clients on our Buyer Services Page.