Welcome to 908 W 22nd Ter in Lawrence, KS! Proudly brokered and brought to you by R+K Real Estate Solutions. This Mid-century Ranch is located just blocks from the University of Kansas campus! Sitting on a large lot on 22nd Terrace, it's also conveniently adjacent to the 23rd Street shopping corridor, just minutes walk or drive from tons of restaurants and the 23rd Street Dillons grocery store. This home is a great opportunity for anyone who's been looking for a ranch home for themselves, or for any investors keeping an eye out for properties in a neighborhood with strong rental history and potential. Ideally this spot would be great for a family to join the street's other families, but with it's strong rental history it's also ideal for real estate investment, with its proximity to KU. Maybe there's a grad student out there with a family looking for their first home?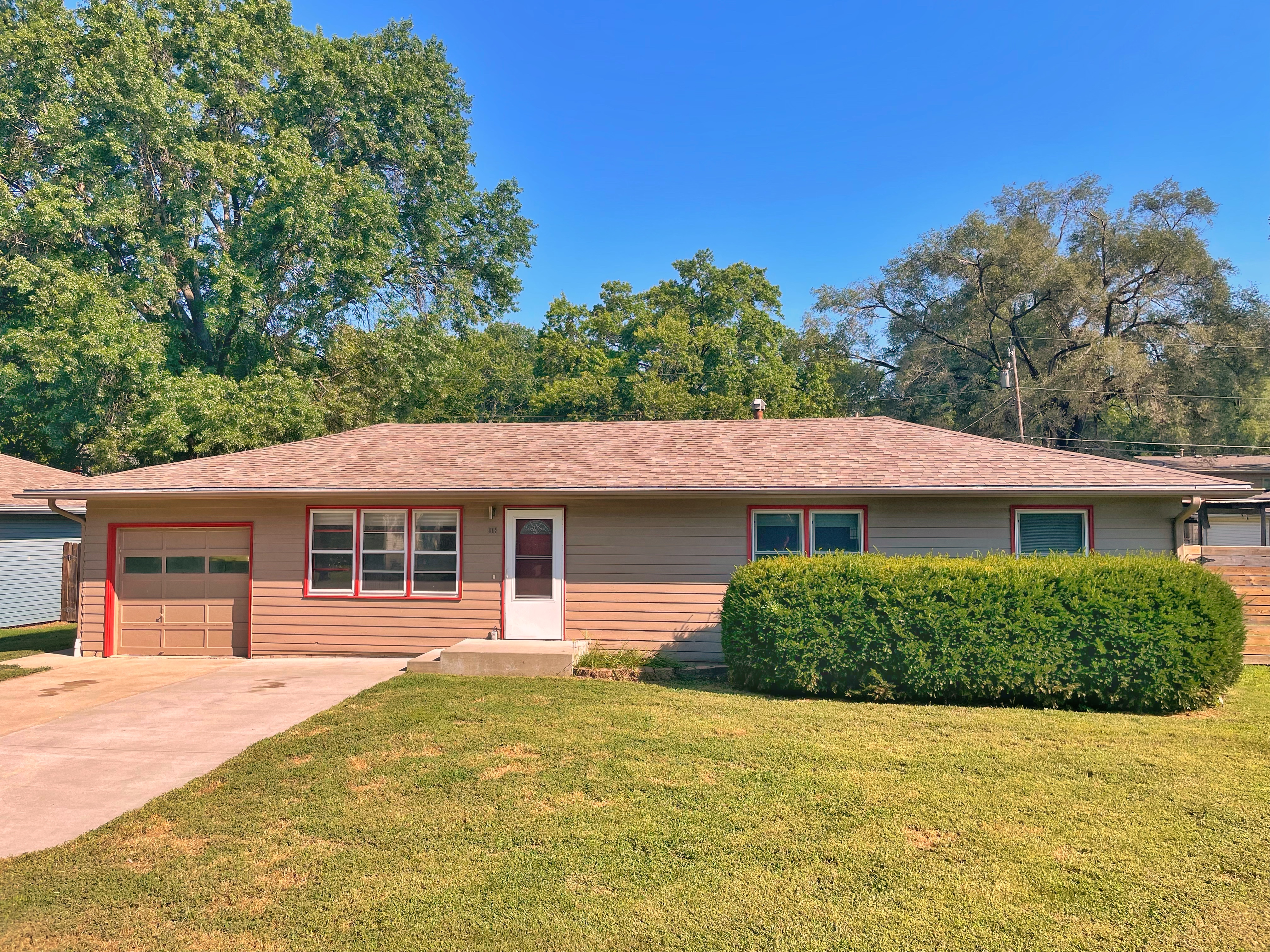 This home has great curb appeal, as most 1950's ranchers do! Featuring 3 bedrooms, 1 full bathroom, 1 conveniently located 1/2 bathroom, and a 1-car garage, this home is just waiting for someone to give it their own personal touch. Starting off with woods floors throughout, a large kitchen, a dining area, and a huge backyard, it's a canvas for a buyer with a keen eye for making it their own!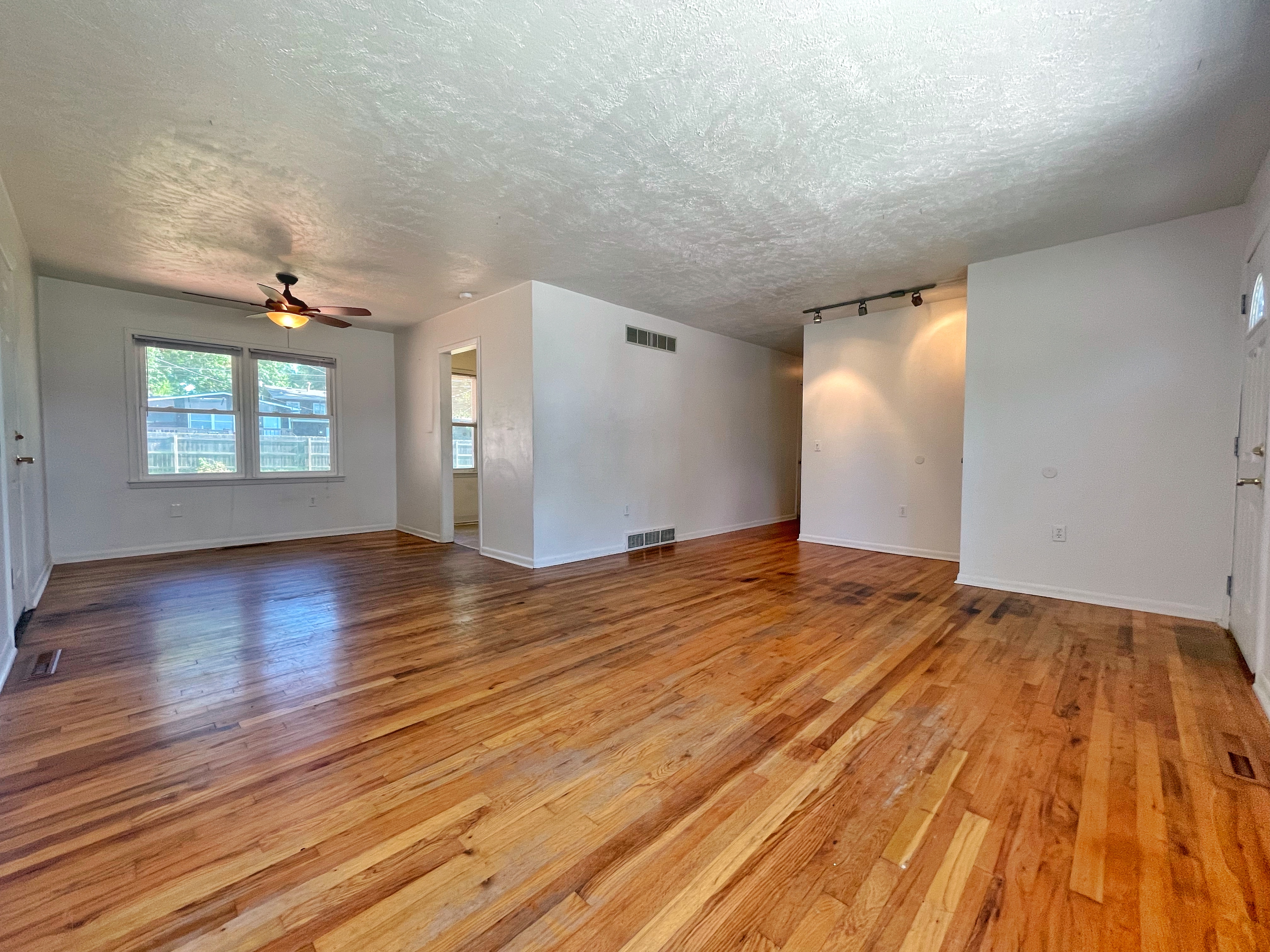 Heading inside, here's a great look at those wood floors. This front living area is a large space, measuring 19'x13' and leads into the adjoining dining area followed by the door into the kitchen. Looking out into that big backyard, and featuring large windows on both south and north ends, this room get tons of natural light. We love that old 1950's/1960's ceiling texture! The white-on-white walls and trim help this visual effect and keep this entire space bright and inviting as a main living space!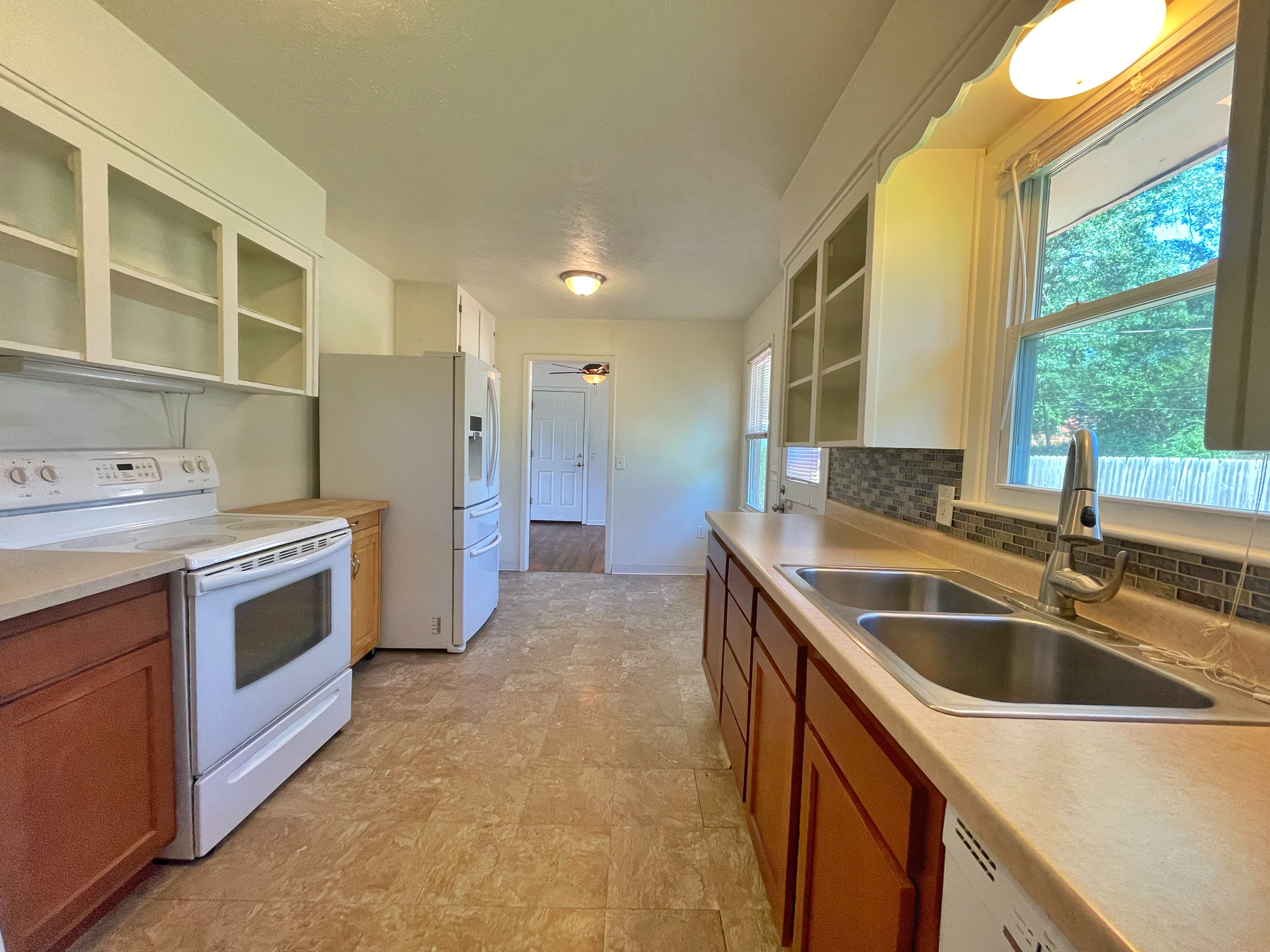 As seen here, the kitchen is quite a large space with a lot of counter space and cabinets for storage. White appliances help with the white-on-white theme throughout the home. This home seems to have more windows than a lot of homes we've seen over the years with this floorplan. Peaking out that back window over the sink, you can see large trees and the huge backyard. The backdoor opens to the large back patio which we'll get to in a moment.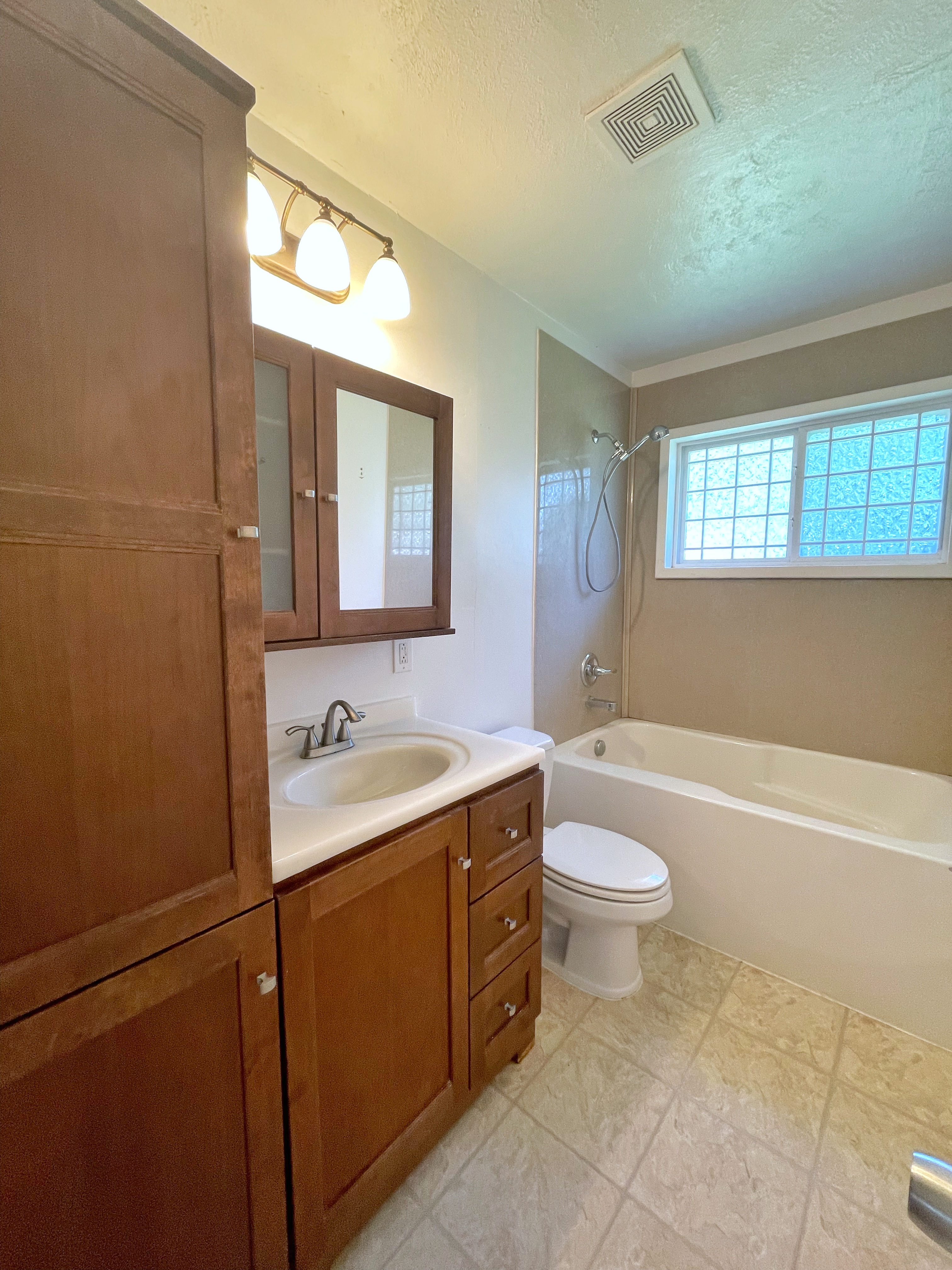 The home's main bathroom is positioned near the bedrooms and features lots of cabinet space and a composite resin shower surround and a huge soaking tub. It's hard to properly convey how large the tub is, even with the photo. It's literally one of the largest shower tubs we've ever seen! And with the privacy-glass window above, there's more of that natural light. Altogether it makes this bathroom look and feel much bigger than its footprint.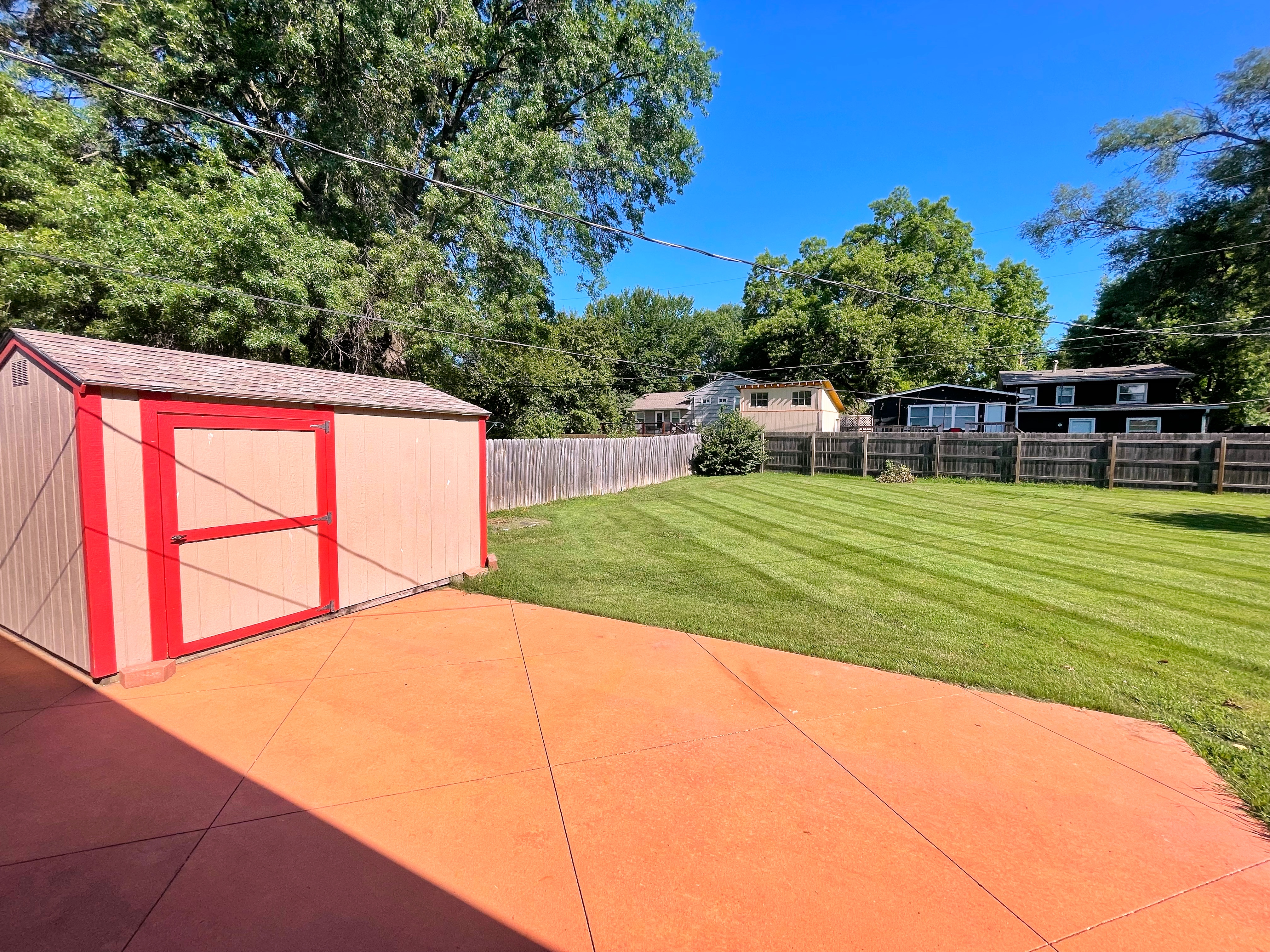 Heading out to the backyard, we encounter this wonderful stained concrete patio! And as a huge bonus, there's a storage shed with a very large access door. The shed is in great condition and provides another storage option. The backyard is mostly fenced with wood fencing, and just needs a run on the east side to complete the perimeter. This backyard is perfectly situated amongst the great homes of this neighborhood and is the perfect morning coffee spot or a main entertaining pad for a garden party!
This home is truly something special! We hope you enjoyed this tour. Like all good things, this tour like all, must come to an end. Home inventory in Lawrence is at historic lows. Every home that comes on the market is an opportunity. We hope everyone who wants a shot at this home gets a chance to see it. Hurry, it certainly won't last long!
To inquire about a personal tour, contact Ryan at 785-218-1975.
For Listing Details, click here.
If you would like for us to feature your home here, find out more about our Home Seller Services.
If you're thinking of buying a home this Spring, find out what we do for our buyer clients on our Buyer Services Page.