This week with R+K…
Market check-in - here's what Lawrence looked like in January:
- New listings were down 33% compared to January 2020.
- January 2021 saw an increase of 22% in sold homes over January 2020.
- Average price last month was $270,000, an increase of 17% from the same period last year.
- Homes in Lawrence are currently selling at 99.71% of their asking price, across all price ranges.
- In competitive price ranges of $125,000 to $325,000 sale price is close to 101% of asking price.
- Average Days-on-Market is down 27% from the same period last year.
- Only 5% of listings Expired in January 2021 compared to 16% in January 2020.

Updates around Lawrence:
This week Best of Lawrence voting began! Although I feel it's more of a popularity contest than anything, it can still be fun to vote. Find us in the Service category, for best real estate agency and best Realtor. Log on before 02/28 to cast your vote for each category: http://www.lawrence.com/bestoflawrence//
Of course, the Super Bowl is coming up this weekend on Feb. 7, and many local places have specials for the weekend! I've been sharing my favorites on my Instagram stories this week, but if you've missed those, here are some highlights:
Henry T's is has some great deals on wings and bites; call them to reserve in advance: https://lawrence.henryts.com/
Pedestrian Cheese has some epic snack boards available to order for both the Super Bowl and Valentine's Day, as well as individual snack items – order here: https://www.pedestriancheese.com/
Cleo and Leo Cookie Co is selling some amazing macarons for the theme: https://www.facebook.com/cleoandleocookieco/
The Merc Annual BOGO Sale runs til Feb. 9 – check out the flyers: https://www.themerc.coop/deals

Merchants is offering to-go snack packs here: https://www.merchantsonmass.com/
Planning ahead for the Summer? AR Workshop Lawrence released their Summer Camp dates this week, reserve your spots here: https://www.arworkshop.com/new-releases-for-summer-camp/

Think the R+K Real Estate model sounds too good to be true, or you've been wanting to ask "what's the catch"? Don't miss our blog post from earlier this week where Ryan breaks it down: https://www.exploringlawrence.com/2021/02/03/too-good-to-be-true/
From our kitchen…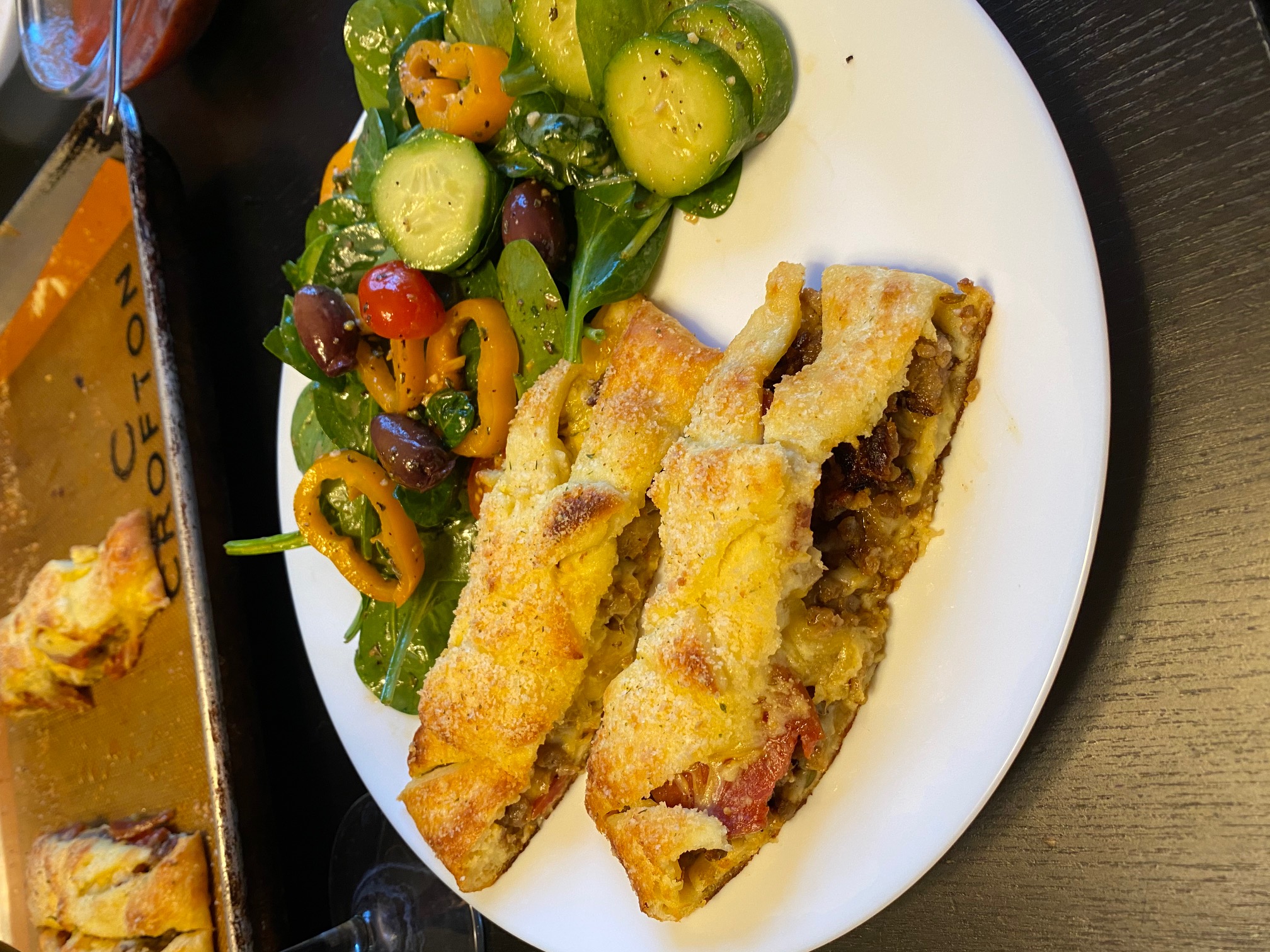 If you follow us on social media, you know I'm always posting food – whether it's something I make or get at a local restaurant – and Ryan's always posting cocktails. It might be fun to share a recipe here and there! This week I made a grain-free pizza braid; it's been a hit with my family, even with those that don't typically eat gluten-free or low carb! You can use whatever fillings you like on your pizza, but I've just written down what I used this time. Here's the recipe: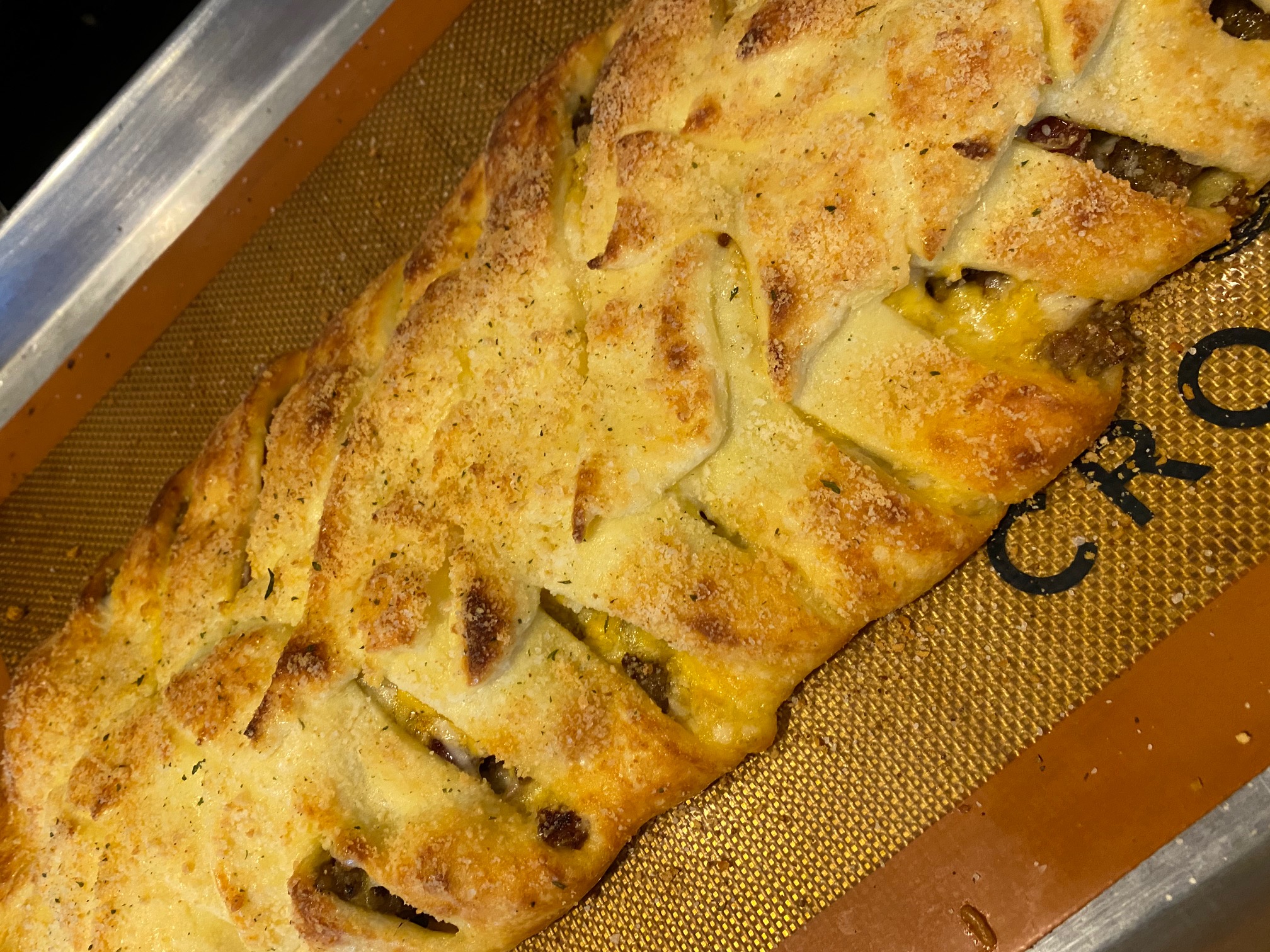 For the dough:
1 Tbsp warm water
2 tsp maple syrup or honey
1 tsp yeast
3 c. mozzarella shreds
2 oz cream cheese
2 eggs
2 tsp baking powder
1/8 tsp xanthan gum
For the filling:
1 lb cooked Italian sausage crumbles
handful of pepperoni
1-2 c. mozzarella shreds
1 c. cheddar shreds

Topping:
Melted butter or heavy cream
Grated parmesan
Garlic salt
Prepare the dough: mix the water, maple syrup and yeast in a small bowl and let sit. Melt mozzarella and cream cheese in the microwave in 60-second bursts until just melted. Add eggs, baking powder, and xanthan gum mix until fully incorporated (by hand or stand mixer).
Roll dough between parchment into a large rectangle, roughly 11x17. Add fillings of choice down the middle, and either fold it up or braid the sides (so many videos online how to do this!).
Brush the top with the butter/cream, and sprinkle with parmesan and garlic salt to taste.
Bake at 400 degrees for 15-20 minutes, or until the dough is beginning to brown.
I like to serve it with garlic butter and/or marinara for dipping – enjoy!
- Katie, Owner/REALTOR