Welcome to our Real Estate 101 series! This is the second in a series of articles we'll be doing to help educate clients and the public in general about relevant topics in the world of real estate. This is important because real estate is a "hyper" local market. What works in one location may not work in another. Lawrence, KS is very different from rural Kansas markets. Perhaps even more different than it is from say, New York City! So, these topics we cover will be very specific to Lawrence and the surrounding areas but may not relate to other places so well. With that being said, let's dive into our next topic: The Process of Buying a Home!
So you've got an agent, your search is started, you're getting MLS updates and using consumer real estate sites trying to find the home that matches your criteria. So what's next? Before we get in too deep in the process, I'll again share this flow-chart graphic that outlines our path: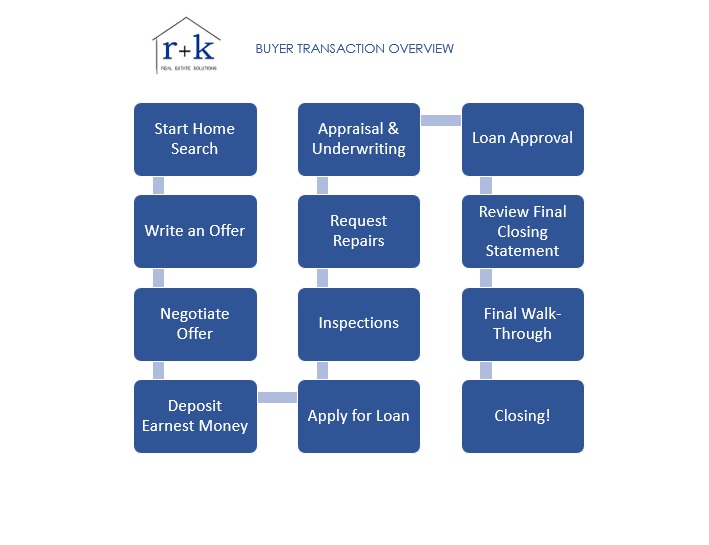 Another very important step to tackle early in your search is to find a good local lender. In Lawrence, local is extremely important. Many of us are hesitant to trust lenders we don't know. Each of us has horror stories to share about out-of-town lenders. I'll tackle this topic in a future article. For now, keep this in mind as one of the most crucial things to know about buying a home: Your lender should live and work in Lawrence. While it may not make perfect sense at first, hiring a local lender will give you an advantage over other buyers.
And this is important because competition is FIERCE! Even today as the market softens a little bit, there is still a lack of inventory. Knowing the market you're buying in is how you rely on your REALTOR. Experience counts and having a good agent to help give you good advice for the choices you'll make when making offers cannot be overstated! It will mean the difference between landing the perfect home or losing out to someone else.
Once you and your REALTOR have all the pieces in place to start searching, it's time to look at homes! This can often be a fun part of the process. It's exciting to see homes and to envision your new home. You can see the process as it comes to life. This is where you'll really dig in with your Buyer Agent. Staying up on new homes as they come available in the MLS is critical. In a market as tight as the one in Lawrence, time is of the essence.
Average days-on-market is VERY low. You literally have a couple of days to see the house, in most instances. After 3 or 4 days, it's very likely already under
contract.
When the perfect home comes along, it's time to discuss writing an offer with your agent. Here you'll use a contract form to establish the terms of your offer to the seller. Items that must be included in the contact include names, the property address, and terms such as price, closing date, and earnest money. To be a valid offer, signatures are needed and then your agent will deliver the offer to the listing agent for presentation. Always remember that a seller can either accept, counter, or ignore any offer. There is nothing a buyer can do to force a seller to do anything at this point.
If the seller accepts your offer, congrats! You're now under contract. First things first: time to deposit earnest money with the title company and call your lender to apply for the loan if you're financing. Earnest money can be delivered as a check or online through the title company's website. Your agent will help you through this process. Applying for a loan is another requirement of the buyer per the contract. Your lender will take it from there!
Next is inspections. Fun! In all seriousness, most of the time this process goes fairly smoothly. The Lawrence contract defaults to 10 days for all inspections, which is plenty of time. Inspections are always buyer-paid and can include a Whole-House Inspection, Termite Inspection, Radon Inspection, and Sewer Cam Inspection. If problems are discovered which need further investigation, additional experts can be brought in.
After inspections comes the negotiation of repairs or concessions, should the buyer request any. If no agreement can be reached, contract can be canceled and earnest money returned to the buyer. If all is well, this potion of the contract is concluded and we move on!
The next portion of the process can look quiet from a buyer's perspective. This is the time the bank will be working on getting an appraisal completed and pushing the file through underwriting. The rule of thumb here is no-news-is-good-news. If a problem arises in this process, it's the lender's
job to alert the parties. No need to get into the weeds of potential problems here, but note that any problems that do arise can be worked out by the agents in the transaction. If a problem cannot be solved, usually a cancelation occurs and the earnest money goes back to the buyer.
In the meantime, a buyer should scheduled movers if they plan to move in on or soon after closing day. Buyers should also use this time to arrange utilities to turn on in their name starting on the closing date. The main utilities include, but may not be limited to electric, gas, water, trash, and internet. Sometimes things like internet and other smart home systems and security systems may take more time to install and can only be done after closing.
Often, within a few days prior to closing, a final walk-through will occur with your REALTOR. This is in order to check on the house and make sure no big problems/changes have occurred, and that any personal property designated as staying in the contract is on site. If any repairs were completed by the seller, this is a final opportunity to verify the quality and completeness of the work.
Last, but certainly not least, it's closing day! At least 3 days in advance of closing, the lender will have delivered the final settlement figures to the buyer, including the amount needed to bring to closing, either in the form of a cashier's check or a pre-arranged wire to the title company. At the title company, the buyer will sign their closing docs and take possession of the keys.
And that's it! OK, so it's a lot. And there's a lot of things that can go wrong along the way. Buying a home is undoubtedly stressful. But with the help of a trusted professional, you should be able to navigate the process, reach the finish line, and realize the goal of owing that new home!
-Ryan Desch, Broker/Owner